Storyteller - A storybook puzzle
Developed by Netflix, Inc
---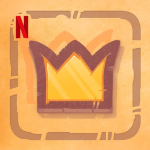 Price: Free
Get Price Alerts
App Category: Games
App Size: 635 Mb
Version: Version 1.1.10
Released: September 2023
iPhone
iPhone
iPhone
iPhone
iPhone
Storyteller App is a free-to-play and game application developed by Netflix, Inc. The updated version 1.1.10, released in September 2023, can be downloaded on Android and iOS devices running on iOS 11.0 or later, such as iPhone 14 Pro Max, 12 Pro, X, SE, iPhone 8, 7, iPad Pro, and iPad Mini. Before downloading the Storyteller app, let's understand what it's all about.
About Storyteller App
Available exclusively for Netflix members.

Once upon a time — wait, what comes next again? Drag and drop fairy-tale characters onto the page to build surprising stories in this award-winning puzzle game.

An enchanted book of stories lays blank before you. Only the greatest storytellers can fill it with tales of romance, magic, adventure and intrigue. Assemble each interactive comic from a library of animated settings and characters that react in real time to your choices. Work your way through each genre to earn the coveted storyteller's crown!

Features:

• Play with a cast of fantasy characters — kings, queens, werewolves, witches, knights and more — and watch them interact based on how you build their stories.
• Swap characters and settings to create classic storybook situations: kissing frogs, fighting monsters, solving mysteries and…multiple kidnappings?
• Use the book's guidance to discover more than one way to tell new stories
• Unlock secret achievements and hidden endings
• Complete the book to become the finest storyteller in the land!

- Created by Daniel Benmergui and Annapurna Interactive.

Need help? Use our Storyteller Walkthrough page or sign up and make your contribution today.
Get Storyteller App for iOS/Android - Download Now
Quickly download the Storyteller app for iPhone/iPad and Android by clicking the download buttons or scanning the QR code below.
App Rating & Ranking
Rankings History
Ranked #42 in US App Store / Puzzle
---
App Updates
What Client's Say
Review: Hmmm
So it is fantastic but also I can get through chapter 5 the last one is driving me crazy and I...
By The best super spy
Review: Amazing but needs more
This game is so fun but really needs a part 2 and 3
By Minion&sreck
Review: Incredible Puzzle Game
Had two of the best puzzle game hours of my life, and it was free-ish.
By AwesomeNick94
Review: BEST PUZZLE GAME EVER
ITS LITERALLY SO FUN AND I WILL FRICIN KILL A WHITE BEAR JUST TO GET STORYTELLER 2.0 OMG, YOU SHOULD MAKE...
By YOU DONT DESERVE MY NAME,.
Review: Great game, wish there was more
I really enjoyed this! It was plenty challenging and really exciting to figure out all the ways to manipulate the...
By Mousecrackers