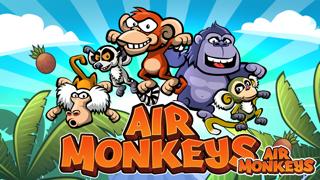 Air Monkeys
Publisher: ECO Pawel Jarosz
Free for a limited time
Price: $0.99 > free
Category
Games
Version
1.0.4
Size
30 Mb
Released
2012-02-26
The legend of this extremely rare and mystic species was born deep in the heart of the African jungle. Thanks to their unique abilities and skills no man has ever managed to catch even one.
Check out why hunters named them "The Air Monkeys"!

Slide the platform left and right to keep the Monkeys bouncing off it.
Avoid coconuts and the nets of the Hunters.
Collect fruits, flowers and coins for scores and to shop. You can buy for example; very useful coconut proof platform protection or increase scores from collecting fruits.
The game is addictive and joyful; share it with the whole family.

Need help? Use our Air Monkeys Walkthrough page or sign up and make your contribution today.
What's new in version 1.0.4
some small bug fixing
About Air Monkeys
Air Monkeys is a free-to-play action game developed by ECO Pawel Jarosz, and is available for download on both iOS and Android devices. The app is compatible with iOS 4.3 or later on the following devices: iPhone 11 Pro, X, Xs, SE, iPhone 8, 7, 6, iPad Pro and iPad Mini.
Click the button or scan the QR code below to download Air Monkeys for iOS. Check out our downloads section to download Air Monkeys for android and other platforms.
App Rating & Updates
Rankings History
Air Monkeys has an average rating of 4.2.
---
Recent updates
$0.99 -> Free

Apr 24, 2016

Free -> $0.99

Apr 21, 2016

Release v1.0.1

Feb 26, 2012
Check Price Changes

What Client's Say
Review: 'Freezes' 'Really fun game, but it freezes when the monkey falls. Please fix!!'
Review: 'Air monkeys' 'Game freezes after my monkeys fall off and I have to delete the app and download it again, please fix!!...
Review: 'Fun but..' 'Why am I getting ads DURING my game in the paid version?? It\'s alo t fun an I don\...
Review: 'Great :)' 'This games is pretty addicting I love I so recommend it :)'
Review: 'Air monkeys' 'Good game but keeps crashing on me'
Air Monkeys Add-Ons
The app is free and offers no in-app purchases.