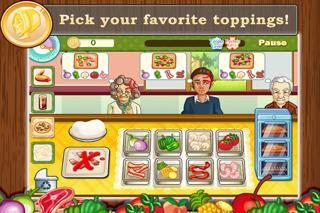 Ada's Pizzeria
Publisher: Triniti Interactive Limited
Free for a limited time
Price: $0.99 > free
Category
Games
Version
1.2.2
Size
50 Mb
Released
2011-09-30
*ALL ADA's GAMES are NOW FREE for a LIMITED TIME!* *SEARCH for ADA on the APP STORE!*

► ► ► ► ►

Help Ada toss pizza dough, spread tomato sauce, and pick toppings at her new pizzeria!
Better hurry up though, the customers are waiting!

► ► ► ► ►

One day while walking home, Ada noticed a very sad looking chef sitting on the sidewalk.

She asked, "What's the matter, is something wrong?"

The chef cried, "Everything is wrong! I'm the worst chef in the whole world!"

Curious, Ada took a slice of the pizza he was holding and had a bite. To her surprise, it was "Absolutely Delicious!"

The chef said, "You're just trying to make me feel better… nobody likes my pizza, and with so few customers, this pizzeria won't be around for long."

"Not if there's anything I can do about it!" said Ada. "I know a thing or two about running businesses, and you've got something here! With my know-how and your cooking, we can make this place a success, I just know it!"

► ► ► ► ►

• Take on the role of Head Chef in a busy, exciting environment
• Learn the ins and outs of professional pizza making
• Satisfy your hungry customers before they get impatient and leave!
• Expand your pizzeria and experience international success!

► ► ► ► ►

• 28 different kinds of delicious pizza
• 3 unique food-types, each made in a different way
• 5 store locations in different countries
• 9 diverse customer-types, with different temperaments
• A whole bunch of awesome mini-games and special items
• HD graphics for Retina and iPad
• Game Center Leaderboards and Achievements

► ► ► ► ►

http://twitter.com/TRINITIgames
http://facebook.com/TRINITIgames

Need help? Use our Ada's Pizzeria Walkthrough page or sign up and make your contribution today.
What's new in version 1.2.2
• UI Changes ► ► ► ► ► http://twitter.com/TRINITIgames http://facebook.com/TRINITIgames
About Ada's Pizzeria
Ada's Pizzeria is a free-to-play, simulation and strategy game developed by Triniti Interactive Limited, and is available for download on both iOS and Android devices. The app is compatible with iOS 3.0 or later on the following devices: iPhone 11 Pro, X, Xs, SE, iPhone 8, 7, 6, iPad Pro and iPad Mini.
Click the button or scan the QR code below to download Ada's Pizzeria for iOS. Check out our downloads section to download Ada's Pizzeria for android and other platforms.
App Rating & Updates
Rankings History
Ada's Pizzeria has an average rating of 4.2.
---
Recent updates

What Client's Say
Review: 'Make those pizza fast' 'I enjoy playing this time management type game. The app is stable.'
Review: 'How to' 'How do you get two chicken wings on one platen'
Review: 'Love it!' 'Love the game is super fun and entertaining! Would love it more if it had more upgrades like increasing the...
Review: 'FREE!!!' '50 fun levels & it was free!!! Great time management game, thank you!'
Review: '👍👍👍👍👍👍👍' 'So far, this game has been fun and addicting. I would definitely recommend it.'
Ada's Pizzeria Add-Ons
The app is free but you can buy extra add-ons via in-app purchases.
Ada's Pizzeria 20,000 Cash Pack
Ada's Pizzeria 5-Restaurant Decoration Pack
Ada's Pizzeria 50,000 Cash Pack