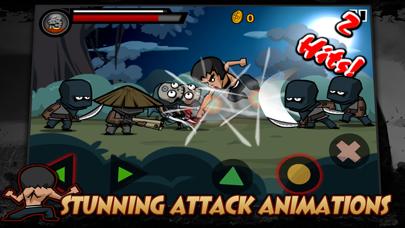 KungFu Warrior
Publisher: Triniti Interactive Limited
Free for a limited time
Price: $1.99 > free
Category
Games
Version
1.3.9
Size
57 Mb
Released
2011-07-24
10th year Anniversary
Trinit Interactive 10th Anniversary, PLAY AT WILL!
For 10 years, Triniti Interactive Studios have published 150 games on mobile platform. Out of gratitude for your long support, we decided to bring the most popular games in the past back on the AppStore. What's more, All in-app purchases of these games are now free! In other words, all players can enjoy the full content of the games for free!
Have a good time and enjoy!

See the list below:

Call of Mini™ Zombies
Call of Mini™ Zombies 2
Call of Mini™ DinoHunter
Call of Mini: Sniper
Call of Mini™ Brawler
TinyLegends™ Heroes
TinyLegends™ Monster Crasher
TinyLegends™ Crazy Knight
DevilDark: The Fallen Kingdom
Call of Mini™ Squad
Call of Mini™ Double Shot
Heroes vs Monsters
DinoCap 3 Survivors
WarCom: Gauntlet
iSniper 3D Arctic Warfare
Dungeon Crasher
Call of Mini™ BattleField!
KungFu Warrior
Doodle Truck 2
MiniGlider

► ► ► ► ►

a BAND of THIEVES has KILLED YOUR MASTER! NOW... it's TIME for REVENGE!

>>>

GRAB POWER-UPS, MASTER COMBOS, and KICK-BUTT in this EPIC ACTION ADVENTURE!

>>>

our hero's story began in a small, peaceful village, far from civilization. there, he studied under the tutelage of a sage elder, a daoist master. every day, he gained greater skill in the ancient art of kungfu. in this way, the days, months, and years went by, happily and without event…

then one day, without warning, a gang of bandits fell upon the village. they pillaged, looted, and burned. determined to save the village, the elder master fought with all his energy, and all his might. at last, he drove the bandits away. but in his effort, he paid the ultimate price, sacrificing his life.

agonized, and holding the lifeless body of his elder master, our hero cried out to the heavens with a promise. he would avenge his master. he would take the daoist oath, and accept a burden of responsibility, of keeping the village safe. thus it was that our story began…

>>>

+ stunningly BEAUTIFUL 2D ART
+ silky SMOOTH ANIMATIONS
+ a metric ton of SICK COMBOS
+ insane DEADLY STRIKES
+ super special ITEM DROPS

>>>

+ 27 epic GAME LEVELS
+ 11 item-producing ARENA STAGES
+ 15 unique COMBO ATTACKS
+ 24 stat-enhancing POWER-UP ITEMS
+ 11 formidable ENEMIES & BOSSES
+ game center LEADERBOARDS + ACHIEVEMENTS
+ full HD graphics for RETINA + iPAD DISPLAYS

>>>

http://twitter.com/TRINITIgames
http://facebook.com/TRINITIgames

Need help? Use our KungFu Warrior Walkthrough page or sign up and make your contribution today.
What's new in version 1.3.9
• Bug fixes
About KungFu Warrior
KungFu Warrior is a free-to-play action game developed by Triniti Interactive Limited, and is available for download on both iOS and Android devices. The app is compatible with iOS 8.0 or later on the following devices: iPhone 11 Pro, X, Xs, SE, iPhone 8, 7, 6, iPad Pro and iPad Mini.
Click the button or scan the QR code below to download KungFu Warrior for iOS. Check out our downloads section to download KungFu Warrior for android and other platforms.
App Rating & Updates
Rankings History
KungFu Warrior has an average rating of 4.5.
---
Recent updates

What Client's Say
Review: '😩' 'Bring back OMG! Pirates!!!!! & make a part 2 for this. Thank you.'
Review: 'AMAZING' 'I love every thing about this this game Gould's many nostalgic memories'
Review: 'Great game' 'I'm glad I get to play this game again in 2020 it's been years .. if it's possible to...
Review: 'This Game is Good' 'I loved playing this game on my iPod touch back in the day, now I have it on my iPhone 11....
Review: 'Childhood' 'So I played it when I was 5 now I am 12 I love your game so much it made me cry...
KungFu Warrior Add-Ons
The app is free but you can buy extra add-ons via in-app purchases.
KungFu Warrior $20,000 Cash Pack
KungFu Warrior Unlock All Combo Skills
KungFu Warrior all POWER-UP items are available for purchase