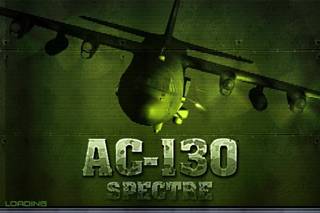 AC-130
Publisher: Triniti Interactive Limited
Free for a limited time
Price: $1.99 > free
Category
Games
Version
1.3.2
Size
25 Mb
Released
2011-03-03
*NOW FREE for a LIMITED TIME!*CLIMB ABOARD an AC-130 GUNSHIP and RAIN DEATH from the SKY in this VISUALLY STUNNING take on MODERN WARFARE...

► ► ► ► ►

GET the GAME w/ OVER 3 MILLION DOWNLOADS!

► ► ► ► ►

FULL 3D. EXPLOSIONS GALORE. pick your WEAPON OF CHOICE and OPEN FIRE...

► ► ► ► ►

It is the year 2011. The Pentagon has dispatched your AC-130 Spectre to provide close air support for US ground forces near the border between Pakistan and India.

Man the guns on the deadliest weapon in the sky, and restore order to the land...

► ► ► ► ►

• 2 x 25mm M61 VULCAN cannon
• 1 x 40mm L/60 BOFORS cannon
• 1 x 105mm M102 HOWITZER
• DESTROY patrol vehicles, SAM turrets, ground troops, tanks and buildings
• AMAZING 3D graphics with NIGHT VISION
• in-game VOICE GUIDE
• DELIVER death from above in OVER 10 THRILLING MISSIONS
• TOUCH + TILT controls, you choose!
• 6 MEDALS, can you unlock them all?

► ► ► ► ►

http://twitter.com/TRINITIgames
http://facebook.com/TRINITIgames

Need help? Use our AC-130 Walkthrough page or sign up and make your contribution today.
What's new in version 1.3.2
• UI changes ► ► ► ► ► http://twitter.com/TRINITIgames http://facebook.com/TRINITIgames
About AC-130
AC-130 is a free-to-play, simulation and action game developed by Triniti Interactive Limited, and is available for download on both iOS and Android devices. The app is compatible with iOS 3.0 or later on the following devices: iPhone 11 Pro, X, Xs, SE, iPhone 8, 7, 6, iPad Pro and iPad Mini.
Click the button or scan the QR code below to download AC-130 for iOS. Check out our downloads section to download AC-130 for android and other platforms.
App Rating & Updates
Rankings History
Ranked #191 in US App Store / Simulation
AC-130 has an average rating of 3.4.
---
Recent updates

What Client's Say
Review: 'العراق' 'لماذا لم استطيع تنزيل هذه العبه انا كانت عندي وكنت دائمأ انزلها'
Review: 'The Game needs a update' 'The Game needs a update for iOS 11.'
Review: 'Please update' 'AC-130 is a good game. Would you offer an update please or create a new version.'
Review: 'Favorite game to withstand test of time' 'This is my favorite offline game I can use in airplane mode. I can play for hours or use it...
Review: 'A classic favorite.' 'This is one of my all time favs. It\'s simple to play and is very realistic. I have kept...
AC-130 Add-Ons
The app is free but you can buy extra add-ons via in-app purchases.
AC-130 Unlock All Levels Pack