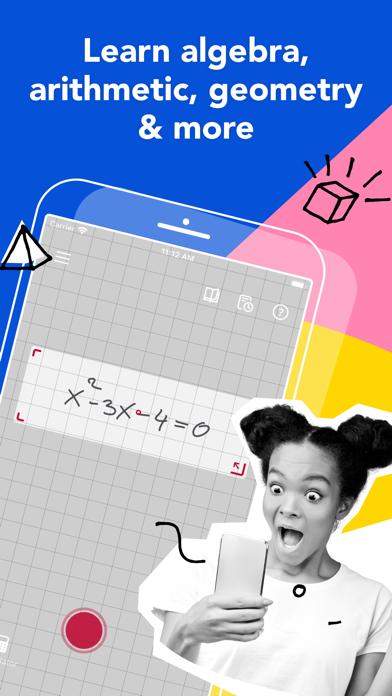 PhotoMath
By Photomath, Inc.
Price: Free
Category
Education
Version
6.1.0
Size
66 Mb
Released
2014-10-17
Scan. Solve. Learn.
Learn math, check homework and study for upcoming tests and ACTs/SATs with the most used math education app on the planet. Photomath is FREE and works without wi-fi or data. Whether you're on the bus, in a cave or just offline, core Photomath is always available, because data matters.
From basic arithmetic to advanced calculus and geometry, learn with Photomath. Understand core concepts to help you advance in math and feel confident in class!

KEY FEATURES
● NEW! Word problem explanations!
● No internet or data required
● Free to use
● Step-by-step explanations for every solution
● Exclusive how-to animations
● Scroll through multiple solving methods per problem
● Multi-functional scientific calculator
● Interactive graphs

MATH TOPICS COVERED
● Basic Math/Pre-Algebra: arithmetic, integers, fractions, decimal numbers, powers, roots, factors
● Algebra: linear equations/inequalities, quadratic equations, systems of equations, logarithms, functions, matrices, graphing, polynomials
● Geometry (specific textbooks only)
● Trigonometry/Precalculus: identities, conic sections, vectors, matrices, complex numbers, sequences and series, logarithmic functions
● Calculus: limits, derivatives, integrals, curve sketching
● Statistics: combinations, factorials

Featured in Huffington Post, Forbes, TIME, CNN, EdSurge, Guiding Tech, The Verge, TechCrunch and more.

Suggestions or questions? Email us at support@photomath.net

Website: www.photomath.app
Facebook: @Photomathapp
Twitter: @Photomath

Photomath is and will always be free to use, but you can boost your learning with Photomath Plus - solutions for every problem in your textbook including WORD PROBLEMS! Currently available in US and for specific textbooks only.

Don't see your textbook? Email us at support@photomath.net. Tell us which books you want to be covered next!

Payment will be charged to your Apple ID account at the confirmation of purchase. Subscription automatically renews unless is canceled at least 24 hours before the end of the current billing period. Your account will be charged for renewal within 24 hours prior to the end of the current period. Manage or cancel your subscription in your account settings on the App Store after purchase. Offers and pricing subject to change without notice.

Terms of Use: https://photomath.net/en/termsofuse
Privacy Policy: https://photomath.net/en/privacypolicy

What's new in version 6.1.0
Just in time for back-to-school, we've updated the app to be even more helpful when you're studying math! - Enjoy a cleaner layout when reviewing problem solutions - Browse multiple ways to solve a problem, then choose the best one for you - Share solutions with friends to help them when they're stuck - New and improved camera and calculator - Bug fixes and overall performance enhancements
---
App Details
PhotoMath is an application developed by Photomath, Inc. and released on iOS. The app is compatible with iOS 10.0 or later on the following devices: iPhone 8, iPhone 7, iPhone 6, iPad Pro, iPad Mini and iPod Touch 6G or newer.
Below are the links to download this app on iOS. If you want to download this app for Android, click here.

What Client's Say
Review: I HEART PHOTOMATH!!! GOD BLESS YOU PHOTOMATH! YOU FR A REAL ONE 💯✊🏽! You've been there since I was struggling on 2+2 Ik what...
Review: Great!! Such a great app!! You can easily solve most problems and know how it has been solved step by step 👍
Review: helps a lot i like to use this when i need to work out the problem when i'm confused and it helps...
Review: Plz fix Doesn't give me my answer in the ways I need
Review: Супер! Приложение просто супер! Помогает мне во всем! Объясните чтобы если на уроке спросили вы могли лучше понять и хорошого объяснить. Всем советую, не пожалеете!💕
App Ratings & Updates
Ranked #56 in U.S. Rated on App Store: 5 Stars.
Rank in top paid apps - Apps (iPhone) - United States
Release v6.1.0

Sep 3, 2019

Release v6.0.0

Aug 21, 2019

Release v5.4.1

May 22, 2019

Release v5.4.0

Apr 24, 2019

Release v5.3.2

Mar 31, 2019
PhotoMath Add-Ons
The app is Free but you can buy extra add-ons via in-app purchases.