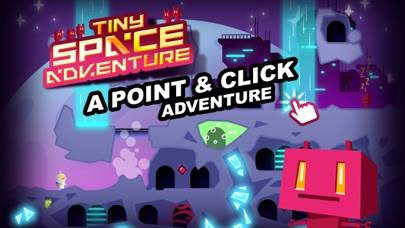 Tiny Space Adventure
Publisher: Alexandre Minard
ON SALE 50% OFF
Price: $1.99 > $0.99
Category
Games
Version
1.8
Size
95 Mb
Released
2014-03-27
Point & Click Game
Live a great adventure with this point and click game that combines simplicity and logic ...
∙ Touch Arcade - 4.5/5 - "Tiny Space Adventure is really enjoyable, visually striking, and provides players with just what they desire - a good solid platform puzzler with no unnecessary clutter."

∙ PocketGamer - "Tiny Space Adventure is a pretty interesting puzzle game masquerading as a simple point-and-tap adventure."

∙ 148 Apps - 4/5 - "Tiny Space Adventure is a mostly delightful puzzler that will test players' memory and pattern recognition skills."

∙ App Advice - "This is definitely a title that anyone, especially those who enjoy casual games, can enjoy. Tiny Space Adventure is a fun little game to have around."

∙ AdventureGamers - "If this has your fingers itching in anticipation, there's no need to wait."

∙ SoftTonic - "Tiny Space Adventure is gripping and fun to play"

A journey into space...
A rocket failure...
An unknown planet...

Here's what you are going to live in Tiny Space Adventure.

Can you manage to pass each level without being trapped? Try and you'll know :)

You'll face puzzles of increasing difficulty, but also many surprises in each level ... it's up to you to discover them...

Ready to live an intergalactic adventure?
Let's go!!!

Need help? Use our Tiny Space Adventure Walkthrough page or sign up and make your contribution today.
What's new in version 1.8
This app has been updated by Apple to display the Apple Watch app icon. Fix bugs
Tiny Space Adventure is a puzzle game developed by Alexandre Minard and is available for download on both iOS and Android devices. The app is compatible with iOS 9.0 or later on the following devices: iPhone 13, 12 Pro, X, SE, iPhone 8, 6, iPad Pro, and iPad Mini.
Click the button or scan the QR code below to download the latest version of the Tiny Space Adventure app on iOS.
App Rating & Ranking
Rankings History
Ranked #81 in US App Store / Puzzle
Tiny Space Adventure has an average rating of 4.9.
---
Recent App Updates

What Client's Say
Review: Supah good I played it and it was AWSOME there are 13 levels which is good and this is like tiny theif which...
Review: Very fun Me and my kids loved this cute little game can't wait for more levels!
Review: Love this game Fun to play, just want more please
Review: Point and click One of the best games I have played, I loved the drawings, not cluttered, made me think about the way...
Review: Really fun! Waiting for next one! A bit short, otherwise great little game!!
Tiny Space Adventure Add-Ons
The app is $0.99 and offers no in-app purchases.