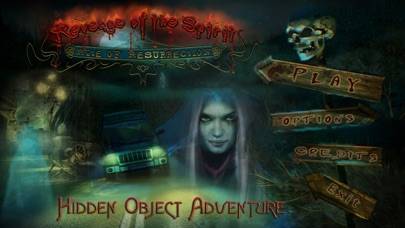 Revenge of the Spirit: Rite of Resurrection HD
Publisher: Absolutist
ON SALE 33% OFF
Price: $2.99 > $1.99
Category
Games
Version
5.5.4
Size
196 Mb
Released
2013-09-21
How far will you go to return your one and the only? Can you cheat death? Save the residents of a remote town where you ended up chance before the ancient evil takes up your soul in this creepy hidden object game.
Features:
● 30 hand-drawn hidden object scenes
● 19 mini-games and puzzles
● Thrilling adventure with unpredictable ending
● Unlockable bonus chapter

Being at the death's door, a mystery novelist Adora Graves was obsessed of finishing her last detective story, The Rite of Resurrection. Based on some ancient folio she had found, it promised to become a bestseller. However no one could have predicted the outcome. Now the town of Beacon is enveloped in ominous fog driving the townsfolk out of senses. An unlucky passerby, you find yourself trapped in the cursed city.

Explore the maze of the deserted streets, follow the clues and pick up the trail of a mysterious book that inspired Adora to write that deadly novel. Scour tricky hidden object locations and solve unique puzzles on your way to the truth. Confront the revengeful wraith and unlock exclusive bonus chapter from within the game. Can you cast away the darkness and defeat the sinister spirit released by the dying writer? Find it out in Revenge of the Spirit: Rite of Resurrection, an eerie Hidden Object Puzzle Adventure!

Need help? Use our Revenge of the Spirit: Rite of Resurrection HD Walkthrough page or sign up and make your contribution today.
What's new in version 5.5.4
This app has been updated by Apple to display the Apple Watch app icon. Update Rite of Resurrection and continue exploring tricky hidden object locations and solving puzzles on the newest iOS! And as always, thank you for your feedback! Your opinion is very important for us.
About Revenge of the Spirit: Rite of Resurrection HD
Revenge of the Spirit: Rite of Resurrection HD is an adventure game developed by Absolutist, and is available for download on both iOS and Android devices. The app is compatible with iOS 7.0 or later on the following devices: iPhone 11 Pro, X, Xs, SE, iPhone 8, 7, 6, iPad Pro and iPad Mini.
Click the button or scan the QR code below to download the latest version of Revenge of the Spirit: Rite of Resurrection HD on iOS.
App Rating & Updates
Rankings History
Ranked #192 in US App Store / Adventure
Revenge of the Spirit: Rite of Resurrection HD has an average rating of 3.7.
---
Recent updates

What Client's Say
Review: Good game Much better than most of what Big Fish has Been offering lately. Much better plot and story line.....keep these...
Review: 🔎👻🔍Great storyline!!🔎👻🔍 Love the atmosphere/storyline. Wish that the puzzles were a little better but the HOS are good. Also, some of...
Review: Big Fish Game! This is a good game. It's just like Big Fish hidden object adventure games and I definitely recommend it! If...
Review: Great Game Compelling! Please make more like this.
Review: Great game! I really loved this game - would like to see more like it!
Revenge of the Spirit: Rite of Resurrection HD Add-Ons
The app is $1.99 but you can buy extra add-ons via in-app purchases.
Double-Speed Hint Recharge
Fivefold-Speed Hint Recharge