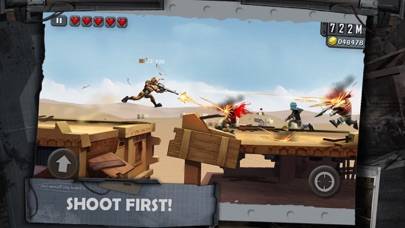 WarCom: Gauntlet
Publisher: Triniti Interactive Limited
Free for a limited time
Price: $1.99 > free
Category
Games
Version
1.0.9
Size
169 Mb
Released
2013-01-18
10th year Anniversary
Trinit Interactive 10th Anniversary, PLAY AT WILL!
For 10 years, Triniti Interactive Studios have published 150 games on mobile platform. Out of gratitude for your long support, we decided to bring the most popular games in the past back on the AppStore. What's more, All in-app purchases of these games are now free! In other words, all players can enjoy the full content of the games for free!
Have a good time and enjoy!

See the list below:

Call of Mini™ Zombies
Call of Mini™ Zombies 2
Call of Mini™ DinoHunter
Call of Mini: Sniper
Call of Mini™ Brawler
TinyLegends™ Heroes
TinyLegends™ Monster Crasher
TinyLegends™ Crazy Knight
DevilDark: The Fallen Kingdom
Call of Mini™ Squad
Call of Mini™ Double Shot
Heroes vs Monsters
DinoCap 3 Survivors
WarCom: Gauntlet
iSniper 3D Arctic Warfare
Dungeon Crasher
Call of Mini™ BattleField!
KungFu Warrior
Action Truck
MiniGlider

► ► ► ► ►

they've GOT YOU surrounded! grab your GUN and RUN the GAUNTLET!

► ► ► ► ►

It was supposed to be a simple recon job. In and out. But sometimes even the best scouts get in too deep! Now you've got no choice but to run and gun your way through a gauntlet of pits, traps, and enemies!

► ► ► ► ►

• Endless action
• Tons of tricky obstacles
• Loads of weapons and items
• Pulse-pounding gameplay

► ► ► ► ►

http://twitter.com/TRINITIgames
http://facebook.com/TRINITIgames

Need help? Use our WarCom: Gauntlet Walkthrough page or sign up and make your contribution today.
What's new in version 1.0.9
• Bug fixes
About WarCom: Gauntlet
WarCom: Gauntlet is a free-to-play action game developed by Triniti Interactive Limited, and is available for download on both iOS and Android devices. The app is compatible with iOS 8.0 or later on the following devices: iPhone 11 Pro, X, Xs, SE, iPhone 8, 7, 6, iPad Pro and iPad Mini.
Click the button or scan the QR code below to download WarCom: Gauntlet for iOS. Check out our downloads section to download WarCom: Gauntlet for android and other platforms.
App Rating & Updates
Rankings History
Ranked #200 in US App Store / Action
WarCom: Gauntlet has an average rating of 4.2.
---
Recent updates

What Client's Say
Review: 'Your mom' 'I play this game all day 😄'
Review: 'What the hell?' 'I bought a P90 then I died I went back to equip it and I had to buy it again....
Review: 'Its Good But needs a Update' 'This game is great dont get me wrong but it needs more:Guns,More People to run with,More Equipment...
Review: 'The next Hill Climb' 'This is a Great game and very fun and addicting this game gets u caught i incourage u get it'
Review: 'Add' 'Add new maps,characters,and mostly guns please'
WarCom: Gauntlet Add-Ons
The app is free but you can buy extra add-ons via in-app purchases.