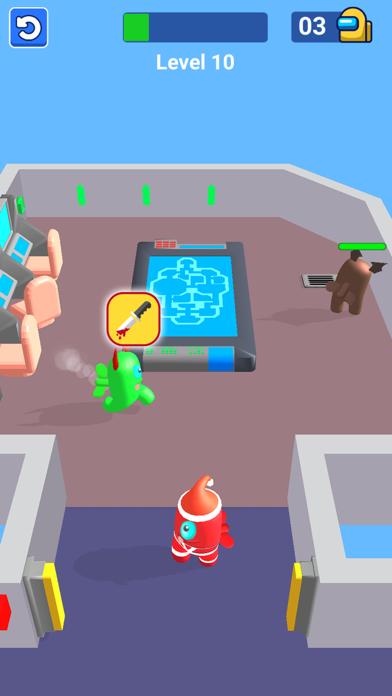 Red Imposter
Publisher: IMAP TECHNOLOGY AND SERVICE JOINT STOCK COMPANY
Price: Free
Category
Games
Version
1.1.5
Size
216 Mb
Released
2020-12-22
Red Impostor is a fun and engaging Action game. Your mission is simple: Execute all living crewmates in the spaceship. Let no one survive.
HOW TO PLAY:
- Hold and drag to move around the ship, kill the crewmates, and sabotage the objects.
- When you kill everyone without getting noticed, the level is completed.
- Be careful with crewmate, they may discover you are The Impostor

FEATURES:
Incredibly simple to understand.
- One finger control
- Countless challenges from easy to expert.
- Absolute free to play.

Need help? Use our Red Imposter Walkthrough page or sign up and make your contribution today.
What's new in version 1.1.5
Implement mediation SDK In-App Purchase Remove Splash Screen
About Red Imposter
Red Imposter is a free-to-play, action and simulation game developed by IMAP TECHNOLOGY AND SERVICE JOINT STOCK COMPANY, and is available for download on both iOS and Android devices. The app is compatible with iOS 10.0 or later on the following devices: iPhone 11 Pro, X, Xs, SE, iPhone 8, 7, 6, iPad Pro and iPad Mini.
Click the button or scan the QR code below to download Red Imposter for iOS. Check out our downloads section to download Red Imposter for android and other platforms.
App Rating & Updates
Rankings History
Ranked #198 in US App Store / Action
Red Imposter has an average rating of 4.5.
---
Recent updates

What Client's Say
Review: Good game It's a good game but a few times I will somehow get out side the map and if I...
Review: INCREDIBLE GAME!!! MUST HAVE!!!!! This game is life changing. Absolutely ground breaking milestone for gamers everywhere. I don't know how I lived without...
Review: My favorite game You can make so much money you can make like $1000 in a week
Review: Soooooooooooooooo mad 😡😡😡😡😡😡 I was playing the game and when I past level 50 it started me over and lost all my skins I...
Review: Please get this and rate 5stars it's really a good game to sneak up cuz u never know in real life u might die and...
Red Imposter Add-Ons
The app is free and offers no in-app purchases.