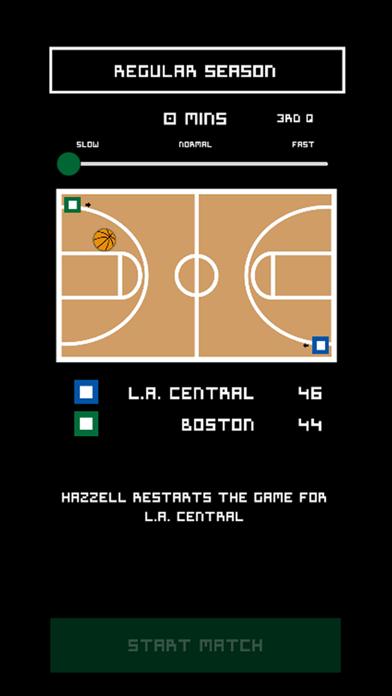 Retro Basketball Coach 2021
Publisher: Swipe Studios Interactive Limited
Price: $1.99
Category
Games
Version
2
Size
74 Mb
Released
2020-12-15
Trade players, manage your lineup, and coach your team to a championship title! Retro Basketball Coach 2021 puts you in charge of your favourite city as you try and take your team to the play offs and a shot at winning the finals.
Simple menus allow you to focus on picking your best five players and checking their energy levels to make sure you keep your lineup fresh. Coach an entire game in a few minutes, and if your team isn't up to the challenge then you can trade your way to your own 'all star' team in pursuit of success!

Complete with stylish player faces for every team, every basketball fan can experience the joy of guiding their team to finals glory!

- 30 teams
- 450 players
- Simple tactics
- Trades
- Stylish retro visuals
- Fun, fast basketball coaching!

Need help? Use our Retro Basketball Coach 2021 Walkthrough page or sign up and make your contribution today.
What's new in version 2
Updated Rosters
About Retro Basketball Coach 2021
Retro Basketball Coach 2021 is a sports game developed by Swipe Studios Interactive Limited, and is available for download on both iOS and Android devices. The app is compatible with iOS 11.0 or later on the following devices: iPhone 11 Pro, X, Xs, SE, iPhone 8, 7, 6, iPad Pro and iPad Mini.
Click the button or scan the QR code below to download Retro Basketball Coach 2021 for iOS. Check out our downloads section to download Retro Basketball Coach 2021 for android and other platforms.
App Rating & Updates
Rankings History
Ranked #194 in US App Store / Sports
---
Recent updates
What Client's Say
Review: Add in player progression Add in player progression please I want to build up a team (Charlotte) and it's impossible without basically cheating...
Retro Basketball Coach 2021 Add-Ons
The app is $1.99 and offers no in-app purchases.