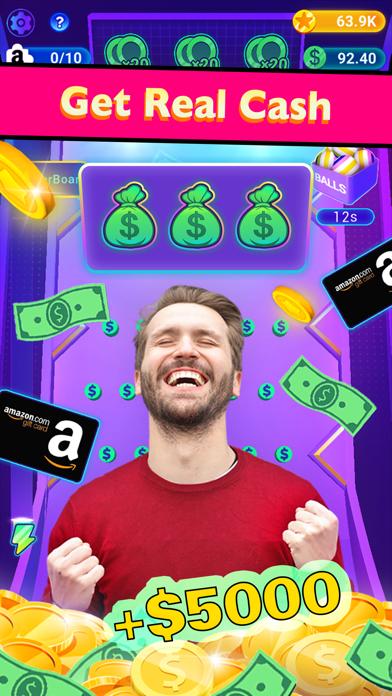 Plinko Party 3D
Publisher: XinYao Interactivity Technology Co., Limited
Price: Free
Category
Games
Version
1.2.2
Size
169 Mb
Released
2020-09-09
Play and Make Real Money
Real Cash, 100% Free! Join and win, today is your lucky day!
Plinko Party 3D is a new 3D Plinko game. Tap the screen to start an exciting and happy journey.
Tap the screen to drop the ball to win rewards, the jackpot is waiting for you!
Download Plinko Party 3D now! Enjoy the luck and rewards brought by every collision!

Game features:

- Simple: touch the screen to throw the ball
-Rewards: go through blocks, reward slots. Enter the ring, spin the slot, and win the jackpot!
-Excitement: continuous pitching, unlimited collisions, super rewards.
-Competition: compete with the other players in the leaderboard to win gift card everyday!

*This game does not cost any real money.
*Playing this game does not imply future success in "Real Money Gambling".
*Apple does not sponsor, nor in any way affiliated with Plinko Party 3D.

Need help? Use our Plinko Party 3D Walkthrough page or sign up and make your contribution today.
What's new in version 1.2.2
- Bug fixes and performance improvements
About Plinko Party 3D
Plinko Party 3D is an application developed by XinYao Interactivity Technology Co., Limited and released on iOS. The app is compatible with iOS 10.0 or later on the following devices: iPhone 11 Pro, X, Xs, SE, iPhone 8, 7, 6, iPad Pro and iPad Mini.
Click the button or scan the QR code below to download Plinko Party 3D for iOS. Check out our downloads section to download Plinko Party 3D for android and other platforms.
App Rating & Updates
Rankings History
Ranked #185 in US App Store / Casual
Plinko Party 3D has an average rating of 4.3.
---
Recent updates

What Client's Say
Review: The money It seems like it takes forever to reach enough money to cash out On PayPal. All the ads look great...
Review: Fun! It is amazing! It's relaxing and you get more more balls every hour which gives me more opportunity. Best...
Review: Hopefully Just started playing this game 3 stars for now.
Review: 'Hi' 'Big shock here. I get to 90.00 dollars and the game is now all tokens and bonuses are all tokens now...
Review: 'I very love this game' 'Sir this is my account. Thank you'
Plinko Party 3D Add-Ons
The app is free and offers no in-app purchases.