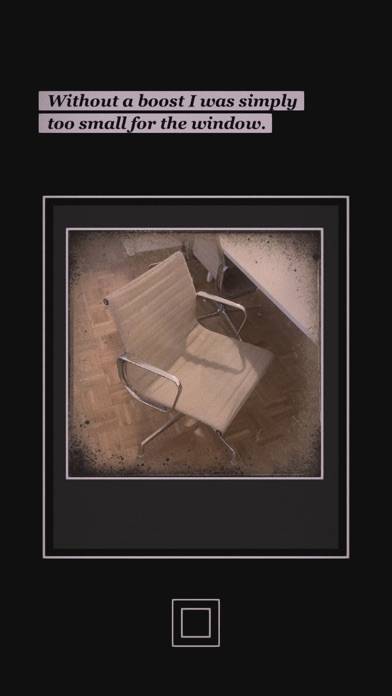 MonkeyBox #1: Polarized!
Publisher: TheCodingMonkeys
ON SALE 67% OFF
Price: $2.99 > $0.99
Category
Games
Version
1.0.4
Size
71 Mb
Released
2020-02-28
A Photo Mystery
Take a photo! Take another one! "Click" and a story unfolds.Experience the first game driven by image recognition.

A story driven by your camera.

»What did happen in that house?
I told no one.
And my mother didn't ask.
The official report says I ran away.
That I got lost in the blizzard.
Of course that isn't true.
But I am the only one who knows that.« - C.C.

What happened that winter night?
Uncover the secrets with your camera.

Need a ladder? Take a photo in the real world!
Thirsty? Photograph a beverage.

Enjoy your first »photo mystery«: A game controlled by the pictures you take.

Polarized! is entry #1 of the TheCodingMonkeys MonkeyBox Series.

Note: Privacy is important. The pictures you'll take don't leave the device and are only used to make the game work. Therefore you don't need an internet connection to play this game.

Need help? Use our MonkeyBox #1: Polarized! Walkthrough page or sign up and make your contribution today.
What's new in version 1.0.4
Small bugfixes
About MonkeyBox #1: Polarized!
MonkeyBox #1: Polarized! is an adventure game developed by TheCodingMonkeys, and is available for download on both iOS and Android devices. The app is compatible with iOS 13.2 or later on the following devices: iPhone 11 Pro, X, Xs, SE, iPhone 8, 7, 6, iPad Pro and iPad Mini.
Click the button or scan the QR code below to download the latest version of MonkeyBox #1: Polarized! on iOS.
App Rating & Updates
Rankings History
Ranked #82 in US App Store / Casual
MonkeyBox #1: Polarized! has an average rating of 3.1.
---
Recent updates

What Client's Say
Review: It is fix I got help form the developer within the day and stayed in contact that does not happen often to me...
MonkeyBox #1: Polarized! Add-Ons
The app is $0.99 and offers no in-app purchases.