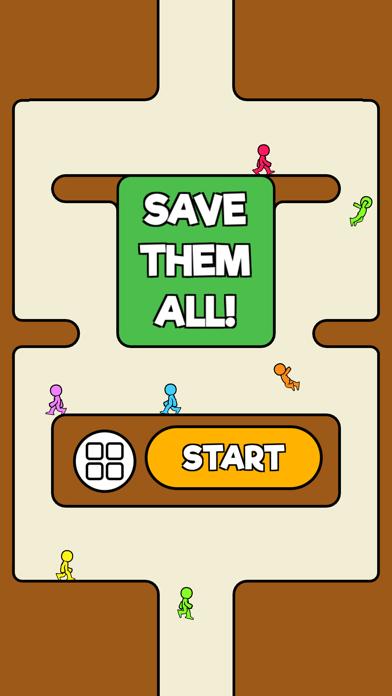 Save Them All!
By Another Place Productions
Price: Free
Category
Games
Version
1.2.1
Size
9 Mb
Released
2019-11-15
Draw to rescue puzzles!
PLAY ANYWHERE - NO WIFI NEEDED!!!SAFE AND KID-FRIENDLY!!!
NO IN-APP PURCHASE!!!
NO ADVERTISEMENTS!!!
JUST PURE FUN!!!

Be warned: This game is insanely addictive and will test your skills.

******************************************************************************

Best Flying Endless Butterfly for Kids and Toddler is an endless game. Challenge yourself to keep the butterfly flying. Avoid being killed by the cactuses and spiders.

HOW TO PLAY THE GAME?
1. Tap anywhere to keep the butterfly flying.
2. Avoid the spider and lightning.
3. Tap on the Play button to start the game.
4. Collect all the coins.
5. Get the best score

Other features:
- Beat your best score
- Nice background music

Have fun playing the game.

Don't forget to write a review and rate it.

Thanks in advance.

******************************************************************************

Need help? Use our Save Them All! Walkthrough page or sign up and make your contribution today.
App Details
Save Them All! is a free-to-play adventure game developed by Another Place Productions, and is available for download on both iOS and Android devices. The app is compatible with iOS 6.0 or later on the following devices: iPhone 8, iPhone 7, iPhone 6, iPad 3, iPad Mini and iPod Touch 5G or newer.
Below are the links to download this app on iOS. You can check if it's available to download on Android devices here.
App Ratings & Updates
Ranked #197 in U.S.
Rank in top paid apps - Games (iPhone) - United States
Initial release v1.2.1

Nov 15, 2019
Save Them All! Add-Ons
The app is Free and offers no in-app purchases.
Explore Greatest Apps
...everyday!
2 Awesome iPhone apps you should try today.
---