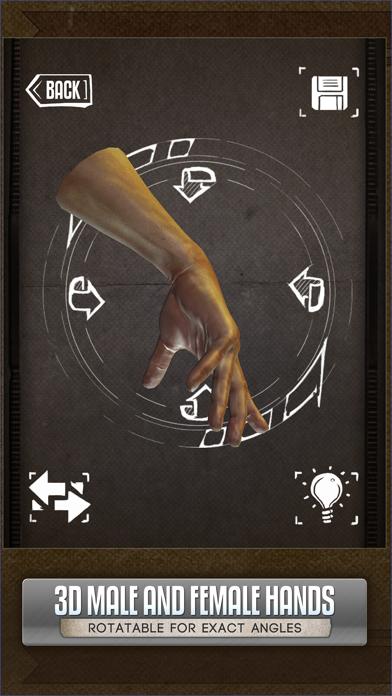 Handy Art Reference Tool
By Belief Engine
Price: $1.99
Category
Education
Version
4.2
Size
149 Mb
Released
2011-11-11
3D lit reference for artists!
DECLARED A MUST HAVE APP BY IMAGINE-FX DIGITAL ART MAGAZINE
"Thanks to this useful app, drawing realistic hands can become a whole lot easier" - ImagineFX

"Pencillers, inkers, and colorists should all give this a look!" - Tony Moore, co-creator of The Walking Dead

If you're an artist and ever wanted to use decent hand reference without having to awkwardly pose your hand in front of a mirror, this app is for you!

HANDY is an artist's reference tool consisting of a rotatable 3D lit hand with a variety of poses useful for drawing. The 3 point lighting rig is also rotatable, so you can rotate and light the hand as necessary for your reference. NEW in 4.0 - edit and make your own poses!

HANDY ALSO includes several heads and animal skulls you can rotate and light- great for getting basic lighting or angle reference or creature study!

Also having trouble with feet? Well now in there's a male foot available to help you out!

Perfect for comic book artist, painters, or just casual sketchers!

Featured in ImagineFX's Top 10 Must-Have Apps!

Check out the video demo:
http://handyarttool.com/

Like HANDY on Facebook!
http://www.facebook.com/HandyArtTool
Follow HANDY on Twitter
http://twitter.com/HandyArtTool/

What's new in version 4.2
Female foot now available! It's automatically included alongside the Male Foot IAP, so if you've already grabbed that you'll get the female foot for free!
App Details
Handy Art Reference Tool is an application developed by Belief Engine and released on iOS. The app is compatible with iOS 8.0 or later on the following devices: iPhone 8, iPhone 7, iPhone 6, iPad 3, iPad Mini and iPod Touch 5G or newer.
Below are the links to download this app on iOS. If you want to download this app for Android, click here.

What Client's Say
Review: Love it Love this app and it helps a lot and I hope they'll add a body to it soon but...
Review: Great app for artists Hands are one of the most difficult body parts to draw. Getting them to look right takes a lot of...
Review: Fills a gap in most full-body posing apps I have a couple of full-body apps I enjoy for art (particularly Magic Poser) but I find the hands and...
Review: So dope This app is a MUST HAVE for anyone who does art frequently
Review: Extremely helpful I have a serious problem drawing hands and feet. This app helps by allowing you to position the figures in...
App Ratings & Updates
Rated on App Store: 5 Stars.
Rank in top paid apps - Apps (iPhone) - United States
Initial release v4.2

Nov 11, 2011
Handy Art Reference Tool Add-Ons
The app is $1.99 but you can buy extra add-ons via in-app purchases.
Explore Greatest Apps
...everyday!
2 Awesome iPhone apps you should try today.
---