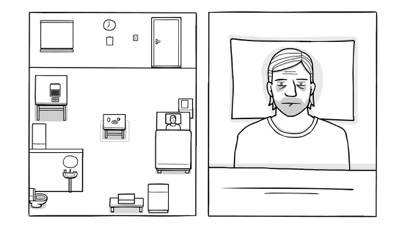 The White Door
By Second Maze
Price: Free
Category
Games
Version
1.6
Size
125 Mb
Released
2020-01-09
A Rusty Lake puzzle adventure
Robert Hill wakes up in a Mental Health facility and suffers from severe memory loss. Follow the facility's strict daily routine, explore his dreams and help him recall his memories.
The White Door is a new point-and-click adventure developed by the creators of the Cube Escape & Rusty Lake series.

Features:

■ Pick-up-and-play
Easy to start but hard to put down

■ Interactive storyline
Follow a daily routine and recollect memories in a playful way, filled with brain teasers and riddles

■ A unique Rusty Lake split-screen adventure
Experience Robert Hill's stay in Rusty Lake's Mental Health facility with an innovative split-screen gameplay

■ Absorbing atmosphere
Each day in the facility has its own atmosphere, suspense and a variety of unexpected and surrealistic events

■ Immersive and haunting soundtrack
Atmospheric theme songs composed by Victor Butzelaar

■ Special achievements
The White Door has more secrets to unravel

Need help? Use our The White Door Walkthrough page or sign up and make your contribution today.
What's new in version 1.6
Thank you for playing The White Door! We fixed a few bugs in this new version.
App Details
The White Door is a free-to-play, adventure and puzzle game developed by Second Maze, and is available for download on both iOS and Android devices. The app is compatible with iOS 8.0 or later on the following devices: iPhone 8, iPhone 7, iPhone 6, iPad Pro, iPad Mini and iPod Touch 6G or newer.
Below are the links to download this app on iOS. You can check if it's available to download on Android devices here.
What Client's Say
Review: MORE PLEASE!!!!! I am obsessed with everything Rusty Lake. Please keep ur creative juices flowing because I will always play ur morbid...
Review: For a Rusty Lake game it's meh Compared to past efforts this game is 7/10 for me. Still was willing to pay for it to support the devs!
Review: a beautiful game Even though the style of the game slightly differs from the ones previous, I enjoyed it very much. I struggle...
Review: Never disappoints Always quirky, always entertaining, the Rusty Lake theme continues to work. Immediately identifiable, it's original art and and music, plus...
Review: Disappointed I adore Rusty Lake, and find their universe one of the most intriguing environments within which to explore. This installment,...
App Ratings & Updates
Ranked #18 in U.S.
Rank in top paid apps - Games (iPhone) - United States
Initial release v1.6

Jan 9, 2020
The White Door Add-Ons
The app is Free and offers no in-app purchases.
Explore Greatest Apps
...everyday!
2 Awesome iPhone apps you should try today.
---