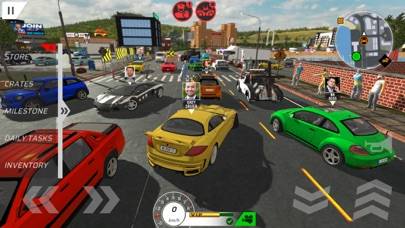 Car Drivers Online: Fun City
By Hybrid Touch Games Limited
Price: Free
Category
Games
Version
1.0
Size
570 Mb
Released
2019-11-29
Real Multiplayer PvP Driving
You're about to enter an EVER-CHANGING city, teeming with challenges and fun!
A MULTIPLAYER MICROVERSE of races and crashes all around you that demands all your reflexes and skills.

The streets are BURSTING at the seams with life—
- ultra-realistic traffic
- pedestrians
& players from around the world, pulling off incredible driving feats!

(Careful— there are some crazy drivers out there!)

The possibilities in Fun City are limitless, with 3 MAIN PATHS to follow.

Face down your missions as:

- an average driver (if you think you're above average, you'll have to prove it!)
- a delivery driver (faster! FASTER!)
- a police officer (feel the power coursing through your veins...)

Whichever you choose, you're going to:

- RACE other players through crazy-realistic, AI-powered traffic
- MASTER solo missions
- buy, borrow, customize and UPGRADE your cars
- SPAWN crates and race other players to get there first!
(you're going to want what's in those crates!)

From the light reflecting off the pavement to your car's razor-sharp reactiveness, this is as close to real-life driving as you've ever seen in your phone.

Install now and check out one of the finest driving games ever made.

Need help? Use our Car Drivers Online: Fun City Walkthrough page or sign up and make your contribution today.
App Details
Car Drivers Online: Fun City is a free-to-play, sports and racing game developed by Hybrid Touch Games Limited, and is available for download on both iOS and Android devices. The app is compatible with iOS 9.0 or later on the following devices: iPhone 8, iPhone 7, iPhone 6, iPad Pro, iPad Mini and iPod Touch 6G or newer.
Below are the links to download this app on iOS. You can check if it's available to download on Android devices here.
App Ratings & Updates
Ranked #144 in U.S.
Rank in top paid apps - Games (iPhone) - United States
Initial release v1.0

Nov 29, 2019
Car Drivers Online: Fun City Add-Ons
The app is Free but you can buy extra add-ons via in-app purchases.
Explore Greatest Apps
...everyday!
2 Awesome iPhone apps you should try today.
---