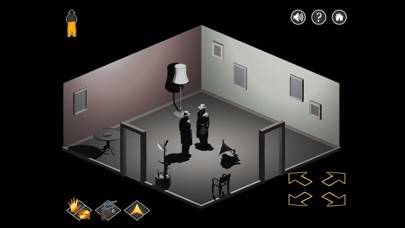 Gangsters 1920
By Sunlight Games GmbH
Price: $1.99
Category
Games
Version
1.0
Size
135 Mb
Released
2019-10-09
Explore the gloomy roads of the surreal 1920s underworld and find the relevant hints. Together with detective Lake, you will be able to hunt down the gangsters responsible for the national bank robbery. Better be safe than sorry – find out who your friends are before encountering your foes. The right people will do you a favor and give you the two clues, the wrong people will kill you.
Find the secret passwords and combine them properly to solve the tricky case.

Features:
- Arcade-Adventure in retro-look
- 3D-iso-view
- Graphics in real time including shadows
- High replay value thanks to a randomly generated scene map after each new game start

Inspired by a great adventure game from the 1980s...

Comments of the developers:
Developer 1: "Maybe the maze is too big and too demanding?"
Developer 2: "Hmmm. That's a feature! It's a retro-inspired game. Players could draw a map with pen and paper!"
Developer 1: "It's a hard but great adventure, isn't it?"
Developer 2: "It is for sure!"
Developer 3: "Don't touch skeletons!"
:-)

Need help? Use our Gangsters 1920 Walkthrough page or sign up and make your contribution today.
App Details
Gangsters 1920 is an adventure game developed by Sunlight Games GmbH, and is available for download on both iOS and Android devices. The app is compatible with iOS 8.0 or later on the following devices: iPhone 8, iPhone 7, iPhone 6, iPad 3, iPad Mini and iPod Touch 5G or newer.
Below are the links to download this app on iOS. If you want to download this app for Android, click here.
Rank in top paid apps - Games (iPhone) - United States
Initial release v1.0

Oct 9, 2019
Gangsters 1920 Add-Ons
The app is $1.99 and offers no in-app purchases.
Explore Greatest Apps
...everyday!
2 Awesome iPhone apps you should try today.
---