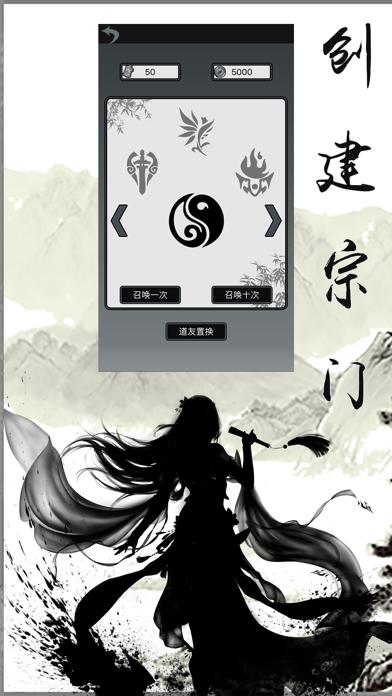 修仙道友
By 田田 高
Price: $0.99
Category
Games
Version
2.0
Size
17 Mb
Released
2019-10-01
全自由单机凡人放置修真
一个普通的山村穷小子,偶然情况下进入了当地的修仙小门派,机缘巧合之下成为了宗门主,你以这样的身份如何在修仙界立足,又如何广收门徒,将宗门发扬光大,和其他巨嚣魔头仙宗仙师并列于山海内外,这一切就从这里开始。 《修仙道友》是一款非常特别的修仙游戏,与你以往玩的修仙略有不同。这次你作为一方宗门之主,不断的招募强大的徒弟,来扩大宗门的势力,与仙宗巨魔争斗,夺取他们的装备法宝不断增加自己的实力,是一款非常好玩的高自由度单机放置累修仙养成RPG游戏。

游戏特色:

* 完全的放置玩法,每次登陆只需要玩几分钟即可,非常适合上班族。
* 高自由度,没有任何限制,游戏完全有你掌控。
* 几百个道友供你选择养成,每个道友都有独特的技能系统。
* 上千种武器装备法宝全部掉落,人人都可以拥有极品装备。
* 上万种仙魔精怪等你来挑战,平定三界全凭实力。
* 全部高级道友免费送,只要你每天上线一切皆有能。

---------------------------------------------------------

道可道,
非常道,
名可名,
非常名,
无名天地之始,
有名万物之母。


-------------------------------------------------------
游戏中遇到任何问题,可以通过游戏设置中QQ群和官方论坛来联系我们!

Need help? Use our 修仙道友 Walkthrough page or sign up and make your contribution today.
What's new in version 2.0
本次更新主要内容: 1、全新的阵法系统劲爆来袭,更多变化,更加有趣! 2、新增新手大礼包,加群领取! 3、优化道友排序系统。 4、优化灵根显示。 5、优化秘境奖励。 更多精彩内容正在努力制作中,敬请期待!
App Details
修仙道友 is a word game developed by 田田 高, and is available for download on both iOS and Android devices. The app is compatible with iOS 8.0 or later on the following devices: iPhone 8, iPhone 7, iPhone 6, iPad 3, iPad Mini and iPod Touch 5G or newer.
Below are the links to download this app on iOS. You can check if it's available to download on Android devices here.
What Client's Say
This game has 0 reviews across all regional iTunes Stores.
App Ratings & Updates
Ranked #64 in U.S.
Rank in top paid apps - Games (iPhone) - United States
Initial release v2.0

Oct 1, 2019
修仙道友 Add-Ons
The app is $0.99 but you can buy extra add-ons via in-app purchases.
Explore Greatest Apps
...everyday!
2 Awesome iPhone apps you should try today.
---