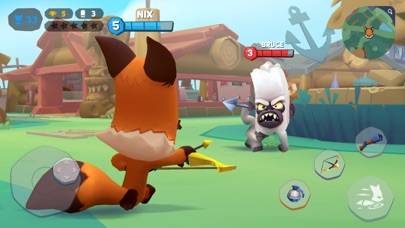 Zooba: Zoo Battle Arena
By Wildlife Studios Limited
Price: Free
Category
Games
Version
1.1.0
Size
246 Mb
Released
2019-10-02
Animal game: fun, fur n' guns!
Zoo Battle Arena is a twist on traditional battle royale! Get the best from MOBA (Multiplayer Online Battle Arena) and Battle Royale in an animal fight for survival in the zoo.

CHOOSE YOUR ANIMAL - Play as different characters, each with unique strengths, weaknesses and special abilities.

TEST YOUR SKILL - A game easy to pick up, but difficult to master! Each character has a special ability and using them well will determine the course of the battle.

TEAM UP WITH YOUR FRIENDS - Don't feel like playing alone? That's fine! You can invite your friends to play with you. The more the merrier!

CHOOSE YOUR LOADOUT - Choose from a variety of items to help improve your skills! Pick the right item and you'll be one step ahead of your opponent!

BECOME THE #1 - Progress through levels and climb the leaderboard to earn amazing prizes that show your courage and valor.


Jump right in and start battling to be the last one standing! Play anywhere and anytime you want! The zoo is yours for the taking!


Features:
- Choose from over 10 different characters, from the tough gorilla to the sneaky chameleon!
- Battle against 19 other players
- Upgrade your character and items
- Climb through the ranks to earn amazing prizes
- Battle Pass filled with rewards
- And much more!

Facebook Page: https://www.facebook.com/PlayZooba/
Facebook Group: https://www.facebook.com/groups/1074016059456748/
Twitter: https://twitter.com/ZooBattleArena
Instagram: https://www.instagram.com/playzooba/
YouTube: https://www.youtube.com/channel/UCDKMpQTjSojKn3nSmahUIWw/
Reddit: https://www.reddit.com/r/Zooba/

Links to our Terms of Service and Privacy Policy can be found below

Privacy Policy: https://www.fungames-forfree.com/legal/privacy
Terms of use: http://www.fungames-forfree.com/legal/tos

Need help? Use our Zooba: Zoo Battle Arena Walkthrough page or sign up and make your contribution today.
What's new in version 1.1.0
+ This version contains a series of bug fixes and performance improvements.
App Details
Zooba: Zoo Battle Arena is a free-to-play, adventure and action game developed by Wildlife Studios Limited, and is available for download on both iOS and Android devices. The app is compatible with iOS 9.0 or later on the following devices: iPhone 8, iPhone 7, iPhone 6, iPad 3, iPad Mini and iPod Touch 5G or newer.
Below are the links to download this app on iOS. If you want to download this app for Android, click here.
What Client's Say
Review: Dragon I it was fun
Review: Crawl You should be able to crawl when your knocked and you should be able to finish people when there knocked...
Review: Review: I LOVE this game! I just wish they would add more animals like a wolf, or a house cat etc,...
Review: I don't know how you made this game so good Everything is perfect except for fuzzy but except for that I love the game it's a battle royale everybody...
Review: rIsE aNd sHinEe Horizon shineee
App Ratings & Updates
Ranked #51 in U.S.
Rank in top paid apps - Games (iPhone) - United States
Initial release v1.1.0

Oct 2, 2019
Zooba: Zoo Battle Arena Add-Ons
The app is Free but you can buy extra add-ons via in-app purchases.
Explore Greatest Apps
...everyday!
2 Awesome iPhone apps you should try today.
---