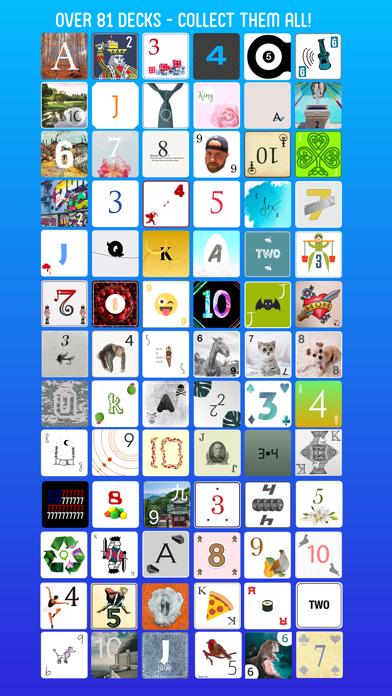 Solisquare
By gary gogis
Price: Free
Category
Games
Version
1.4
Size
678 Mb
Released
2019-09-19
Solitaire's New Generation
Solisquare is an all new solitaire game that is fun and easy to play. But don't be fooled, there is more strategy than in regular solitaire. Play on your Apple TV, iPhone or iPod and your progress and games are saved from device to device! Start a game on your Apple TV and finish it on your phone! There is also an Apple Watch version - designed perfectly to fit on your wrist! The only solitaire game that can be played with no scrolling!
Each round is played with 52 cards. Your goal is to reveal all 52 cards by building up and down in 4 scoring piles. You also have 4 store piles that you can use to store one extra card in to use later. Almost every deal is winnable!

You begin with a standard deck...but as you level up and earn coins, you can unlock new decks! These decks were specifically created for Solisquare. Choose a deck that matches your personality, or take the ultimate challenge and collect them all! The more you play, the more decks you can unlock!

Earn points and coins for each round played, and bonus points for winning! Points will increase your level rank which will all you to unlock new decks.

Battle Mode! - Play against other players from around the world in a two player version! Each player races to get rid off all 52 cards while playing at the same time on the same playing squares! Earn or lose Battle Cred after each match!

Compete with your friends on the leaderboard-Most points, most wins, longest streak and highest scoring game! Complete achievements and track your progress!

Current decks include:

• Standard
• Vintage
• Space
• Money
• Llama
• Helvetica
• Pizza
• Pineapple
• Beach
• Birds
• Domino
• Cactus
• Hand Drawn
• Unicorn
• Wilderness
• Math
• Western
• Skull
• Leaves
• Architecture
• Denim
• Camo
• Puppies
• Cats
• Horses
• Puns
• Zoo Animals
• Poodles

New decks released monthly- collect them all!

Need help? Use our Solisquare Walkthrough page or sign up and make your contribution today.
What's new in version 1.4
• Battle Mode! Race another player to clear your deck! • New decks added • Bug fixes and gameplay enhancements
---
App Details
Solisquare is a free-to-play card game developed by gary gogis, and is available for download on both iOS and Android devices. The app is compatible with iOS 11 or later on the following devices: iPhone 8, iPhone 7, iPhone 6, iPad Pro, iPad Mini and iPod Touch 6G or newer.
Below are the links to download this app on iOS. If you want to download this app for Android, click here.

What Client's Say
Review: Addicted, but a couple of bugs This game is CRAZY good - I played nonstop until I got that unicorn deck at level 6. But I have...
Review: Great Game!! Honestly this game is so addicting. This game is also very entertaining and I could play it for hours and...
Review: Great innovative solitaire style game! This game moves quick, is a good mix of skill and luck and holds my attention for longer than regular...
Review: Amazing Ever since I saw this for the first time on the App Store I've wanted to play it. My...
Review: Fun, engaging, and challenging This game is simple to learn, but requires more strategy than it appears. Love it!
App Ratings & Updates
Ranked #190 in U.S. Rated on App Store: 4.5 Stars.
Rank in top paid apps - Games (iPhone) - United States
Release v1.4

Sep 23, 2019

Free -> Free

Sep 19, 2019

Free -> Free

Sep 18, 2019

Free -> Free

Sep 18, 2019

Free -> Free

Sep 17, 2019

Free -> Free

Sep 17, 2019

Release v1.1

Sep 9, 2019

Release v1

Aug 15, 2019
Solisquare Add-Ons
The app is Free but you can buy extra add-ons via in-app purchases.