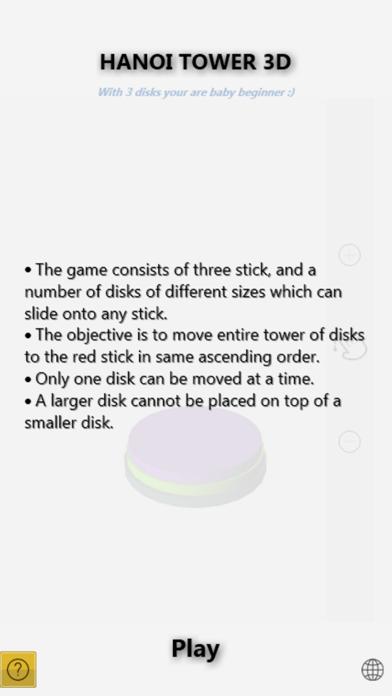 HANOI TOWER 3D
Publisher: Gabriel Cristea
Free for a limited time
Price: $1.99 > free
Category
Games
Version
3.0.10
Size
37 Mb
Released
2017-02-10
The HANOI TOWER 3D is a modern and 3D interpretation of an old mathematical game. It consists of three stick, and a number of disks of different sizes which can slide onto any stick.
The objective is to move entire tower of disks to the red stick in same ascending order.
Only one disk can be moved at a time.
A larger disk cannot be placed on top of a smaller disk.

Enjoy !

Need help? Use our HANOI TOWER 3D Walkthrough page or sign up and make your contribution today.
What's new in version 3.0.10
New featured added! Possibility to add 3 or even UNLIMITED attempts for wrong moves
About HANOI TOWER 3D
HANOI TOWER 3D is a free-to-play puzzle game developed by Gabriel Cristea, and is available for download on both iOS and Android devices. The app is compatible with iOS 8.0 or later on the following devices: iPhone 11 Pro, X, Xs, SE, iPhone 8, 7, 6, iPad Pro and iPad Mini.
Click the button or scan the QR code below to download HANOI TOWER 3D for iOS. Check out our downloads section to download HANOI TOWER 3D for android and other platforms.
App Rating & Updates
Rankings History
Ranked #197 in US App Store / Casual
---
Recent updates
$1.99 -> Free

Sep 6, 2019

Release v3.0.10

Sep 5, 2019

Release v3.0.5

Sep 3, 2019

$0.99 -> $1.99

Jun 18, 2019

$1.99 -> $0.99

May 26, 2019
Check Price Changes
HANOI TOWER 3D Add-Ons
The app is free but you can buy extra add-ons via in-app purchases.