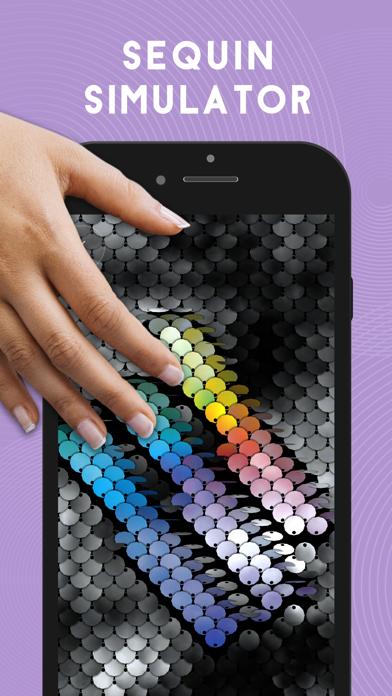 Sequin Simulator Games
Publisher: Tech Consolidated Inc
Free for a limited time
Price: $4.99 > free
Category
Games
Version
1.1.1
Size
221 Mb
Released
2019-04-04
ASMR triggers Sequin App
Flip colorful interactive sequins, swipe across your screen to draw shapes, turn it, and enjoy its amazing satisfying colors!
FEATURES:
- DIY Sequin, create your own! You can make your very own personalized sequin. Change
shape, color & background and flip it like it's real!
- Realistic simulation effects
- Choose colors, shapes & backgrounds
- Different choices of sequin textures, shapes and effects
- Put your own Sequin on a pillow, t-shirt etc.
- Place your image on any of the Sequins

From the creators of Slime Simulator Games, we present our latest Sequin Simulation game

Need help? Use our Sequin Simulator Games Walkthrough page or sign up and make your contribution today.
What's new in version 1.1.1
- minor bug fixes
About Sequin Simulator Games
Sequin Simulator Games is a free-to-play simulation game developed by Tech Consolidated Inc, and is available for download on both iOS and Android devices. The app is compatible with iOS 9.0 or later on the following devices: iPhone 11 Pro, X, Xs, SE, iPhone 8, 7, 6, iPad Pro and iPad Mini.
Click the button or scan the QR code below to download the latest version of Sequin Simulator Games on iOS.
App Rating & Updates
Rankings History
Sequin Simulator Games has an average rating of 4.7.
---
Recent updates

What Client's Say
Review: Awesome This is an awesome game it is supper entertaining I could play for hours and hours this game is a...
Review: Impressive Just got it.ads,but realistic.honestly stop reading reviews just get it .see for yourselves how amazing it is....
Review: Best game ever!!! It is the best game ever because you don't have to buy so much because when you flip more...
Review: Relaxing Nice app something nice to feel relaxed and enjoy
Review: It needs some more shapes and colors I think the games great and you don't have to subscribe but it's needs more shapes and colors...
Sequin Simulator Games Add-Ons
The app is free and offers no in-app purchases.