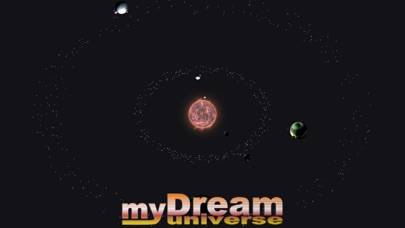 myDream Universe
Publisher: Waterpower Technology
Free for a limited time
Price: $4.99 > free
Category
Games
Version
2.08
Size
91 Mb
Released
2019-03-20
Discover Sandbox Planets
myDream Universe is a sandbox space simulation game.
Start from a small asteroid absorbing other asteroids to form a solar system.

Roaming sandbox universe and discover wandering planets or solars, your solar system can earn GP and mass. GP is important to build your system. It is very easy to earn, simply roaming the universe and near other planets you will receive a GP.

Mass is everything in the universe. Biggest mass planet alway can destroy other smaller mass planets. So, find smaller mass planets and absorb them, and away from heavy mass planet is the survival rule in the universe.

Also mass is available on everywhere, roaming the universe. It is easy to find asteroids, absorb them to develop your planets.

This game is mainly focus on develop and growth the solar system. Absorbing mass is slow and long term. Once your sun has enough mass, it can be transform to neutron star or blackhole.

In order to let you freely build your dream solar system, we provide a 100 save area. So you can build up to 100 different solar system.

Need help? Use our myDream Universe Walkthrough page or sign up and make your contribution today.
What's new in version 2.08
- Can save your solar image
About MyDream Universe
MyDream Universe is a free-to-play, strategy and simulation game developed by Waterpower Technology, and is available for download on both iOS and Android devices. The app is compatible with iOS 11.0 or later on the following devices: iPhone 11 Pro, X, Xs, SE, iPhone 8, 7, 6, iPad Pro and iPad Mini.
Click the button or scan the QR code below to download myDream Universe for iOS. Check out our downloads section to download myDream Universe for android and other platforms.
App Rating & Updates
Rankings History
Ranked #193 in US App Store / Strategy
myDream Universe has an average rating of 4.4.
---
Recent updates
Release v2.08

Apr 1, 2020

$4.99 -> Free

Sep 21, 2019

Free -> $4.99

Sep 18, 2019

$2.99 -> Free

Sep 4, 2019

Free -> $2.99

Sep 2, 2019

$2.99 -> Free

Aug 25, 2019

Release v2.02

Jun 25, 2019

Release v2.01

Jun 21, 2019

Release v1.02

May 23, 2019

Release v1.01

Apr 30, 2019
Check Price Changes

What Client's Say
Review: 'Keeps exiting out' 'Not a bad game but randomly will exit out and completely restart progress'
Review: 'More content' 'Can you make an update where you can upgrade a black hole to a point where it becomes a white...
Review: 'I become a neutron star' 'It was easy for me to transform into a neutron star. It took me for hours for me transform into...
Review: 'One tiny problem' 'I don't know how to zoom to planet. SOMEBODY PLEASE TELL ME!'
Review: 'I enjoy it' 'So it took me a while but I finally was able to understand enough of the game to get to...
myDream Universe Add-Ons
The app is free but you can buy extra add-ons via in-app purchases.