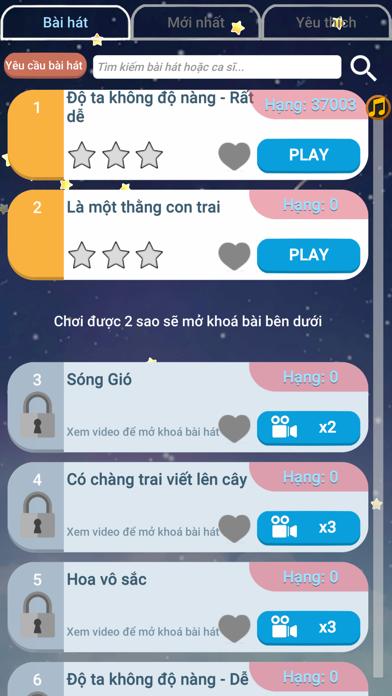 Piano Magic Tiles Showman 2
Publisher: Nhat Nhan
Free for a limited time
Price: $9.99 > free
Category
Games
Version
6.1
Size
128 Mb
Released
2018-05-26
Greatest pianist in piano game
Viet songs now is available in piano game. Play game with exact melody of Viet songs.Ever had a dream of becoming an adored musician, a loved pianist surrounded by fans and admirers? Ever dreamed of playing Viet songs with piano tiles in your phone?
This is a super fun Piano game and highly addictive game suited for everyone.
No special skills needed for Piano Magic Tiles Viet 2, all this game asks of you is an attentive mind and fast fingers!

Piano Magic Tiles Viet 2 features:
1.Master's challenge kicks off! Reach the peak experience of speed challenge.
2.Many songs from Viet
3.There are more albums and songs of various styles.
4.Game UI
5.Easy to master with visual effect incomparable
6.Enjoy a brand-new level of sound quality

Game rules:
Tap on the black piano tiles while listening to music. Avoid the white tiles! Hurry now! Enjoy classical and pop music, improve your tapping speed!. Compete with your friends and speed up your fingers!

DISCLAIMER:
Piano Magic Tiles Viet 2 is an unofficial fan application. It is not affiliated with or endorsed by Viet singers, their management, or record label.

This app does not include any copyrighted material.
The piano melodies are arranged with individual piano notes
This app is for entertainment purposes only.

FEEDBACK:
Feel free to email us song requests, issues, comments, and suggestions, with your comments and support, we can add more songs and make better games!

Need help? Use our Piano Magic Tiles Showman 2 Walkthrough page or sign up and make your contribution today.
What's new in version 6.1
- Add new songs - Upgrade UI
About Piano Magic Tiles Showman 2
Piano Magic Tiles Showman 2 is a free-to-play music game developed by Nhat Nhan, and is available for download on both iOS and Android devices. The app is compatible with iOS 10.0 or later on the following devices: iPhone 11 Pro, X, Xs, SE, iPhone 8, 7, 6, iPad Pro and iPad Mini.
Click the button or scan the QR code below to download Piano Magic Tiles Showman 2 for iOS. Check out our downloads section to download Piano Magic Tiles Showman 2 for android and other platforms.
App Rating & Updates
Rankings History
Ranked #189 in US App Store / Music
Piano Magic Tiles Showman 2 has an average rating of 3.8.
---
Recent updates
Release v6.1

Apr 11, 2021

Release v5.6

Oct 4, 2020

Release v5.2

Apr 1, 2020

Release v3.1

Jun 7, 2019
Check Price Changes

What Client's Say
Review: 'The best game' 'This game is the best game ever my family love it'
Review: GET RID OF THE PRO THING So I loved this app until today when I went into the app to play A Million Dreams (my favorite...
Review: 'I love it!! But I have a request' 'Don't get me wrong I love this game but I have a suggestion! Can you add a option to...
Review: 'Amazing' 'I must say of all the piano tiles I played and I played all of them this is my number...
Review: 'I like it' 'I like this app cuz it\'s one of the only ones that have good pop songs but please put...
Piano Magic Tiles Showman 2 Add-Ons
The app is free and offers no in-app purchases.