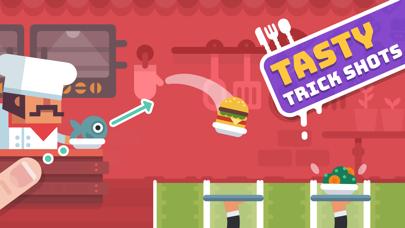 Funky Restaurant
Publisher: DIGITAL MELODY GAMES KITAJEWSKI I STALEWSKI SPOLKA JAWNA
Price: Free
Category
Games
Version
1.1
Size
448 Mb
Released
2019-02-21
Arcade Food Serving Manager
Have you ever dreamed of creating restaurant empire? Hard work makes miracles - from tiny burger booth to huge luxury restaurant chain. Become rich, found new restaurants, upgrade, hire cooks and chefs. Collect all funny characters, earn money and have fun serving food from all around the world!
Features:
- easy to play but hard to master arcade gameplay
- new restaurants, upgrades and passive income
- 30+ funny characters with different restaurants to unlock
- Game Center leaderboards and achievements
- lovely stickers
- localised to: English, Chinese, Japan, Korean, Portuguese, Russian, Polish

Need help? Use our Funky Restaurant Walkthrough page or sign up and make your contribution today.
What's new in version 1.1
HUGE ASIAN UPDATE! SPICY & TASTY! - 8 new characters including: Li Min, Li Wei, Naru, Hondi, Li Xiu Ying, Li Jie, Sonqo - brand new icon, previews & screenshots - performance improvements & fixes - new updated logo
About Funky Restaurant
Funky Restaurant is an application developed by DIGITAL MELODY GAMES KITAJEWSKI I STALEWSKI SPOLKA JAWNA and released on iOS. The app is compatible with iOS 8.0 or later on the following devices: iPhone 11 Pro, X, Xs, SE, iPhone 8, 7, 6, iPad Pro and iPad Mini.
Click the button or scan the QR code below to download Funky Restaurant for iOS. Check out our downloads section to download Funky Restaurant for android and other platforms.
App Rating & Updates
Rankings History
Ranked #185 in US App Store / Casual
Funky Restaurant has an average rating of 4.4.
---
Recent updates

What Client's Say
Review: Level 1? Level 15? Same game It's made well, some ads are randomly impossible to skip, but the biggest problem with this game, is that...
Review: 'Bit of a bug' 'So, this is a great app. The concept is fun, artstyle is nice, but there is a bug. When I...
Review: 'Great but there's a bug' 'I absolutely love this game and find almost nothing wrong with it however after I get an ad the audio...
Review: 'Pretty ok:/' 'It's not the best game but I think it has some balence to it I think that because it...
Review: '👍👍👍👍👍👍👍👍' 'I love this game so much!!!!!!! I love the graphics too!!!!!!!!!!!!!!'
Funky Restaurant Add-Ons
The app is free but you can buy extra add-ons via in-app purchases.