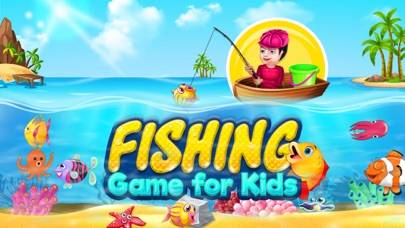 Fisher Man Fishing Game
Publisher: payal patel
Free for a limited time
Price: $0.99 > free
Category
Games
Version
1.1
Size
29 Mb
Released
2019-02-03
Fishing Game
different types of cute and Colourful fish, you catch maximum fish in minimum time, also you can find specific fish in minimum time in hard level, For each fish catching you'll get points, after reaching your goals game is over, But if you caught dangerous Shark the points will be reduced from your scoreboard. improve user memory and concentration. Colourful fish attracts the attention of Users and do not leave you indifferent,
Fisher Man Fishing Game Include:
- Develop eye coordination,
- Colourful fish
- Three level Easy, Medium, Hard
- Timer for challenge to collect fish in minimum time
- Show points how many fish collected
- Define goal of number of fish you catch for each level
- Entertainment for children

A game for boy's and girls too, it is more interactive to play, Become the ultimate fish master!

Need help? Use our Fisher Man Fishing Game Walkthrough page or sign up and make your contribution today.
What's new in version 1.1
add background music
About Fisher Man Fishing Game
Fisher Man Fishing Game is an application developed by payal patel and released on iOS. The app is compatible with iOS 8.0 or later on the following devices: iPhone 11 Pro, X, Xs, SE, iPhone 8, 7, 6, iPad Pro and iPad Mini.
Click the button or scan the QR code below to download Fisher Man Fishing Game for iOS. Check out our downloads section to download Fisher Man Fishing Game for android and other platforms.
App Rating & Updates
---
Recent updates
Fisher Man Fishing Game Add-Ons
The app is free and offers no in-app purchases.