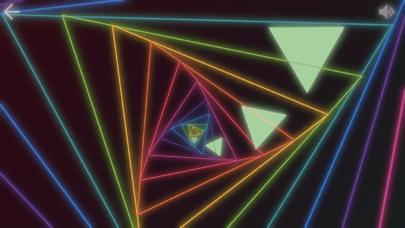 Trigono - dangerous triangles
By Live Typing Inc
Price: $0.99
Category
Games
Version
1.2.1
Size
66 Mb
Released
2018-09-24
Challenge your mind & fingers
You are the little Trigono who wants to survive in hazardous triangle world. Avoid the red, or you explode. The good thing is you have an unlimited number of lives in this game. If you made a mistake – just restart a level.
Trigono cannot stand still and always moving because he is scared. Don't worry; first levels are explicitly made to teach you to reverse and jump.

There are 2 buttons in this game!
Tap the left side of the screen to switch the direction.
Tap the right side of the screen to jump on another edge.

Controls are unusual but straightforward. It feels like learning to eat with chopsticks: confusing at first but after some time pretty interesting.

In the game you will dodge from red triangles, moving walls, burning lasers and flying comets. Stay calm no matter what, and you will surely succeed.
Just don't give up!

This game requires 100% of attention and memory concentration: one little distraction and Trigono dead. After a while, you will be amazed about your progress, and your friends wont believe it's possible

You will go through 100 fast brain teasers.
Trigono is a real challenge for your mind and fingers.
Remember, patience and calm are more important than reaction and speed.

Compete with your brain and body at any time:
- when you standing in the line
- when you have a short break
- when you bored
- when you have to wake up
- play in the morning to charge for a day
- play in the evening to sleep with an achievement

Little tips for those who read to the end:
* memorize how red obstacles are moving. You can predict their actions and build a winning path.
* If the music distracts you, try to turn it off for the better concentration
* We send a sticker and a magnet for the interesting review of the Trigono game in social networks (Instagram, Facebook, Twitter, Snapchat) with mention of @trigonogame and a link to our website www.trigono.pro

Need help? Use our Trigono - dangerous triangles Walkthrough page or sign up and make your contribution today.
What's new in version 1.2.1
Minor bug fixes
App Details
Trigono - dangerous triangles is a puzzle game developed by Live Typing Inc, and is available for download on both iOS and Android devices. The app is compatible with iOS 8.0 or later on the following devices: iPhone 8, iPhone 7, iPhone 6, iPad 3, iPad Mini and iPod Touch 5G or newer.
Below are the links to download this app on iOS. If you want to download this app for Android, click here.

What Client's Say
Review: Frustrating, but fun It's a tough game. Makes for slow progress, as each level seems to take some time to beat. Very...
Review: Cool little game Pretty cool casual game. It's about avoiding enemies and surviving. It has a cool art style, and even some...
Review: Fantastic! For real, for real!!!! I got this as a free download of the day and I wish I could've paid for it. It'...
Review: So far so good I like the thinking put on the game, the abstract scenarios and the gameplay, although I have to say that...
Review: Game is fun The game is fun. I met the developer at Magfest 2018 and he is super nice, too.
App Ratings & Updates
Ranked #188 in U.S. Rated on App Store: 5 Stars.
Rank in top paid apps - Games (iPhone) - United States
Free -> $0.99

Sep 26, 2019

$0.99 -> Free

Sep 20, 2019

$1.99 -> $0.99

Sep 4, 2019

Free -> $1.99

Aug 24, 2019

$1.99 -> Free

Aug 14, 2019

Release v1.2.1

Feb 18, 2019
Trigono - dangerous triangles Add-Ons
The app is $0.99 and offers no in-app purchases.
Explore Greatest Apps
...everyday!
2 Awesome iPhone apps you should try today.
---