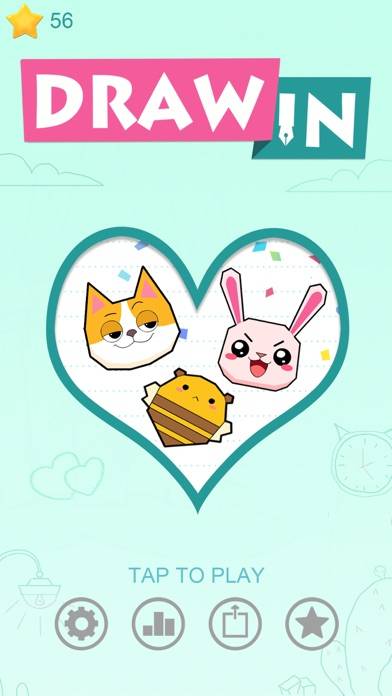 Draw In™
By Lion Studios
Price: Free
Category
Games
Version
1.2.3
Size
218 Mb
Released
2018-06-06
Fill me in
Draw a line in, reckon up the length of the shape and close it!
The stars will be awarded depending on how perfect the line covers its outline!

The more close it closes, the more you can see what the shape really is!

The line can be close but you need to try again if it's too long.

Okay, the rules are simple. Let's see how many objects you can sketch!

Features:
- Free to play, play it anywhere anytime
- Suitable for all ages
- You don't know how long the outline is till you draw
- Cute images hide in the shape, find them out!
- Worth replay to get closer and higher record!

Need help? Use our Draw In™ Walkthrough page or sign up and make your contribution today.
What's new in version 1.2.3
- Gameplay Optimization
App Details
Draw In™ is a free-to-play puzzle game developed by Lion Studios, and is available for download on both iOS and Android devices. The app is compatible with iOS 9.0 or later on the following devices: iPhone 8, iPhone 7, iPhone 6, iPad 3, iPad Mini and iPod Touch 5G or newer.
Below are the links to download this app on iOS. You can check if it's available to download on Android devices here.

What Client's Say
Review: Kick it high It's about choosing a character and it has a ball and you have to kick the ball a hard...
Review: I'M LOVIN' IT!❤️ I love this game so much! I like it because I think it is satisfying, but, that is just my...
Review: THIS GAME IS EASY PEASY Who would lose in this easy game? No one would! All you have to do is hold the black line,...
Review: I love this game 😘😘😘so much I play this game with my friends 👬
Review: Amazing!!! I downloaded this game a while ago. I love it so much!!! It gets challenging, but you will eventually pass...
App Ratings & Updates
Ranked #169 in U.S. Rated on App Store: 4.5 Stars.
Rank in top paid apps - Games (iPhone) - United States
Release v1.2.5

Oct 27, 2019

Release v1.2.3

Aug 12, 2019

Release v1.2.2

Jul 27, 2019

Release v1.2.1

Jun 8, 2019

Release v1.2.0

Apr 27, 2019
Draw In™ Add-Ons
The app is Free but you can buy extra add-ons via in-app purchases.
Explore Greatest Apps
...everyday!
2 Awesome iPhone apps you should try today.
---