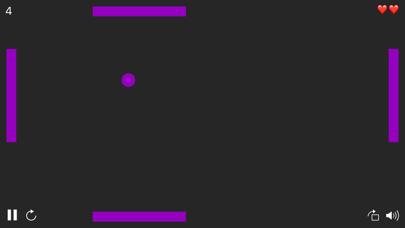 DoublePong Game
Publisher: Michele Schiavo
Free for a limited time
Price: $0.99 > free
Category
Games
Version
1.2
Size
16 Mb
Released
2018-06-12
Pong, completely reimagined.
DoublePong is Pong, reimagined with 4 paddles, motion control, custom colors, and more. Block the ball from hitting the edges, and earn points along the way.
MORE PADDLES
DoublePong has 4 paddles, positioned on each edge of the screen. Touch and drag or use motion control to move the paddles.

INVISIBLE OBSTACLES
To prevent patterns and improve the gameplay, DoublePong adds invisible obstacles after reaching 500 points.

CUSTOMIZE COLORS
Just enter the pause menu to customize the colors of the paddles and ball from a huge range of colors, using a simple color picker.

MOTION CONTROL
Just tilt your device left or right to move the paddles. Disable this with the tap of a button if you prefer controlling paddles with your finger.

Need help? Use our DoublePong Game Walkthrough page or sign up and make your contribution today.
What's new in version 1.2
- DoublePong Mobile is now completely free, with no in app purchases or upgrades! Love playing DoublePong? It really helps if you leave a rating or write a short review! Found a bug? Wanna suggest a new feature? Email me at [email protected] and I'll do my best to help. — Julian
About DoublePong Game
DoublePong Game is a free-to-play strategy game developed by Michele Schiavo, and is available for download on both iOS and Android devices. The app is compatible with iOS 9.0 or later on the following devices: iPhone 11 Pro, X, Xs, SE, iPhone 8, 7, 6, iPad Pro and iPad Mini.
Click the button or scan the QR code below to download DoublePong Game for iOS. Check out our downloads section to download DoublePong Game for android and other platforms.
App Rating & Updates
Rankings History
DoublePong Game has an average rating of 4.5.
---
Recent updates
Release v1.2

Apr 26, 2019

Release v1.1.3

Jun 1, 2018

Release v1.1.2

May 30, 2018

Release v1.1.1

May 29, 2018

Release v1.1

May 29, 2018

$0.99 -> Free

May 29, 2018
Check Price Changes

What Client's Say
Review: 'Addicting and Fun Game' 'This is a very fun game and love playing it. The mode gets progressively harder as you get deeper into...
Review: 'Much required concentration for this one.' 'It requires you to be paying attention to not one Pong Paddle, but two. Recommended if you wanna kill some...
DoublePong Game Add-Ons
The app is free but you can buy extra add-ons via in-app purchases.