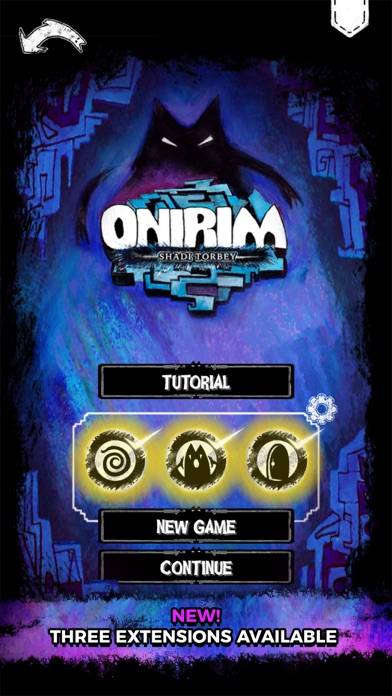 Onirim - Solitaire Card Game
Publisher: Asmodee Digital
Free for a limited time
Price: $0.99 > free
Category
Games
Version
1.4.0
Size
196 Mb
Released
2017-04-06
"Asmodee Digital has been doing a great job with their virtual board game releases, and Onirim is just another fantastic addition." - App Advice
"Onirim is a straightforward, well made implementation of a solitaire game" - Board Game Quest

"Asmodee has a pretty excellent record of bringing well-regarded modern boardgames to mobile. Onirim is no exception, providing a twist on the solitaire card game that's just perfect on your phone." - Pocket Gamer

A Golden Geek Best Solo Board Game Nominee, Onirim is a card game where you play as a Dreamwalker, lost in a mysterious labyrinth, and you must discover the oneiric doors before your dreamtime runs out - or you will remain trapped forever!

Wander through the chambers of dreams, hoping that chance will reveal the doors, or linger in each type of room. In either case, you will have to deal with the slithering Nightmares which haunt the hallways of the labyrinth.

Onirim is a solitaire card game. You must work against the game to gather the eight oneiric doors before the deck runs out. You can obtain door cards either by playing cards of the same color three turns in a row or by discarding one of your powerful key cards when a door appears from the deck. In both cases, you will have to decide the best use of each card in your hand and carefully play around the Nightmares. Those cards are hidden in the deck and will trigger painful dilemmas when drawn.

In addition to the exciting solo mode, players will enjoy the intuitive user interface, automated deck management, and stats to track their progress and successes against the game!

Onirim includes :
• Shadi Torbey's base Onirim game in solitaire mode
• Original artwork from the base game by Philippe Guerin and Elise Plessis, enhanced by animations
• Solo play
• Detailed, interactive, turn-by-turn, in-game tutorial.
• Offline stats record so you can track your progress
• No in-app purchases or ads
• Languages available: English, French, German, Italian, Spanish

To find more information about Asmodee Digital, please go to http://www.asmodee-digital.com/onirim

Having an issue? Looking for support? Please contact us : https://asmodee.helpshift.com/a/onirim/

***One of my favorite solitaire games! - Zee Garcia, The Dice Tower

For more information, please visit http://asmodee-digital.com/onirim

Find all the latest news for Onirim on Facebook, Instgram, Twitter and Youtube!

Facebook: https://www.facebook.com/asmodeedigital/
Twitter: https://twitter.com/asmodeedigital
Instagram: https://www.instagram.com/asmodeedigital/
YouTube: https://www.youtube.com/asmodeedigital

Need help? Use our Onirim - Solitaire Card Game Walkthrough page or sign up and make your contribution today.
What's new in version 1.4.0
- Reveal denizen cards in the deck after unlocking first door with 3 cards - Show exact denizens cards inside discard pile - Added classic vs score attack explanations in game rules menu - Fixed Repentant Treasure Keeper description - Changed expansions order at the details screen - Updated splash screen - Cross platform save of downloaded DLCs - bug fixes: 1. After using a key effect to discard a denizen, when tapping on the discard pile, the image of the card now gains a glowing highlight 2. The left-most card in hand can now be interacted with reliably with "The Door to the Oniverse" expansion enabled
About Onirim - Solitaire Card Game
Onirim - Solitaire Card Game is a free-to-play, card and board game developed by Asmodee Digital, and is available for download on both iOS and Android devices. The app is compatible with iOS 8.0 or later on the following devices: iPhone 11 Pro, X, Xs, SE, iPhone 8, 7, 6, iPad Pro and iPad Mini.
Click the button or scan the QR code below to download Onirim - Solitaire Card Game for iOS. Check out our downloads section to download Onirim - Solitaire Card Game for android and other platforms.
App Rating & Updates
Rankings History
Ranked #199 in US App Store / Card
Onirim - Solitaire Card Game has an average rating of 4.7.
---
Recent updates

What Client's Say
Review: 'Super Fun and Simple' 'I was looking for an alternative to Solitaire on my phone and this game fits the bill. It's easy...
Review: 'Great solitaire (canfield) alternative' 'Solitaire relies on a good deal of luck... This game gives you a lot more alternatives to think about and...
Review: 'BEST! GAME! EVARRRR!' 'THANK you, for making quarantine bearable… even enjoyable! The mechanics of your game are ingenious, and your cards' artwork is...
Review: 'Good taste in music...' 'Fun game but mostly I wanted to send props to the devs for using loscil as the background music. Cheers'
Review: 'Great Solo Game' 'One of the best solo games I have tried during the quarantine. Easy to learn and fun to play.'
Onirim - Solitaire Card Game Add-Ons
The app is free but you can buy extra add-ons via in-app purchases.