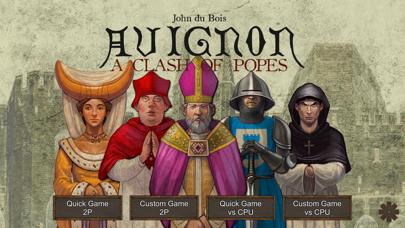 Avignon: A Clash of Popes
By Semag Studio LLC
ON SALE 50% OFF
Price: $1.99 > $0.99
Category
Games
Version
1.05
Size
60 Mb
Released
2017-01-03
Vie for the papacy in the 14th century in Avignon: A Clash of Popes; petition members of the Church for influence to build your congregation, or eliminate your rival by cleverly positioning your followers.-Based on the highly successful card game
-Petition Cardinals, Bishops, and Inquisitors to use their unique powers to pull characters to your side, or your opponent's side
-Play against a friend or the Computer in multiple game modes
-Expand your game with optional expansion cards

Need help? Use our Avignon: A Clash of Popes Walkthrough page or sign up and make your contribution today.
What's new in version 1.05
-Easy access to "How to Play" section -Links to physical game -AI changes -bug fixes
App Details
Avignon: A Clash of Popes is a card game developed by Semag Studio LLC, and is available for download on both iOS and Android devices. The app is compatible with iOS 6.0 or later on the following devices: iPhone 8, iPhone 7, iPhone 6, iPad 3, iPad Mini and iPod Touch 5G or newer.
Below are the links to download this app on iOS. If you want to download this app for Android, click here.

What Client's Say
Review: Great way to learn the game Overall, fairly well-polished app. The music is great as is the voice acting. Pass and play works well. I've been...
Review: Fun but needs improvements Really fun game, but the CPU is not very challenging. Also, it freezes at times due to a couple of...
Review: Amazing Game This game is beyond fun! My SO and I love the actual game but this port is wonderful and makes...
Review: Great! Great quick thinky game!
Review: Functional; but NEEDS A TUTORIAL It's basically unplayable unless you have played the analog version. Even then, there are things lacking like an Undo button....
App Ratings & Updates
Ranked #198 in U.S. Rated on App Store: 4 Stars.
Rank in top paid apps - Games (iPhone) - United States
$1.99 -> $0.99

Oct 13, 2017

$0.99 -> $1.99

Oct 11, 2017

$1.99 -> $0.99

Oct 10, 2017

$0.99 -> $1.99

Apr 30, 2017

$1.99 -> $0.99

Apr 29, 2017
Avignon: A Clash of Popes Add-Ons
The app is $0.99 but you can buy extra add-ons via in-app purchases.
Explore Greatest Apps
...everyday!
2 Awesome iPhone apps you should try today.
---