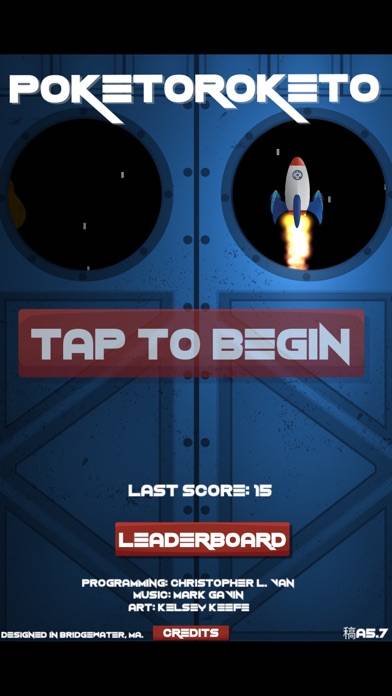 PoketoRoketo
Publisher: CHRISTOPHER VAN
Free for a limited time
Price: $0.99 > free
Category
Games
Version
3.0
Size
27 Mb
Released
2016-09-28
Welcome to PoketoRoketo! A fun vintage feeling space arcade game! Complete for the top spot in our Game Center leaderboard.
Blast away asteroids whilst the difficulty increases as you play with a few fun surprises built in! Manage gun temperature to avoid over heating.

-On jan 1st 2017 whoever is in the #1 spot on all time leaderboard will win a real piece of meteorite. See our webpage for details!

- Designed by a small developer, no in app purchases you get the complete game with any updates included.

- Challenge increases as you play

- Beautifully simple game play and design

- Challenge friends on Apple's Game Center

- Randomized play, never the same game twice

- Built in Game Center achievements for you to unlock

Programming: Christopher L. Van
Art: Kelsey Keefe
Music: Mark Gavin

Need help? Use our PoketoRoketo Walkthrough page or sign up and make your contribution today.
What's new in version 3.0
-Name adjustment for Chess -Bug fix with leaderboard data polling fix -Fixed contest info
About PoketoRoketo
PoketoRoketo is a free-to-play action game developed by CHRISTOPHER VAN, and is available for download on both iOS and Android devices. The app is compatible with iOS 9.3 or later on the following devices: iPhone 11 Pro, X, Xs, SE, iPhone 8, 7, 6, iPad Pro and iPad Mini.
Click the button or scan the QR code below to download PoketoRoketo for iOS. Check out our downloads section to download PoketoRoketo for android and other platforms.
App Rating & Updates
Rankings History
Ranked #193 in US App Store / Action
PoketoRoketo has an average rating of 5.0.
---
Recent updates

What Client's Say
Review: 'Life changing' '🎩🤷🏻‍♂️🤣 I mean.. I made the game so...'
Review: 'GamePro Review' '-Graphics: (5) Charming sprites on top of stylish damage & BG effects.\n\n-Sound: (4) Neat space track & zap sounds. Melody be catchier...
Review: 'Good game' 'Awesome game! Challenging and fun!'
Review: 'Test Pilot' 'I tested it. I love the game.'
Review: 'I wrote the music' 'I may be biased, but this game is simple, challenging, and fun! I\'m proud to have worked on it....
PoketoRoketo Add-Ons
The app is free and offers no in-app purchases.