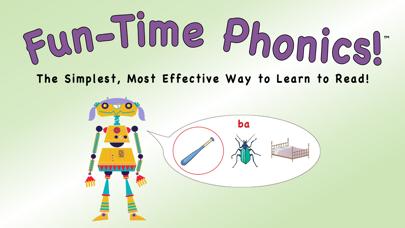 Fun-Time Phonics!™
By The Critical Thinking Co.
ON SALE 87% OFF
Price: $29.99 > $3.99
Category
Games
Version
1.2.0
Size
141 Mb
Released
2016-09-07
The Simplest, Most Effective Way to Learn to Read!
This full curriculum app is a fun, comprehensive reading program based on findings of the National Reading Commission. It uses two robots to teach lessons and activities to show children that spoken words are composed of individual sounds, and those sounds are written with letters. It emphasizes sound/spelling patterns, vocabulary, and comprehension, not memorization. This app ensures phonemic awareness mastery by focusing on vowel isolation which is commonly the most challenging, but most important part of learning to read. The colorful activities engage students through listening, thinking, speaking, and reading.

The app is composed of these four sections:
Section 1 - Teaches children that words are made up with sounds. Activities include beginning sounds, ending sounds, vowel sounds, and words that rhyme.

Section 2 - Teaches children each short vowel sound and the letter that makes that sound.

Section 3 - This section teaches consonant-vowel coarticulation, so children learn that each consonant uses short vowels to make different sounds that are used to form words that are read.

Section 4 - Teaches children to combine their new knowledge of consonant-vowel coarticulation and ending sounds to read their first words.

Grades: PreK, Kindergarten, 1st (First), 2nd (Second)
Subjects: Language Arts, Critical Thinking
Author: Robert Femiano

This program won the Tillywig Brain Child Award, 2015!

------------------------------------
Do you enjoy this app? Please help us by reviewing it in the App Store. We are a small, family owned business made up of 15 talented, innovative, hardworking people that take great pride in the products we produce. We would love to hear your experience so we can further improve our products. Thank you!

Need help? Use our Fun-Time Phonics!™ Walkthrough page or sign up and make your contribution today.
What's new in version 1.2.0
Bug fixes; minor layout changes; expanded support to iPhones
App Details
Fun-Time Phonics!™ - Learning to Read is an application developed by The Critical Thinking Co. and released on iOS. The app is compatible with iOS 6.0 or later on the following devices: iPhone 8, iPhone 7, iPhone 6, iPad 3, iPad Mini and iPod Touch 5G or newer.
Below are the links to download this app on iOS. You can check if it's available to download on Android devices here.
Rank in top paid apps - Games (iPhone) - United States
$29.99 -> $3.99

Aug 8, 2017

$18.99 -> $29.99

Jul 6, 2017

$29.99 -> $18.99

Jun 1, 2017
Fun-Time Phonics!™ Add-Ons
The app is $3.99 and offers no in-app purchases.
Explore Greatest Apps
...everyday!
2 Awesome iPhone apps you should try today.
---