THE GAME OF LIFE 2016 Edition
THE GAME OF LIFE: 2016 Edition
by Marmalade Game Studio Limited
Universal App – Optimized for iPhone and iPad.>
App Details
Version

1.7

Release date

Jul 14, 2016

Size

191.51 MB

Age

4+

Genre

Board

User Ratings

4.00 (5 votes)
App Store Description
MAKE CHOICES, GET PAID, OR LOSE IT ALL!

Attend college, accept a job and play minigames in this interactive app that is fun for the whole family. Watch as board piece characters come to life and make their way through the various stages of life on this spectacular, 3D animated reworking of the familiar physical board.

PLAY MULTIPLAYER ONLINE!

The Game of Life features a new, unique and much-anticipated multiplayer mode. Online matchmaking lets you play in a whole new way online. Match and play against other online players as you all spin and race in the direction of the last yellow tile; retirement.

THIS GAME FEATURES:

• ONLINE MULTIPLAYER - Match with other players and race to the final yellow square
• LOCAL PLAY - Play with up to three friends on one device
• FAST MODE - A new, shorter game mode where you will be faced with a different victory condition!
• MINIGAMES - Put your skills to the test and compete head-to-head in a variety of minigames
• CHAT - Send players expressive emoticons during online matches


THE GAME OF LIFE is a trademark of Hasbro and is used with permission. © 2016 Hasbro. All Rights Reserved.
Need help? Use our THE GAME OF LIFE: 2016 Edition Walkthrough or sign up and make your contribution today.
What's new in version 1.7
Hey Game of Life players! Are you ready for an even more magical THE GAME OF LIFE experience? A new adventure awaits you in our freezing new Winter Wonderland! Discover wintry careers, vehicles and many other features that will give your game a more seasonal spirit! Also, performance fixes have been implemented to make your game more stable. Stay tuned for more updates!
Rank in top paid apps
App Activity
Version 1.7

3 weeks ago

Version 1.6

Dec 21, 2016

Version 1.5.3

Dec 15, 2016

$3.99 -> $2.99

Dec 12, 2016

Version 1.5.2

Dec 9, 2016

Version 1.5.1

Dec 3, 2016

$2.99 -> $3.99

Nov 21, 2016

$0.99 -> $2.99

Nov 3, 2016

$2.99 -> $0.99

Oct 19, 2016
View All Activity »
THE GAME OF LIFE: 2016 Edition is a universal iOS app available in the App Store for $2.99 (Ads free) with no in-app purchases. The game is compatible with all devices running iOS 8.0 or later, including the new iPhone 6 and iPad Mini. To download the THE GAME OF LIFE 2016 Edition app click the button below to go to the app's download page.
---
THE GAME OF LIFE: 2016 Edition is a good rated app with 4 stars.
The app is currently $2.99, instead of its regular price of $3.99.
THE GAME OF LIFE: 2016 Edition is currently ranked #2 in the U.S. App Store.
If you've enjoyed the game, please rate and review it on the App store and in the comments section below.
iPhone Screenshots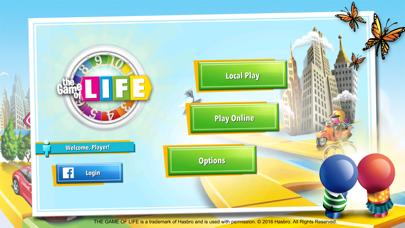 Screenshot #1
Screenshot #2
Screenshot #3
Screenshot #4
Screenshot #5
Mostly for kids. I enjoyed this when I was a kid, but forgot the extent to which Life is about luck, not strategy. So kind of a bore. Great
graphics, though, so 3 stars.
Enjoy a lot except. When I try to connect to the online game it kicks me off before I even start a game.
So much fun!. I love it! So realistic and modern. Could play all day! Best game ever
Pretty fun. I really enjoy this game. Brings back memories of my childhood.
---
Download THE GAME OF LIFE 2016 Edition App Latest Version on Android and iOS. You can get it directly on your device or download the app to your PC or Mac computer then install the app on your tablet or smart phone.