Week Weather
Week Weather
Universal App – Optimized for iPhone and iPad.>
App Details
Version

1.1

Release date

Mar 4, 2015

Size

19.5 MB

Age

4+

Genre

Weather

User Ratings

3.50 (5 votes)
App Store Description
You never got a quicker and better overview of the weather for the next 7 days. At one glance you see on which days and times of the day it will be sunny, raining or really cloudy. Separate overviews show you a heat map of the week, cloudiness, rain and rain intensity, wind and humidity.

***

c|net
"Get beautiful forecasts with Week Weather. You've not seen a weather forecast like this. It takes imagination and creativity to stand out with a weather app, but developer Wolfgang Augustin has done just that with Week Weather."

iMore
"Week Weather for iPhone is a new app that lets you view your current and upcoming weather quickly. The app provides an information-rich, yet easy-to-read outlook on a week's worth of weather."

AppAdvice
"Week Weather is a slick app that brings a new approach to the forecast. If you want a fast app that provides a good overview of the next seven days, then Week Weather is one to check out."

*****

The "crash upon launch" some users experienced should be resolved.
In case you still experience such an issue, please do the following:

Delete the app and reinstall it
Upon launch disallow access to location services for Week Weather

(You can disable / enable access to location services for Week Weather also in the main settings app)

***

With Week Weather it's easy to answer questions like: Which evening will be good for a barbecue? When can I enjoy a nice breeze to go surfing? When will it be really sunny?

To see current weather conditions just swipe down. A map with live temperature readings from Netatmo Weather Stations is also shown (available on iPhone 5 or newer but not on iPhone 4S or iPad).

Or check detailed future weather conditions by tapping the box for the day and time. The forecast is broken into several time periods per day.

You can choose between the following units:
Temperature: Celsius and Fahrenheit
Precipitation: mm/h and inch/h
Wind speed: m/s, km/h, mph, knots and Beaufort
12-hour and 24-hour mode for the timeline

Weather data are provided by the Norwegian Meteorological Institute and Open Weather Map. You can switch the weather source at any time and find out which one is more accurate for your location.
(Availability of data cannot be guaranteed)
What's new in version 1.1
We added a new data source to Week Weather: Open Weather Map. You have the choice between the Norwegian Meteorological Institute and Open Weather Map now. You can switch the weather source at any time and find out which one is more accurate for your location. We also added actual live temperature readings for the forecast location. "Current conditions" now include a map with live temperature data from Netatmo Weather Stations (visible on iPhone 5 or newer but not on iPhone 4S or iPad). Further improvements: * New support system with knowledge base * Various bug fixes
Rank in top paid apps
App Activity
$0.99 -> $1.99

Aug 14, 2015

$1.99 -> $0.99

Aug 9, 2015

$0.99 -> $1.99

Jul 12, 2015

Version 1.0

Mar 4, 2015
View All Activity »
Week Weather is a universal iOS app available in the App Store for $1.99 (Ads free) with no in-app purchases. The app is compatible with all devices running iOS 8.1 or later, including the new iPhone 6 and iPad Mini. To download the Week Weather app click the button below to go to the app's download page.
Developer site: Week Weather support
---
If you've enjoyed using the app, please rate and review it on the App store and in the comments section below.
iPhone Screenshots
Screenshot #1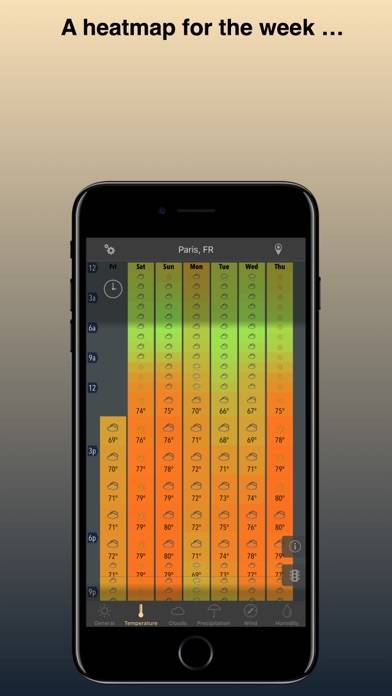 Screenshot #2
Screenshot #3
Screenshot #4
Screenshot #5
Recent Reviews
Unique and very useful design. This app gives you a very unusual, but exceptionally useful overview of a week's worth of weather. I recommend it highly!
Gorgeous design ; lousy data. I love the design of this app. Unfortunately, whatever source they are using for the weather forecasts is horribly inaccurate (off
by 10F) from every other weather app (and from what I know the actual
Working after reinstall. Website instructions to reinstall and turn off location worked. An interesting summary of a week's weather. Looks accurate in
Pennsylvania.
Finally a weather app thats perfect for me. More often than not, I'm looking for weather for a range of hours or days than what exactly the temperature is right now. It's
just one or two digits to show the temperature and there's so much more r
Wow. I'm a weather app junkie. this one is awesome. Very useful. A great way to understand this week's weather with just a glance. I
love it. Design genius.
---
Download Week Weather App Latest Version on Android and iOS. You can get it directly on your device or download the app to your PC or Mac computer then install the app on your tablet or smart phone.