Am I Going Down
Am I Going Down?
Universal App – Optimized for iPhone and iPad.>
App Details
Version

2.7

Release date

Jan 2, 2015

Size

32.11 MB

Age

4+

Genre

Travel

User Ratings

4.00 (5 votes)
App Store Description
"Am I Going Down?" is a flight risk calculator designed to help those with a fear of flying. After entering your journey details, "Am I Going Down?" provides the likelihood of your flight going down.

How safe is your next flight?

Crashes may make the headlines, but they're incredibly rare, and when they do happen, seldom lead to injury. With those facts, there's no need for nervous flyers to fall back on anything but cold hard numbers. "Am I Going Down?" will tell you how and why you have only a millions-to-one chance of crashing, allowing you to fight fear with information.

Next time you want to fly, don't take sleeping pills or a soft toy - take the truth.


CNN
"New app "Am I Going Down?" uses aviation statistics to analyze the odds a flight will crash."

Mashable
"A new iOS app that uses big data to help alleviate the fears of anxious travelers"

Daily Mail
"'Am I Going Down?' app uses real flight statistics to analyse flight safety."

Also featured in: The Economist, Huffington Post, Quartz, Bustle, Gizmodo, Business Insider, Daily Telegraph, Gadget Show, and many more!


—
Disclaimer: While "Am I Going Down" is based on published flight and crash statistics to give an indication of flight safety, the app is intended for entertainment purposes only. The odds presented are an estimate of historical risk and not a prediction of future performance.

If you have any questions please contact info@vanillapixel.com or follow @vanillapixel on Twitter.
What's new in version 2.7
Updated for iOS10
Rank in top paid apps
App Activity
Free -> $2.99

Jan 27, 2016

$1.99 -> Free

Jan 24, 2016

Free -> $1.99

Dec 30, 2015

$0.99 -> Free

Dec 22, 2015

Version 1.0.1

Jan 2, 2015
View All Activity »
Am I Going Down? is a universal iOS app available in the App Store for $2.99 (Ads free) with no in-app purchases. The app is compatible with all devices running iOS 8.0 or later, including the new iPhone 6 and iPad Mini. To download the Am I Going Down app click the button below to go to the app's download page.
Developer site: Am I Going Down? support
---
If you've enjoyed using the app, please rate and review it on the App store and in the comments section below.
iPhone Screenshots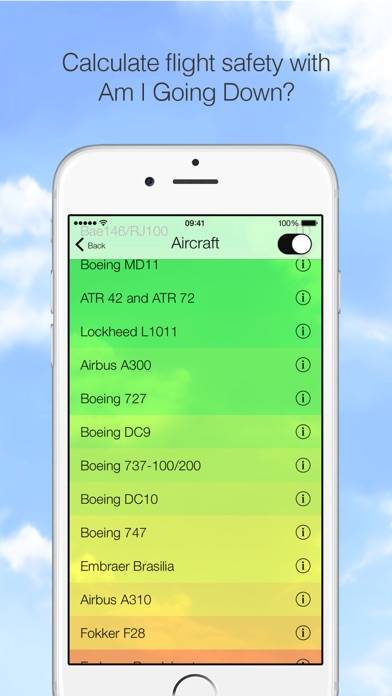 Screenshot #1
Screenshot #2
Screenshot #3
Screenshot #4
Screenshot #5
Recent Reviews
Good for laughs!. Puts the fear of flying into sardonic and morbid perspective.
Helped my anxiety. Surprisingly useful. Thank you.
Great for Any Flight. This app can be used to find the probability of a plane crashing based on certain factors. It has almost any airport, airline and
aircraft and works flawlessly. A feature worth adding is where other users can give their experience flying with an airline.
---
Download Am I Going Down App Latest Version on Android and iOS. You can get it directly on your device or download the app to your PC or Mac computer then install the app on your tablet or smart phone.