Fine Scanner PRO

Fine Scanner PRO
by ABBYY USA Software House Inc
Universal App – Optimized for iPhone and iPad.>
App Details
Version

6.1

Release date

Jan 8, 2015

Size

61.98 MB

Age

4+

Genre

Business

User Ratings

4.00 (5 votes)
App Store Description
FineScanner turns your mobile device into a powerful all-purpose mobile scanner to quickly capture docs and books, creating electronic copies in PDF and JPG, and apply online OCR to recognize texts from scans for further editing and sharing.

NEW! FineScanner is the first App in the world for scanning books with your iPhone and iPad, using the breakthrough online BookScan technology.

FineScanner - the top mobile scanner for iPhone or iPad from world-leading OCR software company ABBYY.
------------------------

***** Ranked #1 Business application in 98 countries *****
***** Winner of SUPERSTAR Award in the 'Document Capture' category in the Mobile Star Awards *****
**** FineScanner from ABBYY is a fine app, which has value beyond its business credentials. It is a useful tool for keeping track of and backing up important and not so important information. - Macworld.co.uk ****
------------------------

Use your iPhone/iPad with FineScanner to scan paper documents, books, agreements, receipts, magazine articles, notes, recipes, pictures, charts, tables, slides, whiteboards or even billboards on the street and get perfect digital copies. Ideal for individuals, business, government or school use - anytime, anywhere.

------------------------

KEY FEATURES
• PDF & JPG. Scan any printed or hand-written text and save scans to JPEG images or cross-platform PDF documents.

• BOOKSCAN TECH. Enable the Book mode in your camera and take snapshots of facing book pages. BookScan will split the opposing pages into two separate images and correct any distortions and lighting defects. It will then unbend any curved lines as if you pressed the book against the glass of a conventional scanner.

• OCR. Recognize text (OCR) on scans in 193 languages (including Latin, Cyrillic, and CJK alphabets) and choose from among 12 output formats (docx, pdf, txt, and more), preserving the original document formatting such as lists, tables, and headers (up to 100 pages per document)

• 3D TOUCH & SPOTLIGHT. In iOS 9, with iPhone 6s/6s+, access or find documents by pressing the app icon a little bit harder. Spotlight Search allows you to find any scans from iPhone home screen.

• PASSWORD ON PDF. Add a password for the image-only PDF files while exporting and sending via email

• MULTIPAGE DOCS. Create, edit, and enhance separate images or large multi-page documents without any additional selection on viewfinder (up to 100 pages per document).

• AUTO-CAPTURE AND FILTERS. Excellent visual quality with auto-capture of page boundaries and advanced image filters, which processes scans in color, greyscale or black-and-white versions.

• BEST-SHOT PHOTO MODE. Select Best-shot button on viewfinder and FineScanner automatically chooses and processes the best of three images captured.

• BUILT-IN FILE STORAGE. Save scans inside app with tags and search capabilities

• SHARE & EXPORT. Send results by e-mail, save in cloud storages - iCloud Drive, Dropbox, Google Drive, Yandex.Disk, Evernote and more, transfer docs to your Mac or PC using iTunes sharing.

• AIRPRINT. Print out scans directly from your iPhone or iPad.

------------------------
The application is not compatible with the iPhone 3G and iPhone 3GS and is not recommended for use on the iPod Touch or iPad 1, 2, because cameras on these devices do not support auto focus.
------------------------
Join us:
@ABBYY_Mobile at Twitter
Facebook.com/AbbyyMobile
------------------------

IMPORTANT! We are unable to respond to your comments in AppStore. With any questions and suggestions contact us directly at support@abbyy.com

Your Office & Library Pocket Scanner.
Please leave a review if you like FineScanner. Thank you!
What's new in version 6.1
This holiday season we have prepared a surprise for you: our favorite FineScanner has had a make-over and now a has a cool fresh look: the camera screen, editor and document library are all brand new! The modern design is based on the usability research, surveys and your reviews. We hope you like it and find that FineScanner has become easier, faster and even more enjoyable to use. We wish you wonderful holidays filled with unforgettable memories!
Rank in top paid apps
App Activity
$9.99 -> $39.99

Jan 1, 2017

$39.99 -> $9.99

Dec 21, 2016

$3.99 -> $39.99

Nov 29, 2016

$39.99 -> $3.99

Nov 24, 2016

$3.99 -> $39.99

Oct 28, 2016

Version 4.1.5

Jan 8, 2015
View All Activity »
Fine Scanner PRO is a universal iOS app available in the App Store for $39.99 (Ads free) with no in-app purchases. The app is compatible with all devices running iOS 8.0 or later, including the new iPhone 6 and iPad Mini. To download the Fine Scanner PRO app click the button below to go to the app's download page.
Developer site: Fine Scanner PRO support
---
If you've enjoyed using the app, please rate and review it on the App store and in the comments section below.
iPhone Screenshots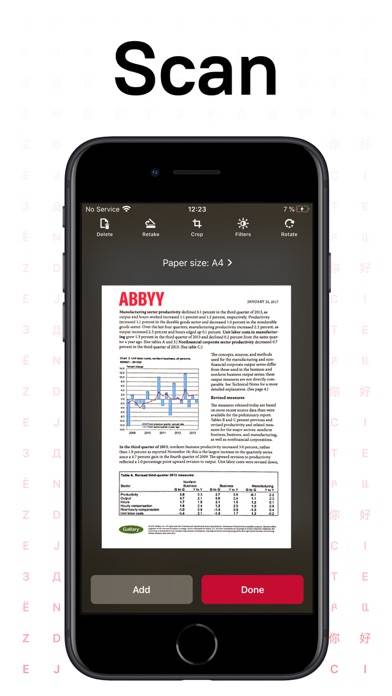 Screenshot #1
Screenshot #2
Screenshot #3
Screenshot #4
Screenshot #5
Recent Reviews
BEST SCANNER!!!. Easy to use worth every penny and I bought the bundle on flash sale!!!
I've been using this app for years. I got this app in earlier forms several years ago. I love it, and I continue to love it.

I find it intuitive and easy to use.
Bought Feb/2017. Eh, I'm warming up to it. It takes a little while to get used to, but it's worth it. MUCH better than the default IOS camera.
Delivers as promised. Not a frequent user but it's well worth the cost and huge time saver. Two thumbs up!
Awesome App. This app undoubtedly deserves millions of stars not only five. I'm a scientific researcher and handling hundreds of documents
daily. This app is soooooo helpful and its developers are working so hard to make it more and more smoother and sustainable. Buy
this app if you are documents-aholic. You won
---
Download Fine Scanner PRO App Latest Version on Android and iOS. You can get it directly on your device or download the app to your PC or Mac computer then install the app on your tablet or smart phone.