Weather or Not Reports and Forecasts for your Calendar
Weather or Not
Universal App – Optimized for iPhone and iPad.
Published by: Backcountry Studios LLC
Current Version

3.2.0

Size

78.44 MB

Released

Nov 20, 2014

Age

4+

Category

Weather

User Ratings

4.50 (5 votes)
App Description
Graph the weather and see the weather for your calendar events. Use a 7 day scrollable minute-by-minute graph of temp, feels like, wind, precip, humidity, etc. It's easier to understand weather and it's beautiful.

(Weather data by forecast.io)

Venture Beat: Top 15 designed app of the year

Business Insider: "Fresh Air is my new favorite weather app for iPhone"

BGR: "Fresh Air is the app I use when I really want to check the weather."

GIZMODO.COM: "few weather apps are as nicely designed and useful as Fresh Air"


Fresh Air gives you a weather graph, notifications and calendar for your existing events. It is a beautiful and intuitive way to see the weather and immediately understand what it means for your plans. Weather, intimately personal to you.

(Weather data by forecast.io)

We convey 7 days of minute-by-minute weather in a beautiful minimalistic graph. We also show you the predicted weather for your calendar events with optional notification updates. Wondering if the concert will be rained out? How cold will your morning run be? Is your climbing session going to get lightning? Fresh Air makes it easy to find out.

Seamlessly part of your life, you'll no longer have to remember to check the weather. We're your cozy morning companion that will make your brain tingle.

• U.S. NOAA Weather radar map
• Beautiful and intuitive visualizations of temperature, precipitation, wind, humidity, sunrise, sunset, and more
• Seven day minute-by-minute interactive weather graph
• Severe weather warnings (storm warnings)!
• Calendar integration that simplifies your weather experience. Import your existing calendar entries to see the predicted weather for your events.
• Daily weather notifications for your current location.
• Schedule weather notifications for calendar events. If you have an upcoming weather-dependent event, Fresh Air will keep you updated on the conditions.
• An iOS8 Today Extension for quickly seeing weather and calendar information.

Weather data includes:
• Temperature, precipitation likelihood and amount, wind, humidity, sunrise/sunset times, "feels like", cloud cover, snow accumulation and more
• Celsius/Fahrenheit
• English/Metric

We provide outstanding support. We're a small indie team, so every customer counts. We have an in-app tool for providing feedback and bug reports. We act on the feedback -- look through our reviews, you'll see plenty of happy customers that had their feedback implemented.
What's new in version 3.2.0
• Better Apple Watch support • Various bug fixes
App rank history
Latest App Activity
$3.99 -> Free

Apr 10, 2015

$2.99 -> $3.99

Mar 30, 2015

$3.99 -> $2.99

Mar 24, 2015

$1.99 -> $3.99

Mar 8, 2015

$3.99 -> $1.99

Mar 7, 2015

Version 1.0.0

Nov 20, 2014
View All Activity »
Weather or Not is a universal iOS app available in the App Store for free with in-app purchases. The app is compatible with all devices running iOS 9.0 or later, including the new iPhone 6 and iPad Mini. To download the Weather or Not Reports and Forecasts for your Calendar app click the button below to go to the app's download page.
---
Weather or Not is a highly rated app with 4.5 stars.
The app is free.
The app is currently Free, instead of its regular price of $3.99.
If you've enjoyed using the app, please rate and review it on the App store and in the comments section below.
iPhone/iPad Screenshots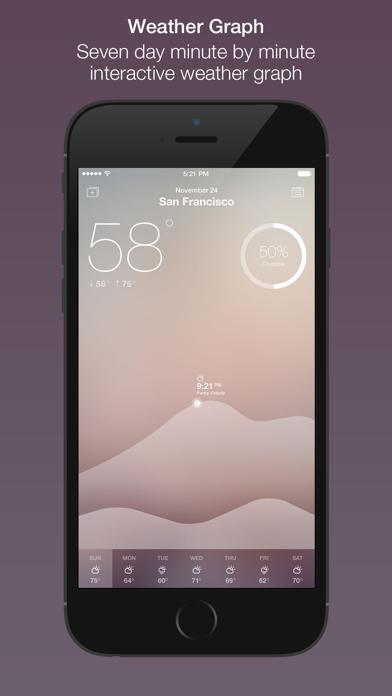 Screenshot #1
Screenshot #2
Screenshot #3
Screenshot #4
Screenshot #5
Recent Reviews
Only weather app needed. This is by far the most aesthetically pleasing weather app I've seen. One minor thing, as others have said, the widget is a bit
glitchy, as it isn't formatted for widget size and the writing is in white and therefore hard to see. It's minor enough that it
still gets 5 stars, but hopefully that'll be
Beautiful U.I. Everything is perfectly organized and looks amazing.
i will pay for this app…. as soon as the widget size bug is fixed
Elegant and useful. Beautifully designed re both appearance and functionality, everything one needs to know to be prepared for any day's
meteorological vagaries. The weather radar option is great.
Two very minor niggles:
1. It took me a while to figure out that tapping area for today at the bottom left of screen return
Great App, but switching between locations is a pa. I love the way information is presented in this app. It's a lot of useful information without feeling cluttered. The reason I
deducted one star is because it's inconvenient to look at different locations. I need to be able to check the weather in multiple
locations everyday. It would be much better
---
Share this Review
This review of Weather or Not Reports and Forecasts for your Calendar was written by Carol Swift
Download Weather or Not Reports and Forecasts for your Calendar App Latest Version on Android and iOS. You can get it directly on your device or download the app to your PC or Mac computer then install the app on your tablet or smart phone.