2048
Universal App – Optimized for iPhone and iPad.
Published by: Ketchapp
App Description
Inspired by Gabriele Cirulli game available on the web: http://gabrielecirulli.github.io/2048/

Join the numbers and get to the 2048 tile!

Swipe to move all tiles. When two tiles with the same number touch, they merge into one.

Get to the 2048 tile, and reach a high score!
What's new in version 2.0.2
Share score option bug on iPad has been fixed in this update.
Need help? Use our 2048 Walkthrough or sign up and make your contribution today.
Latest App Activity
2048
Version 1.9

Nov 25, 2014

Version 1.8

Aug 8, 2014

Version 1.7

Aug 3, 2014

Version 1.6

Jun 30, 2014

Version 1.5

Jun 15, 2014
All App Activity and Price Drops »
2048 is a universal app, and is available on the iTunes App Store for free with in-app purchases. The game is compatible with all devices running iOS 6.0 or later, including the new iPhone 6 and iPad Mini. To download the 2048 app, just scan the QR code with your device or click the button below to go to the app's download page.
Customer Reviews
Good but........ It's a fun game, but when your playing your game, why does it just make your game end? Your trying to get to 2048! There is no way
that anyone is going to get there, if they just stop you in the middle of it! 😡
256. I have never gotten to the 2048 tile.The biggest tile I got to has a 256 on it.My high score is 3076.My goal is to get to the 1024
tile.David Piercey's goal is to get to the 8192 tile.My biggest tile is yellow.I can make three tiles at once!David Piercey's
biggest tile has a 4096 on it.The 4096
Captivating.... Addictive,captivating and noble. A fusion of strategy and instinct. A great mind game to keep your brain active.
If you've enjoyed this app, rate and review it on the App store and in the comments section below.
iPhone/iPad Screenshots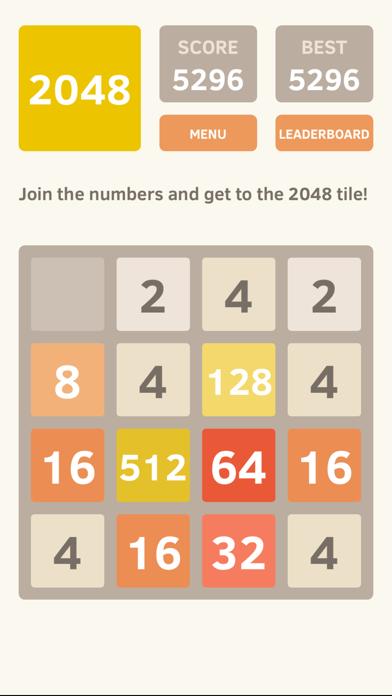 Screenshot #1 (iPhone)
Screenshot #2 (iPhone)
Screenshot #3 (iPhone)
Screenshot #4 (iPhone)
Screenshot #5 (iPhone)
The Verdict: Amazing!
2048 is a highly rated app with 4.5 stars.
The app is free.
2048 is currently ranked #9 in the U.S. App Store.
---
Share this Review
This review of 2048 was written by Carol Swift
To find and download the latest version of 2048, click on the Download button. You can get it directly to your device, or you can download it to your computer (PC or Mac) and then transfer it to your device.