2048
iOS | Universal App
| By:
Ketchapp
Free

Version

2.0.2

Size

8.08 MB

Released

Mar 19, 2014

Rated

4+

Genre

Board, Puzzle

User Rating

4.50 (5 reviews)
Inspired by Gabriele Cirulli game available on the web: http://gabrielecirulli.github.io/2048/

Join the numbers and get to the 2048 tile!

Swipe to move all tiles. When two tiles with the same number touch, they merge into one.

Get to the 2048 tile, and reach a high score!
2048 is now available for purchase on the App Store for the price of Free. To download 2048, scan the QR code and install the app directly on your device now. 2048 is compatible with any device running iOS 6.0 or higher including iPhone 6 and iPad Mini.
Need help? Use our 2048 Walkthrough or sign up and make your contribution today.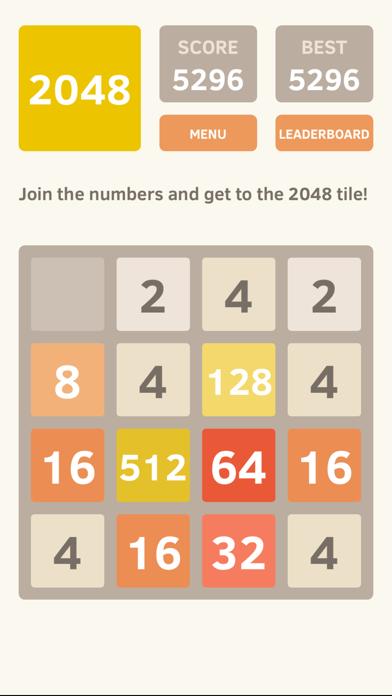 Screenshot #1 (iPhone)
Screenshot #2 (iPhone)
Screenshot #3 (iPhone)
Screenshot #4 (iPhone)
Screenshot #5 (iPhone)
---
Recent user reviews
Here is what users say in App Stores reviews:
Love 9. Omg !!!I love this game I can play it all day long.😌📱
No ads for me. I never get ads because I always turn on airplane mode when I play a game on my iPhone I don't care if I cause the developer to
lose money it's not really my problem it might seem a bit harsh but I get tired of being bombarded with annoying pop up ads every
2 seconds only problem is when I turn on a
Disabling ads in-game doesn't work. After I bought an in-app purchase that lets you turn ads off, I still see ads. Can you please fix this bug?
Apple TV suggestion. Remove the ability to move the tiles by tapping a side of the remote. I accidentally tap sometimes when I am swiping and it
completely messes me up. It's just a little to easy to do that in accident on the TV version
Crashes a lot lately. I love this game...but lately it's crashing. Could there be a problem with new software version upgrade for iPad. Please look
into.
The verdict: Awesome
2048 is a highly rated app with 4.5 stars.
The app is free.
2048 is currently ranked #6 in the U.S. App Store.
Download and Play 2048 2.00
To download the app to your iOS device just click the link below or use the download button below on your PC or Mac and sync to your iPhone, iPod Touch or iPad.
7