2048
Genre

Current Version

2.0

Download size

8.46 MB

Released

Mar 19, 2014

Rating

4+
Scan the QR code to get the App now.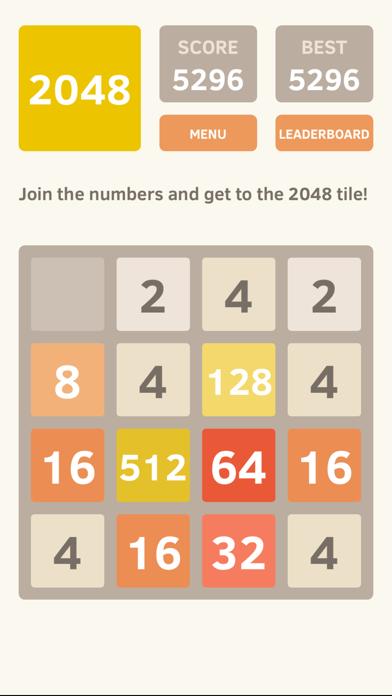 2048 is a puzzle board game developed by Ketchapp. If you liked games such as Cut the Rope: Experiments HD Free and Across Lite Crosswords, then you must check out 2048.
2048 can be downloaded now on the iTunes App Store for free. You can download it using the following QR code or by clicking the download button below. The 2048 app It's compatible with most Apple iOS devices running iOS 4.3 or higher, including the new iPhone 6 Plus and iPad mini.

Join the numbers and get to this game tile!

Swipe to move all tiles. When two tiles with the same number touch, they merge into one.

Get to this game tile, and reach a high score!

Need help? Use our 2048 Walkthrough or sign up and make your contribution today.
iPhone Screenshots

Get 2048 for your iPhone now
Step 1: Scan the QR code or click the download button.
Step 2: Click "install" to start downloading the app files to your pc or mac.
Step 3: Sync your iPhone/iPad to complete the process.
* You must have an active iTunes account to download the file, so if you don't have, please register to iTunes store with a credit card. In case you are not interested to open an account with your credit card number, you can select the option 'None' during the secured registration.
Promo Codes
Promo codes are not currently available.
If you are the developer of 2048, you can provide additional promo codes to giveaway to our readers.
Reviews and Ratings
Find helpful customer reviews and review ratings for 2048.
Rating
Review
Date

♥ 5

2048 has taken my life away from me I spent 6 hours playing one game and now I'm the #1 player in the game but it was soooo worth
it
2015-08-29

♥ 4

Love this game. Was addicted for awhile until I achieved 2048. I saw that a non iPhone version had undo which would be super
awesome if I had it too. But I don't. If they made that change I would give 5 stars
2015-08-24

♥ 4

Brilliant game in general, just don't like the ads that keep popping up.
2015-08-23

♥ 5

Anyone get 10000 point?
2015-08-22

♥ 5

Love puzzle games and this one is great.
2015-08-18

♥ 5

Works great for my iPod touch, I don't know why everyone's complaining. The thing is every time I enter the game a add pops up,
but other than that, Ketchup made a good game! :)
2015-08-17
App Wall