2048
2048
Universal App – Optimized for iPhone and iPad.
Published by: Ketchapp
App Description
Inspired by Gabriele Cirulli game available on the web: http://gabrielecirulli.github.io/2048/

Join the numbers and get to the 2048 tile!

Swipe to move all tiles. When two tiles with the same number touch, they merge into one.

Get to the 2048 tile, and reach a high score!
What's new in version 2.0.4
Bug fixes and improvements. ◉ By tapping Menu and then swiping to the right, you'll find the Challenges mode! ◉ Play 2048 Multiplayer mode (Coop or Versus) by tapping Menu.
Need help? Use our 2048 Walkthrough or sign up and make your contribution today.
App rank history
Latest App Activity
Version 1.9

Nov 25, 2014

Version 1.8

Aug 8, 2014

Version 1.7

Aug 3, 2014

Version 1.6

Jun 30, 2014

Version 1.5

Jun 15, 2014
View All Activity »
2048 is a universal app, and is available on the iTunes App Store for free with in-app purchases. The game is compatible with all devices running iOS 6.0 or later, including the new iPhone 6 and iPad Mini. To download the 2048 app click the button below to go to the app's download page.
---
2048 is a highly rated app with 4.5 stars.
The app is free.
2048 is currently ranked #12 in the U.S. App Store.
If you've enjoyed this app, rate and review it on the App store and in the comments section below.
iPhone/iPad Screenshots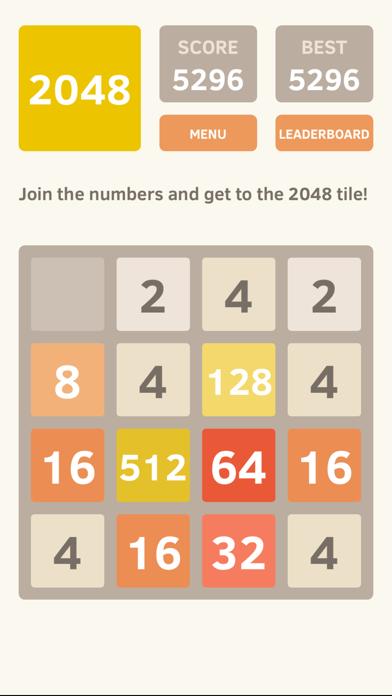 Screenshot #1
Screenshot #2
Screenshot #3
Screenshot #4
Screenshot #5
Customer Reviews
A must have classic.. It's so cool how you get a new ad after every challenge you beat.
Awesome Possum. Great way to take out the stress.
Too addictive. Super easy simple and fun game to get into.
life after the ios update. basically, since the ios update, it's been way too slow. the new tiles that appear after each swipe show up at a very slow pace.
also, I've reached 8192 and I don't like having to start from the VERY beginning at the end of each game so I think it'd be best
if we can start at a certain place dependi
Great Game- Very Addictive. My son introduced me too this fame and it's become a family challenge as to who gets the highest score. Lot's of fun but it does
stink to start over.
---
Share this Review
This review of 2048 was written by Carol Swift
Download 2048 App Latest Version on Android and iOS. You can get it directly on your device or download the app to your PC or Mac computer then install the app on your tablet or smart phone.