2048
2048
by Ketchapp
Universal App – Optimized for iPhone and iPad.>
App Store Description
Inspired by Gabriele Cirulli game available on the web: http://gabrielecirulli.github.io/2048/

Join the numbers and get to the 2048 tile!

Swipe to move all tiles. When two tiles with the same number touch, they merge into one.

Get to the 2048 tile, and reach a high score!
Need help? Use our 2048 Walkthrough or sign up and make your contribution today.
What's new in version 2.0.4
Bug fixes and improvements. ◉ By tapping Menu and then swiping to the right, you'll find the Challenges mode! ◉ Play 2048 Multiplayer mode (Coop or Versus) by tapping Menu.
Rank in top paid apps
App Activity
Version 1.9

Nov 25, 2014

Version 1.8

Aug 8, 2014

Version 1.7

Aug 3, 2014

Version 1.6

Jun 30, 2014

Version 1.5

Jun 15, 2014
View All Activity »
2048 is a universal iOS app available in the App Store for free with in-app purchases. The game is compatible with all devices running iOS 6.0 or later, including the new iPhone 6 and iPad Mini. To download the 2048 app click the button below to go to the app's download page.
Developer site: 2048 support
---
2048 is a highly rated app with 4.5 stars.
The app is free.
2048 is currently ranked #10 in the U.S. App Store.
If you've enjoyed the game, please rate and review it on the App store and in the comments section below.
iPhone Screenshots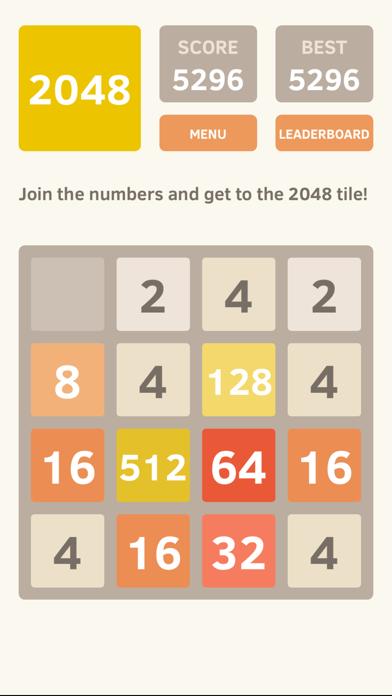 Screenshot #1
Screenshot #2
Screenshot #3
Screenshot #4
Screenshot #5
Recent Reviews
Haters...😡 this game epic!!😇😇😇. I can not believe how stupid people are.I have a iPad 2, and it is OLD. It does not have any glitches as far as I know.😀 You
people should be greatful that you even GET to play this game, many people cannot afford to even GET the device to play the game.
It is a free and cool game... And it could
Nice but could be better. The game is addicting and fun. Although, lots of ads and lagging problems
ADDICTIVE!. This game is super addictive & really works the brain. I love it! 🤘
Smart fun and cool. I think that if I play one more I think I'll be smarter then George Washington!!
It is okay!!. A simple game to kill time well. Good jobs!
---
Download 2048 App Latest Version on Android and iOS. You can get it directly on your device or download the app to your PC or Mac computer then install the app on your tablet or smart phone.