Farm Heroes Saga
Universal App – Optimized for iPhone and iPad.
Published by: King.com Limited
App Description
New and improved Farm Club available now!

From the makers of the hit game Candy Crush Saga, comes Farm Heroes Saga!

Switch and match the collectable cropsies in this fantastic adventure.
Join forces with the Farm Heroes to stop Rancid the Raccoon from spoiling the precious farm lands. Switch and match three or more adorable cropsies to drive Rancid away for good! A farmtastic adventure filled with mixed fruit madness! Scrummy!

Farm Heroes Saga is completely free to play but some in-game items such as extra moves or lives will require payment. You can turn-off the payment feature by disabling in-app purchases in your device's settings.

Farm Heroes Saga Features:

● Gather all kinds of cropsies to win the level before you run out of moves.
● Easy and fun to play, but a challenge to fully master.
● Acres of luscious levels to complete and marvellous magic beans to collect.
● Take on your friends to compete for the best score and see who can switch their way to the fattest onions ever!
● Rechargeable boosters, extra moves and special power-ups to help with those challenging levels.

Play through hundreds of levels of strawberry switching, carrot crunching chaos to help our Farm Heroes save the day! Have you got what it takes to be the next Farm Hero?

Already a fan of Farm Heroes Saga? Like us on Facebook or follow us on Twitter for all the latest farming fun:

http://www.facebook.com/FarmHeroes
http://www.twitter.com/farmheroes

*Minimum iOS version is 5.0.
What's new in version 2.44.7
Are you ready for a little luxury? We hope so, as you're about to take a vacation in our new episode, Hampton Hills! There's 15 NEW LEVELS for you to explore, making it a total of 1150 levels to complete. Plus, keep your eyes peeled for some limited time events… There's gifts to be won! Make sure you update the game to the latest version to access all the Farmtastic new content!
Need help? Use our Farm Heroes Saga Walkthrough or sign up and make your contribution today.
Latest App Activity
Farm Heroes Saga
Version 2.27.2

May 19, 2015

Version 2.26.9

Apr 30, 2015

Version 2.25.4

Apr 22, 2015

Version 2.23.3

Mar 23, 2015

Version 2.22.2

Mar 18, 2015
All App Activity and Price Drops »
Farm Heroes Saga is a universal app, and is available on the iTunes App Store for free with in-app purchases. The game is compatible with all devices running iOS 5.1.1 or later, including the new iPhone 6 and iPad Mini. To download the Farm Heroes Saga app, just scan the QR code with your device or click the button below to go to the app's download page.
Customer Reviews
Halt. I played for a year loved it, it was freezing, I stop for a year and haven't put it down since. Love this game
RDHheartsFHS. Love the game but no longer receiving my daily bonuses on my phone! It's so annoying!!!
Exciting. Great for observation and concentration. Good to take along with you to calm wait times down!!!
Sreckosi. Big fan of this game !
Good game.... Good game...spend hours playing and like the frequent bonus mini games...
If you've enjoyed this app, rate and review it on the App store and in the comments section below.
iPhone/iPad Screenshots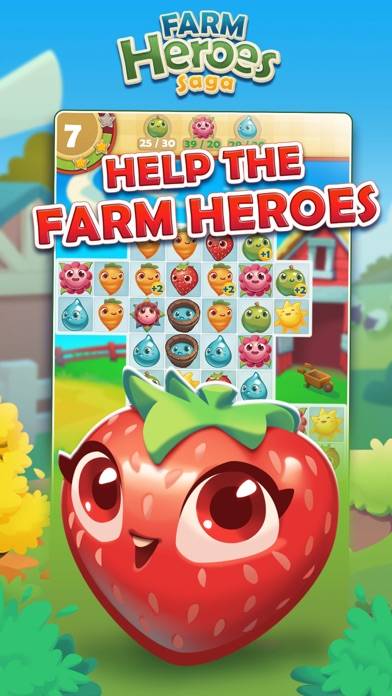 Screenshot #1 (iPhone)
Screenshot #2 (iPhone)
Screenshot #3 (iPhone)
Screenshot #4 (iPhone)
Screenshot #5 (iPhone)
The Verdict: Great!
Farm Heroes Saga is a highly rated app with 4.5 stars.
The app is free.
Farm Heroes Saga is currently ranked #83 in the U.S. App Store.
---
Share this Review
This review of Farm Heroes Saga was written by Carol Swift
To find and download the latest version of Farm Heroes Saga, click on the Download button. You can get it directly to your device, or you can download it to your computer (PC or Mac) and then transfer it to your device.