Farm Heroes Saga
Genre

Current version

2.33.5

Download size

64.82 MB

Released

Jan 2, 2014

Rating

4+

Users review
Scan the QR code to download the app.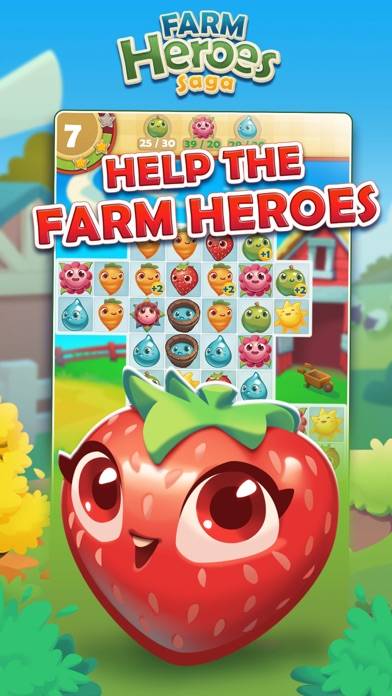 Farm Heroes Saga is a puzzle arcade game developed by Kingcom Limited. It is from the same team behind Papa Pear Saga. If you liked games such as Cut the Rope: Experiments HD Free and Across Lite Crosswords, then you must check out Farm Heroes Saga.
Farm Heroes Saga can be downloaded now on the iTunes App Store for free. You can download it using the following QR code or by clicking the download button below. The Farm Heroes Saga app Farm Heroes Saga is compatible with most Apple iOS devices running iOS 5.1.1 or higher, including the new iPhone 6 Plus and iPad mini.
New and improved Farm Club available now!

From the makers of the hit game Candy Crush Saga, comes Farm Heroes Saga!

Switch and match the collectable cropsies in this fantastic adventure.
Join forces with the Farm Heroes to stop Rancid the Raccoon from spoiling the precious farm lands. Switch and match three or more adorable cropsies to drive Rancid away for good! A farmtastic adventure filled with mixed fruit madness! Scrummy!

Farm Heroes Saga is completely free to play but some in-game items such as extra moves or lives will require payment. You can turn-off the payment feature by disabling in-app purchases in your device's settings.

Farm Heroes Saga Features:

● Gather all kinds of cropsies to win the level before you run out of moves.
● Easy and fun to play, but a challenge to fully master.
● Acres of luscious levels to complete and marvellous magic beans to collect.
● Take on your friends to compete for the best score and see who can switch their way to the fattest onions ever!
● Rechargeable boosters, extra moves and special power-ups to help with those challenging levels.

Play through hundreds of levels of strawberry switching, carrot crunching chaos to help our Farm Heroes save the day! Have you got what it takes to be the next Farm Hero?

*Minimum iOS version is 5.0.

Need help? Use our Farm Heroes Saga Walkthrough or sign up and make your contribution today.
iPhone Screenshots

Download and install Farm Heroes Saga v2.28.39
Step 1: Scan the QR code or click the download button below.
Step 2: Click "install" to download the app to your pc or mac.
Step 3: Sync your device to complete the process.
Note: You must have an active iTunes account to download the file, so if you don't have, please register to iTunes store with a credit card. In case you are not interested to open an account with your credit card number, you can select the option 'None' during the secured registration.
Promo Codes
Promo codes are not currently available.
If you are the developer of Farm Heroes Saga, you can provide additional promo codes to giveaway to our readers.
Rating
Review
Date

♥ 5

Love playing this game but I wish it was a way to earn gold bars
2015-08-31

♥ 4

Fun game, just wish I could go at a more leisurely pace and with no recharging. But it's still a fun game!
2015-08-31

♥ 5

Sometimes the levels are really challenging!
2015-08-31

♥ 4

Love how it continues to challenge me at higher levels. Also really like the weekend and side games. But the limitation on lives
is really annoying.
2015-08-31

♥ 5

Awesome!! A whole lot of fun
2015-08-31

♥ 3

I understand advertising. I worked in marketing myself. Yet there's really no reason to drop this ad for some "paradise whatever"
after every time I send lives, ask for lives, or connect to FB. It's not just ONCE, it's after EACH LIST SCREEN! It's really
excessively excessive!

In fact, I'm so anno
2015-08-30
App Wall