Farm Heroes Saga
iOS | Universal App
| By:
King.com Limited
Free

Version

2.38.5

Size

69.5 MB

Released

Jan 2, 2014

Rated

4+

Genre

Puzzle, Arcade

User Rating

4.50 (5 reviews)
New and improved Farm Club available now!

From the makers of the hit game Candy Crush Saga, comes Farm Heroes Saga!

Switch and match the collectable cropsies in this fantastic adventure.
Join forces with the Farm Heroes to stop Rancid the Raccoon from spoiling the precious farm lands. Switch and match three or more adorable cropsies to drive Rancid away for good! A farmtastic adventure filled with mixed fruit madness! Scrummy!

Farm Heroes Saga is completely free to play but some in-game items such as extra moves or lives will require payment. You can turn-off the payment feature by disabling in-app purchases in your device's settings.

Farm Heroes Saga Features:

● Gather all kinds of cropsies to win the level before you run out of moves.
● Easy and fun to play, but a challenge to fully master.
● Acres of luscious levels to complete and marvellous magic beans to collect.
● Take on your friends to compete for the best score and see who can switch their way to the fattest onions ever!
● Rechargeable boosters, extra moves and special power-ups to help with those challenging levels.

Play through hundreds of levels of strawberry switching, carrot crunching chaos to help our Farm Heroes save the day! Have you got what it takes to be the next Farm Hero?

Already a fan of Farm Heroes Saga? Like us on Facebook or follow us on Twitter for all the latest farming fun:

http://www.facebook.com/FarmHeroes
http://www.twitter.com/farmheroes

*Minimum iOS version is 5.0.
Farm Heroes Saga is now available for purchase on the App Store for the price of Free. To download Farm Heroes Saga, scan the QR code and install the app directly on your device now. Farm Heroes Saga is compatible with any device running iOS 5.1.1 or higher including iPhone 6 and iPad Mini.
Need help? Use our Farm Heroes Saga Walkthrough or sign up and make your contribution today.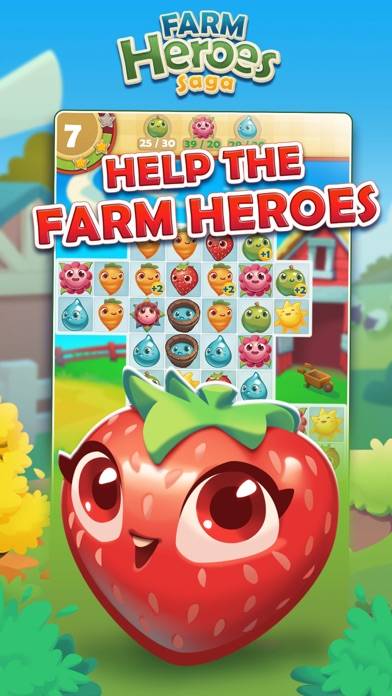 Screenshot #1 (iPhone)
Screenshot #2 (iPhone)
Screenshot #3 (iPhone)
Screenshot #4 (iPhone)
Screenshot #5 (iPhone)
---
Recent user reviews
Here is what users say in App Stores reviews:
Ms Z. Love this game addicted 😍😍😍😍😍
Fun and addicting. What a fun game!
Love the game, hide the +1. Love the game and I rarely pay any money to play. I love to take advantage of the weekend and holiday play opportunities to get
extra features. But that dang +1 bonus feature is right there where my thumbs (play mostly on my phone.) always accident touch it!
All the other bonus features have two ste
The verdict: Good
Farm Heroes Saga is a highly rated app with 4.5 stars.
The app is free.
Farm Heroes Saga is currently ranked #112 in the U.S. App Store.
Download and Play Farm Heroes Saga 2.38
To download the app to your iOS device just click the link below or use the download button below on your PC or Mac and sync to your iPhone, iPod Touch or iPad.
Similar to Farm Heroes Saga
7