The Dave Ramsey Show 24/7
The Dave Ramsey Show 24/7
Universal App – Optimized for iPhone and iPad.
Published by: The Lampo Group Incorporated
Current Version

1.5.0

Size

5.76 MB

Released

Aug 6, 2013

Age

17+

Category

Finance

User Ratings

4.50 (5 votes)
App Description
Watch or listen to The Dave Ramsey Show 24/7 to get your daily dose of real talk about life and money.

Tune in to watch Dave Ramsey, America's trusted money expert, help real callers as they share stories about their lives, families and money. You'll learn firsthand how to escape debt and build wealth every day through Dave's life-changing advice.

If you listen closely, you might even hear a story much like yours. Hope has a home on the radio—and hope now streams directly to your iPhone or iPad anytime, anywhere.

Features:

- Watch the show via video stream
- View on-demand clips of the most popular show moments
- Listen to the show audio, both live and via archives
- Quick and easy access to download the show podcast
- Email questions directly to Dave
- AirPlay support enabled. Watch the show on your big screen via Apple TV!
What's new in version 1.5.0
Notifications for theme hours Minor bug fixes
App rank history
Latest App Activity
The Dave Ramsey Show 24/7 is a universal app, and is available on the iTunes App Store for free with in-app purchases. The app is compatible with all devices running iOS 7.0 or later, including the new iPhone 6 and iPad Mini. To download the The Dave Ramsey Show 24/7 app click the button below to go to the app's download page.
The Dave Ramsey Show 24/7 Support.
---
The Dave Ramsey Show 24/7 is a highly rated app with 4.5 stars.
The app is free.
If you've enjoyed this app, rate and review it on the App store and in the comments section below.
iPhone/iPad Screenshots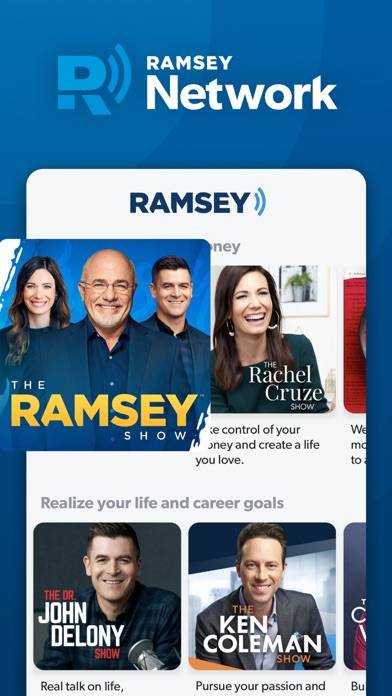 Screenshot #1
Screenshot #2
Screenshot #3
Screenshot #4
Screenshot #5
Customer Reviews
Wow!. Love the content! Keep up the good work. Such a blessing.
I love this app. Best thing I ve downloaded thank you Padrino Dave I will forever be grateful for your help in this thing we call life!
Love this app!. I listen to the Dave Ramsey show all the time. He's really helped me to clearly evaluate the way I view money and finances. I have
learned to articulate my feelings about money and I feel much more confident and knowledgable than I ever was before!
I Love This Show!. I love the fact the Dave Ramsey and his team tell people the truth. Sometimes the truth hurts, but we have to hear it. People
truly do perish for a lack of knowledge. When you don't know you're doing something wrong until it's hurting you repeatedly a part
of your life is "dying." Then when someone
Take Dave Anywhere. Great for listening to Dave anywhere and everywhere. I am in Argentina for work. The app lets me get my Dave fix.
---
Share this Review
This review of The Dave Ramsey Show 24/7 was written by Carol Swift
Download The Dave Ramsey Show 24/7 App Latest Version on Android and iOS. You can get it directly on your device or download the app to your PC or Mac computer then install the app on your tablet or smart phone.