The Dave Ramsey Show 24/7
Universal App
By: The
Released

Aug 6, 2013

Current version

1.4.1

Download size

5.61 MB

Genre

Finance

User reviews

Rating

17+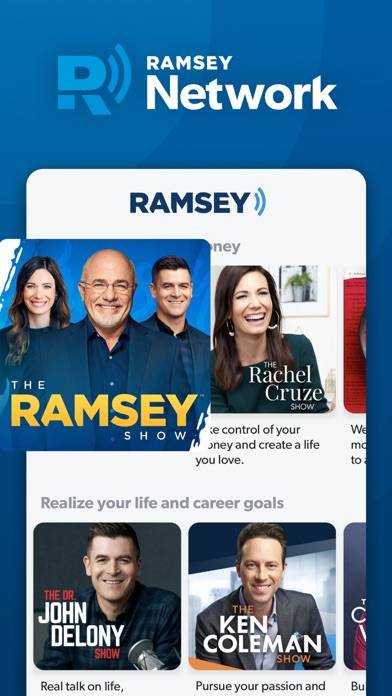 Watch or listen to The Dave Ramsey Show 24/7 to get your daily dose of real talk about life and money.

Tune in to watch Dave Ramsey, America's trusted money expert, help real callers as they share stories about their lives, families and money. You'll learn firsthand how to escape debt and build wealth every day through Dave's life-changing advice.

If you listen closely, you might even hear a story much like yours. Hope has a home on the radio—and hope now streams directly to your iPhone or iPad anytime, anywhere.

Features:

- Watch the show via video stream
- View on-demand clips of the most popular show moments
- Listen to the show audio, both live and via archives
- Quick and easy access to download the show podcast
- Email questions directly to Dave
- AirPlay support enabled. Watch the show on your big screen via Apple TV!
The Dave Ramsey Show 24/7 is available on the App Store as a universal app for free. To download the app The Dave Ramsey Show 24/7, scan the following QR code or use the download button below to get the app via iTunes. it is compatible with most smartphones including iPhone 6 Plus and iPad mini.
iPhone Screenshots

Get The Dave Ramsey Show 24/7 for iPhone/iPad
Step 1: Scan the QR code or click the download button below.
Step 2: Click "install" to download the app to your pc or mac.
Step 3: Sync your device to complete the process.
Note: You must have an active iTunes account to download the file, so if you don't have, please register to iTunes store with a credit card. In case you are not interested to open an account with your credit card number, you can select the option 'None' during the secured registration.
Promo Codes
Promo codes are not currently available.
If you are the developer of The Dave Ramsey Show 24/7, you can provide additional promo codes to giveaway to our readers.
Rating
Review
Date

Great Enhancements!

Phenomenal work on the latest version, Ramsey Team! The automatic restart and resume features are super convenient.

By EdwardK05 on 2015-08-30

Great App. Useful Updates

I'm changing my rating from a 3 to a 5 star.

I had stopped using this app because it would always forget where I left off if I exit the app in the middle of a show.

Now, the app remembers where I stopped listening. I can see which hour segment I am in at any time. And I can make sure I listen
to e

By Jet07_07 on 2015-07-15

Love the new update!

Archived shows now remember where you left off so easy start-stop-start listening on your iPhone. Thanks Ramsey Team.

2015-07-07

Love the update.

Just updated yesterday and this app is better than before. My favorite is how you split the audio archives into the 3 hours. I
only get to listen to your show while in the car so I use the app to ca

2015-07-01

Awesome app!

Amazing app that puts tons of great free resources at your fingertips. This team takes the time to get to know their users. Recent
update now keeps your place when listening to the archives at differe

2015-06-29

Yes! Hours finally separated!

Awesome! I've been waiting on this update for years! Love that the hours are now separated! I never complained about it before
because I'm sure Dave would've said, "Its Free! Shutttt Upppp!" LOL! Keep

2015-06-27
App Wall