The Dave Ramsey Show 24/7
The Dave Ramsey Show 24/7
Universal App – Optimized for iPhone and iPad.
Published by: The Lampo Group Incorporated
Current Version

1.5.0

Size

9.44 MB

Released

Aug 6, 2013

Age

17+

Category

Finance

User Ratings

4.50 (5 votes)
App Description
Watch or listen to The Dave Ramsey Show 24/7 to get your daily dose of real talk about life and money.

Tune in to watch Dave Ramsey, America's trusted money expert, help real callers as they share stories about their lives, families and money. You'll learn firsthand how to escape debt and build wealth every day through Dave's life-changing advice.

If you listen closely, you might even hear a story much like yours. Hope has a home on the radio—and hope now streams directly to your iPhone or iPad anytime, anywhere.

Features:

- Watch the show via video stream
- View on-demand clips of the most popular show moments
- Listen to the show audio, both live and via archives
- Quick and easy access to download the show podcast
- Email questions directly to Dave
- AirPlay support enabled. Watch the show on your big screen via Apple TV!
What's new in version 1.5.0
Notifications for theme hours Minor bug fixes
App rank history
Latest App Activity
The Dave Ramsey Show 24/7 is a universal app, and is available on the iTunes App Store for free with in-app purchases. The app is compatible with all devices running iOS 7.0 or later, including the new iPhone 6 and iPad Mini. To download the The Dave Ramsey Show 24/7 app click the button below to go to the app's download page.
The Dave Ramsey Show 24/7 Support.
---
The Dave Ramsey Show 24/7 is a highly rated app with 4.5 stars.
The app is free.
If you've enjoyed this app, rate and review it on the App store and in the comments section below.
iPhone/iPad Screenshots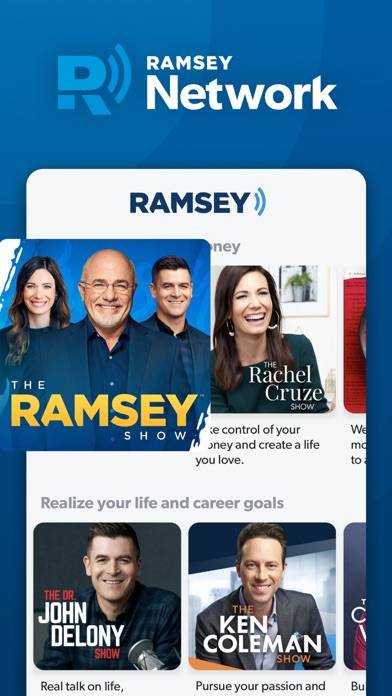 Screenshot #1
Screenshot #2
Screenshot #3
Screenshot #4
Screenshot #5
Customer Reviews
Worth the download. I have been a fan of Dave Ramsey for a very long time, I love this app because I don't have a radio station near me that plays the
show and now I can listen anytime! The app is great! And so convenient, I have not had any issues with it ever and I listen or
watch the show everyday. So inspiring!!
Amazing Content. App kinda glitchy, though.. Love the app, however it tends to be somewhat glitchy and goes through long periods of not streaming. Wifi connection does not
seem to be the issue. Other than this issue, the app is user friendly.
Love your show! Thank you so much!!. Hi Dave...I've been doing some of it right, made a few mistakes along the way but love learning how to do it better! Can't wait to
save enough to start investing! Loving your show everyday and LEARNING and want to learn more. It's exciting to think about being
out of debt.. FINANCIAL FREEDOM & GIVIN
Power packed. Huge content in a small package.
A true angel. An angel who was sent to help us get our finances in order so that we may enjoy life's blessings!!
---
Share this Review
This review of The Dave Ramsey Show 24/7 was written by Carol Swift
Download The Dave Ramsey Show 24/7 App Latest Version on Android and iOS. You can get it directly on your device or download the app to your PC or Mac computer then install the app on your tablet or smart phone.