The Dave Ramsey Show 24/7
Universal App – Optimized for iPhone and iPad.
Published by: The Lampo Group Incorporated
Price: Free

Current Version

1.5.0

Size

5.76 MB

Released

Aug 6, 2013

Age

17+

Category

Finance

User Ratings

4.50 (5 votes)
App Description
Watch or listen to The Dave Ramsey Show 24/7 to get your daily dose of real talk about life and money.

Tune in to watch Dave Ramsey, America's trusted money expert, help real callers as they share stories about their lives, families and money. You'll learn firsthand how to escape debt and build wealth every day through Dave's life-changing advice.

If you listen closely, you might even hear a story much like yours. Hope has a home on the radio—and hope now streams directly to your iPhone or iPad anytime, anywhere.

Features:

- Watch the show via video stream
- View on-demand clips of the most popular show moments
- Listen to the show audio, both live and via archives
- Quick and easy access to download the show podcast
- Email questions directly to Dave
- AirPlay support enabled. Watch the show on your big screen via Apple TV!
What's new in version 1.5.0
Notifications for theme hours Minor bug fixes
Latest App Activity
The Dave Ramsey Show 24/7
Version 1.1.2

Aug 6, 2013
All App Activity and Price Drops »
The Dave Ramsey Show 24/7 is a universal app, and is available on the iTunes App Store for free with in-app purchases. The app is compatible with all devices running iOS 7.0 or later, including the new iPhone 6 and iPad Mini. To download the The Dave Ramsey Show 24/7 app, just scan the QR code with your device or click the button below to go to the app's download page.
The Dave Ramsey Show 24/7 Support.
Customer Reviews
Love Dave. I love Dave's entertaining and convincing fact style teaching the basics and advanced financial knowledge. The app is basic, but
does all what's needed and was reliable as far as I used it.
Yes!. Don't to earth, passionate and real! I recommend to all!
Great practical and entertaining advice!. Dave gives advice that anyone can follow. He is compassionate yet honest. Must follow to achieve true financial freedom!
Gazelle Intensity BABY!. I love the app, I love the principles, I love the program, I love Dave Ramsey(father love). I can't wait to pay off the mortgage
in 4.5 years and do the DEBT FREE ScReAM!
3-2-1...
Listen anytime-day or night!. I love the fact that I can listen to Dave anytime, day or night.
If you've enjoyed this app, rate and review it on the App store and in the comments section below.
iPhone/iPad Screenshots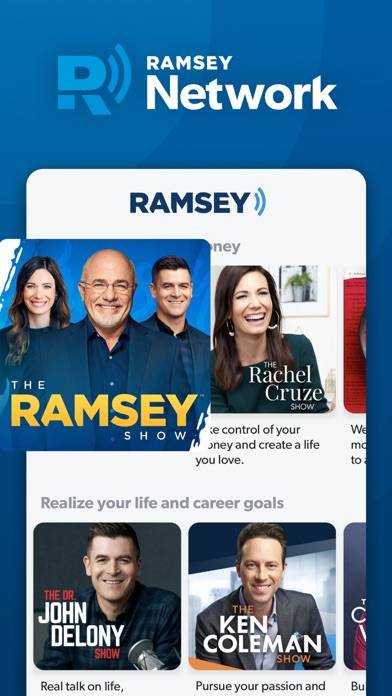 Screenshot #1 (iPhone)
Screenshot #2 (iPhone)
Screenshot #3 (iPhone)
Screenshot #4 (iPhone)
Screenshot #5 (iPhone)
The Verdict: Average!
---
Share this Review
This review of The Dave Ramsey Show 24/7 was written by Carol Swift
To find and download the latest version of The Dave Ramsey Show 24/7, click on the Download button. You can get it directly to your device, or you can download it to your computer (PC or Mac) and then transfer it to your device.