Ninja Kid Run by Fun Games For Free
Ninja Kid Run by Fun Games For Free
Universal App – Optimized for iPhone and iPad.
Published by: Fun Games For Free
App Description
Play the most EXCITING RUNNER game on the Appstore. Be a NINJA for a day and RACE through the city!

- Swipe to ESCAPE from obstacles
- JUMP to avoid blocks
- DUCK to avoid being hit
- SHOOT stars to break objects
- RACE as fast as possible!
- Very EASY CONTROLS (swipe and touch Screen)

Go as far as possible and collect coins to beat your FRIENDS!
What's new in version 1.2.10
+ 5 new characters to unlock! + French localization
Need help? Use our Ninja Kid Run by Fun Games For Free Walkthrough or sign up and make your contribution today.
App rank history
Latest App Activity
Version 1.0.5

Aug 23, 2013

Version 1.0.3

Jul 31, 2013

Version 1.0.2

Jul 26, 2013

Version 1.0

Jul 20, 2013
View All Activity »
Ninja Kid Run by Fun Games For Free is a universal app, and is available on the iTunes App Store for free with in-app purchases. The game is compatible with all devices running iOS 6.0 or later, including the new iPhone 6 and iPad Mini. To download the Ninja Kid Run by Fun Games For Free app click the button below to go to the app's download page.
Ninja Kid Run by Fun Games For Free Support.
---
Ninja Kid Run by Fun Games For Free is a highly rated app with 4.5 stars.
The app is free.
Ninja Kid Run by Fun Games For Free is currently ranked #144 in the U.S. App Store.
If you've enjoyed this app, rate and review it on the App store and in the comments section below.
iPhone/iPad Screenshots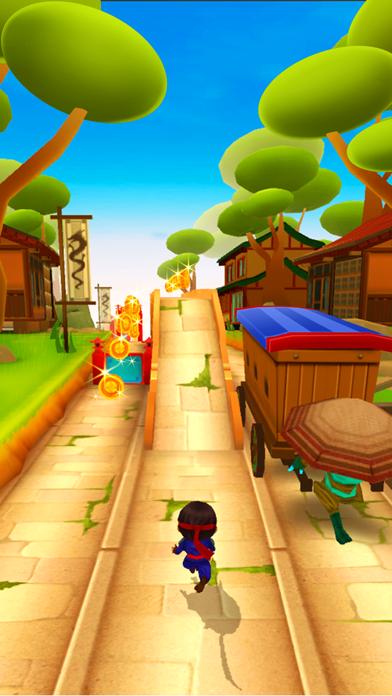 Screenshot #1
Screenshot #2
Screenshot #3
Screenshot #4
Screenshot #5
Customer Reviews
Crashing on loading. Keeps crashing when loading. Running 10.0.1. On iPad.
Plz fix!
Awesome but needs a GIRL. I think that ninja run is fun but it needs a girl!:(;)
What's up. I won 50% off on a spin so I bought a rare egg. Got a dragon, hit the equip button but it's not in there. No dragon and I'm out $5
with a disappointed grandson. I say "foul!". Aug!! Our fault. I found out my grandson accidental hit the sell button. I'm sorry.
Why 3 stars? Just listen to me ok?. I used to have the app but then my little sister deleted the app and I just didn't bother to re download so I what I'm trying to
say is I really liked the old version better it was way more fun and I usually won
---
Share this Review
This review of Ninja Kid Run by Fun Games For Free was written by Carol Swift
Download Ninja Kid Run by Fun Games For Free App Latest Version on Android and iOS. You can get it directly on your device or download the app to your PC or Mac computer then install the app on your tablet or smart phone.