Ninja Kid Run by Fun Games For Free
Universal App
By: Fun
Released

Jul 20, 2013

Current version

1.2.9

Download size

44.41 MB

Genre

Arcade, Action

User reviews

Rating

4+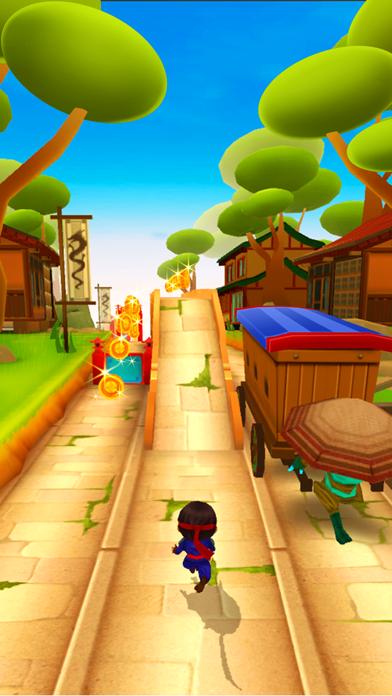 Play the most EXCITING RUNNER game on the Appstore. Be a NINJA for a day and RACE through the city!

- Swipe to ESCAPE from obstacles
- JUMP to avoid blocks
- DUCK to avoid being hit
- SHOOT stars to break objects
- RACE as fast as possible!
- Very EASY CONTROLS (swipe and touch Screen)

Go as far as possible and collect coins to beat your FRIENDS!
Need help? Use our Ninja Kid Run by Fun Games For Free Walkthrough or sign up and make your contribution today.
iPhone Screenshots

Get Ninja Kid Run by Fun Games For Free for iPhone/iPad
Step 1: Scan the QR code or click the download button below.
Step 2: Click "install" to download the app to your pc or mac.
Step 3: Sync your device to complete the process.
Note: You must have an active iTunes account to download the file, so if you don't have, please register to iTunes store with a credit card. In case you are not interested to open an account with your credit card number, you can select the option 'None' during the secured registration.
Promo Codes
Promo codes are not currently available.
If you are the developer of Ninja Kid Run by Fun Games For Free, you can provide additional promo codes to giveaway to our readers.
Rating
Review
Date

Me gusta ninja run

El juego es divertido y me gusta

By Cristbuchner on 2015-10-07

Fun runner

Love these types of games and the small little extras like ninja stars to break items and high jump trampolines make this a fun
version of the runner games I love.

By The Hundley on 2015-10-04

Great game.

Endless fun

By Chunkymunky6969 on 2015-10-03

Baller

It's a great game and its fun it's never ending and well I love it is super addicting and I find myself playing if more that any
other game I have and I hope who ever chooses to get it loves it as much as I do

By Kaleb for the mardin on 2015-09-27

Good play

More of the same and as addictive as the rest.

By AtoZTheMr. on 2015-09-21

App

Hot app

By Yankeesrocca95 on 2015-09-20
App Wall