Uniden Guardian 2

Uniden Guardian 2
Universal App – Optimized for iPhone and iPad.
Published by: Uniden America Corp
Current Version

1.2.55

Size

2.5 MB

Released

Aug 15, 2012

Age

4+

Category

Business

User Ratings

2.00 (5 votes)
App Description
Uniden Guardian 2 Remote app allows you to view live video from your Uniden Guardian Surveillance system. From anywhere in the world you have 3G or higher phone access or WiFi access, you can view your cameras live.

You can choose any of the 4 supported system cameras. The snapshot feature also allows you to record a still image of your video to your iPhone® or iPad® device. If you have more than one Uniden Guardian Surveillance system, you can just add it to the app to view.

The Uniden Guardian Surveillance system also allows 2 remote viewers simultaneously, each viewing which ever camera they choose.

Features:
•View live video from your iPhone or iPad
•Choose any camera to view
•Supports WiFi networks
•Record snapshots to your iPhone or iPad
•System supports 2 remote viewers simultaneously (require 768kbps effective upload bandwidth in any given time)
What's new in version 1.2.55
1. Add "Connecting picture" in Live view screen 2. Limit password use number digit and english char 3. Fix App crash when tap "Back" key in live view screen
App rank history
Latest App Activity
Uniden Guardian 2 is a universal app, and is available on the iTunes App Store for free with in-app purchases. The app is compatible with all devices running iOS 6.0 or later, including the new iPhone 6 and iPad Mini. To download the Uniden Guardian 2 app click the button below to go to the app's download page.
---
The app is free.
Uniden Guardian 2 is currently ranked #197 in the U.S. App Store.
If you've enjoyed this app, rate and review it on the App store and in the comments section below.
iPhone/iPad Screenshots
Screenshot #1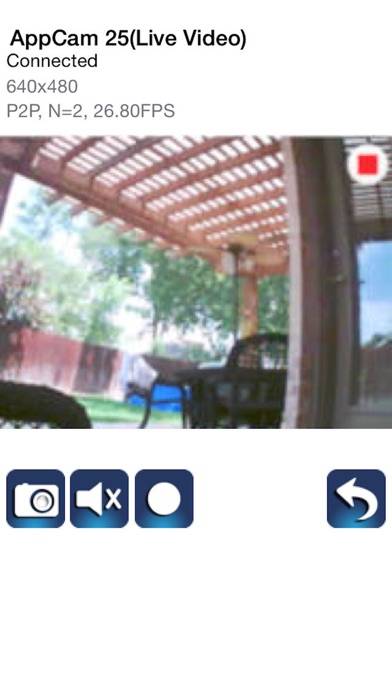 Screenshot #2
Screenshot #3
Customer Reviews
Never has any problems. Installed on 2 iPhone and an iPad without problems.I am using the original camera system not the second version.
Not a big fan. I'm not the biggest fan of this app. It is not user friendly, the icons to move from live to saved recordings or other settings
are not conveniently located. They should be laid out better, maybe all command icons on same page, etc.
I also lose picture frequently even though I am only 15 feet aw
@pmebling. Hey if it's not showing up on your device outside of home simply power down iPhone or droid then reopen the uniden guardian 2 app
then it will be good to go.
Finally work after 6 months of not working.. Please make sure that the monitor of the base is being use for "Internet" and not for "charging" the base. If it's just for
charging you will not be able to view it remotely. Change your setting to In
CORRUPT UPDATE - FIX IT PLEASE!!!. Updated from 1 star.

My 4 cameras are finally working more consistently. Suggest on-screen swiping from camera to camera and audio would keep me from
looking for upgrade elsewhere. Also better sorting options of recorded video like seamless playback would be a great improvement.
---
Share this Review
This review of Uniden Guardian 2 was written by Carol Swift
Download Uniden Guardian 2 App Latest Version on Android and iOS. You can get it directly on your device or download the app to your PC or Mac computer then install the app on your tablet or smart phone.