Talking Emoji
Genre

Role playing

Current version

2.5

Download size

77.01 MB

Notify me on price drop

Released

Jan 19, 2013

Rating

4+

User reviews
Scan the QR code to download the app.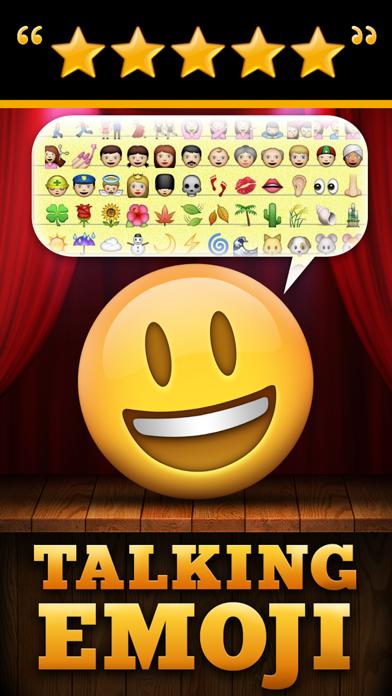 *iPAD LAUNCH SPECIAL: 50% OFF SALE - 50% OFF IN APP PURCHASES FOR LIMITED TIME*

Speak and this game will listen and talk back to you. Create your own funny Talking Emoji videos and share with friends. Also watch our help video to enable 841+ Emoji icons directly on your keyboard.

No Ads in Talking Emoji Pro version.

Try it out today

***IMPORTANT*** If this games lock up after you update, please click on the '?' to Restore.

Need help? Use our Talking Emoji Walkthrough or sign up and make your contribution today.
iPhone Screenshots

Buy Talking Emoji
Step 1: Scan the QR code or click the download button below.
Step 2: Click "install" to download the app to your pc or mac.
Step 3: Sync your device to complete the process.
Note: You must have an active iTunes account to download the file, so if you don't have, please register to iTunes store with a credit card. In case you are not interested to open an account with your credit card number, you can select the option 'None' during the secured registration.
Promo Codes
Promo codes are not currently available.
If you are the developer of Talking Emoji, you can provide additional promo codes to giveaway to our readers.
Rating
Review
Date

♥ 3

I bought the pro and on it it says free free free for the emojis and guess what it's not free free free! So I would get the free
one! I would rate it 1 star, but I love it that it talks it's very cu
2014-09-28

♥ 4

Great and funny app to play with. Hate the auto record, make it with the button only. And make it able to save/send directly to
text.
2014-08-30

♥ 3

It's fun but only let me have 2 Hope Owner fix it :( Do not buy I want my money back
2013-08-07

♥ 5

I don't like this, I don't like it cause it only lets me have 2 charicters
And hopping u will not but this!:(

Don't but this 😞
2013-05-05

♥ 5

I don't like this, I don't like it cause it only lets me have 2 charictersAnd hopping u will not but this!:(Don't but this
2013-05-05

♥ 2

Fun just won't save should fix it
2013-05-03
App Wall