Talking Emoji
Talking Emoji
by Emoji LLC
Universal App – Optimized for iPhone and iPad.>
App Store Description
Speak and the Talking Emoji will listen and talk back to you. Create your own funny Talking Emoji videos and share with friends. Also watch our help video to enable 841+ Emoji icons directly on your keyboard.

**Added Bonus***
Play the new Emoji color game and beat your high score. Share it with friends. Simple yet addictive included in this version.

No Ads in this Talking Emoji Pro version.

Impress your friends and express yourself with this fun and addictive Emoji app!

THANK YOU FOR SUPPORTING EMOJI!

***IMPORTANT*** If the Talking Emojis lock up after you update, please click on the '?' to Restore.
Need help? Use our Talking Emoji Walkthrough or sign up and make your contribution today.
What's new in version 2.18
minor performance update
Rank in top paid apps
App Activity
$1.99 -> $9.99

Apr 29, 2016

$0.99 -> $1.99

Apr 21, 2016

Version 2.0

Jan 19, 2013
View All Activity »
Talking Emoji is a universal iOS app available in the App Store for $9.99 (Ads free) with no in-app purchases. The game is compatible with all devices running iOS 7.0 or later, including the new iPhone 6 and iPad Mini. To download the Talking Emoji app click the button below to go to the app's download page.
---
If you've enjoyed the game, please rate and review it on the App store and in the comments section below.
iPhone Screenshots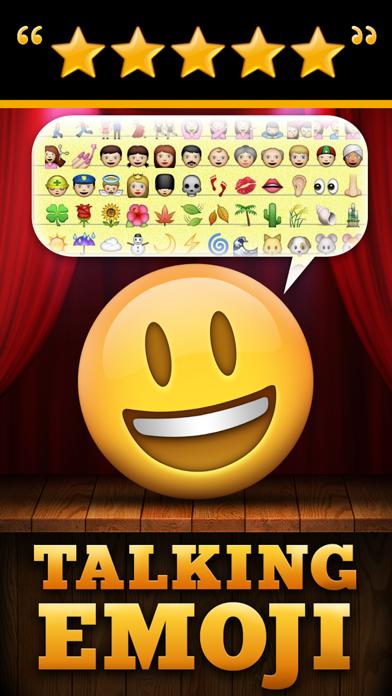 Screenshot #1
Screenshot #2
Screenshot #3
Screenshot #4
Recent Reviews
Ok. I bought the pro and on it it says free free free for the emojis and guess what it's not free free free! So I would get the free
one! I would rate it 1 star, but I love it that it talks it's very cu
STOP THE AUTO REC. Great and funny app to play with. Hate the auto record, make it with the button only. And make it able to save/send directly to
text.
Sad and happy. It's fun but only let me have 2 Hope Owner fix it :( Do not buy I want my money back
I hate this!!. I don't like this, I don't like it cause it only lets me have 2 charicters
And hopping u will not but this!:(

Don't but this 😞
I hate this!. I don't like this, I don't like it cause it only lets me have 2 charictersAnd hopping u will not but this!:(Don't but this
---
Download Talking Emoji App Latest Version on Android and iOS. You can get it directly on your device or download the app to your PC or Mac computer then install the app on your tablet or smart phone.