Paplinko
Universal App – Optimized for iPhone and iPad.
Published by: Game Circus LLC
Price: Free

Current Version

4.01

Size

64.7 MB

Released

Sep 4, 2012

Age

4+

Category

Puzzle

User Ratings

4.50 (5 votes)
App Description
Drop in some fun with PAPLINKO!
In PAPLINKO, the goal is to bounce balls into cups, collecting coins and prizes as you go along! It's not all just about collecting prizes though- bouncing off the pegs earns points and careful play will rack up your high score! The balls bounce off multiple pegs, each hit racking up points and changing the ball's path to the bottom. You can carefully aim and shoot each one, but the peg board is constantly shifting, so you'll have to rethink your strategy as you play! Hordes of special pegs shake things up, from bomb pegs to teleporter pegs! Use special multiplier pegs and bonus boxes to make that score grow and grow! Beware, prizes aren't the only things at the bottom- slimes will break your high score if you're not careful! Trade in all the coins you've collected to buy new backgrounds and ball characters to customize your game! Don't worry if you run out of balls, check back later and you'll have more available! PAPLINKO is fun for both kids and adults, plus you can invite friends from Facebook, share high scores, and more!

"Never before have bouncing balls been so hypnotizing!"
"More fun than Angry Birds!"

Fun is just a bounce away!

Features:
- Over 30 prizes to collect!
- Mobile pegs that change as you play!
- Multiple puzzles to complete, with each puzzle set showing a different story!
- Over 25 achievements to complete!
- Special bonuses for daily play!
- A huge variety of special bonus effects to collect from the bonus box!
- Connect Paplinko with Facebook to post your high score and share the fun with friends!
- Combines some of the action you loved in Peggle and Plinko

Check back for new prizes, new customizations and more!
Don't want ads? Get Paplinko Pro!
Try other games by Game Circus, including COIN DOZER and PRIZE CLAW!
What's new in version 4.01
Various Bug Fixes and Improvements!
Need help? Use our Paplinko Walkthrough or sign up and make your contribution today.
Latest App Activity
Paplinko
All App Activity and Price Drops »
Paplinko is a universal app, and is available on the iTunes App Store for free with in-app purchases. The game is compatible with all devices running iOS 6.0 or later, including the new iPhone 6 and iPad Mini. To download the Paplinko app, just scan the QR code with your device or click the button below to go to the app's download page.
Customer Reviews
Snakes plinko. Pretty cute and fun
Love love love it!. No problems
No complaints
Just good clean fun! THANKS GUYS KEEP UP THE GOOD WORK!
One of my other favs is coin dozer! You guys rock thank you!
Love my mom. This is a game my mom would have liked. I've played for years but have had iPod malfunctions and lost all my success, don't like
that but I still play!
Lots of Fun 👍🏼👍🏼. Very addicting game. Good to play if you have extra time on your hands, like waiting for your doctor.
Please remove the award ads. They have added ads every time you open a chest, which has really disrupted the game flow.
If you've enjoyed this app, rate and review it on the App store and in the comments section below.
iPhone/iPad Screenshots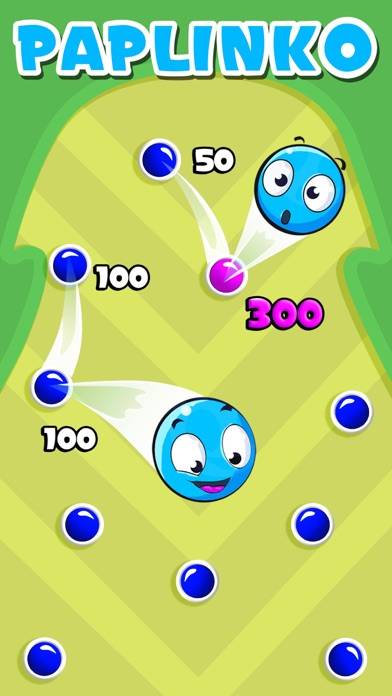 Screenshot #1 (iPhone)
Screenshot #2 (iPhone)
Screenshot #3 (iPhone)
Screenshot #4 (iPhone)
Screenshot #5 (iPhone)
The Verdict: Average!
Paplinko is a highly rated app with 4.5 stars.
The app is free.
Paplinko is currently ranked #198 in the U.S. App Store.
---
Share this Review
This review of Paplinko was written by Carol Swift
To find and download the latest version of Paplinko, click on the Download button. You can get it directly to your device, or you can download it to your computer (PC or Mac) and then transfer it to your device.