DVD Netflix
DVD Netflix
Universal App – Optimized for iPhone and iPad.
Published by: DVD.com, A Netflix Company
App Description
Complete your Netflix experience with DVD Netflix, the best way to watch new releases, premium TV shows, and movies from every decade.

DVDs and Blu-ray discs are delivered to you with free shipping. Don't worry about kiosks, due dates, or late fees. With unlimited entertainment for one monthly flat fee, it's just happiness delivered to your door!

This app is for Netflix customers with a DVD.com subscription

Noteworthy features:
• Over 93,000 movies and TV shows-including the hottest new releases on DVD
• Browse DVDs and Blu-rays by genre and mood: new releases, comedy movies, horror movies, romantic movies, etc.
• Quickly add and arrange your queued titles on-the-go
• Get personalized recommendations and discover new gems
• Search for movies, TV shows, actors, genres, and channels (HBO, Showtime, AMC, etc.)
• We'll notify you when we ship you something
• New releases are added every week

How does DVD Netflix work?
1) Browse our extensive catalog and build a queue of titles
2) We send you DVD or Blu-ray discs with free shipping both ways
3) Watch and enjoy – keep as long as you want with no late fees or due dates
4) Return with the prepaid envelope and we'll send another disc, usually the next day

Plans start at just $4.99 per month and your first month is free. Get movie night delivered with a tap of your finger.
What's new in version 1.2.1
Note: if you have trouble logging in with your DVD Netflix credentials, please contact the helpdesk at 1-800-585-8018. The following things have changed in this version: * you can now rate a title "not interested" * browse a lot more content * various bug fixes * performance improvements
App rank history
Latest App Activity
DVD Netflix is a universal iOS app available in the App Store for free with in-app purchases. The app is compatible with all devices running iOS 9.3 or later, including the new iPhone 6 and iPad Mini. To download the DVD Netflix app click the button below to go to the app's download page.
---
If you've enjoyed using the app, please rate and review it on the App store and in the comments section below.
iPhone/iPad Screenshots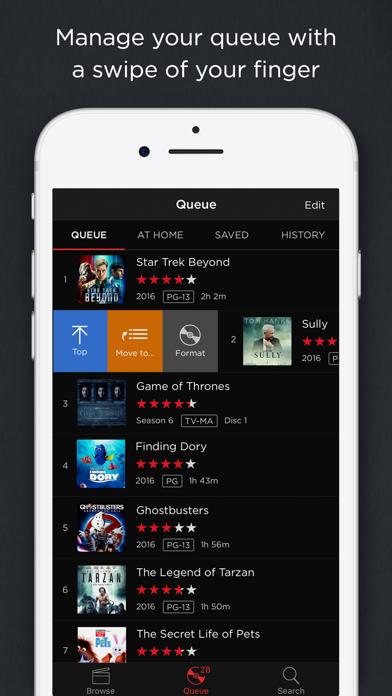 Screenshot #1
Screenshot #2
Screenshot #3
Screenshot #4
Screenshot #5
At Long Last. Really good app. Most of the criticisms seem to be from people not figuring everything out yet. You can organize and rearrange
your queue easily. Simply right swipe on a movie in your queue and you have the option of moving it to the top or another
position. You can rate titles and see the average r
Well designed.. Practically perfect! For the most part, I can do everything on this app that I can do on the full website. I've waited a long
time for this app. I'm one happy camper.

Improvements I'd like to see:
1. Allow all users to sign in with their credentials (currently restricted to primary account owner
YES!. This is great! I have often wanted to add a movie to my Q while talking to someone about some random flick, only to forget about
it by the time I get back to my computer. This is perfect. Hopefully all titles are searchable and there isn't much to fix with
it!
Edit options. Please provide another way, like the full site, to edit/move titles in my queue.
Improvement. 2 things that I noticed that could be improved
1) being able to organize title in the queue. Seems that I am not able to move title around.
2) getting an exact rating average for each title
---
Share this Review
This review of DVD Netflix was written by Carol Swift
Download DVD Netflix App Latest Version on Android and iOS. You can get it directly on your device or download the app to your PC or Mac computer then install the app on your tablet or smart phone.