Disaster Prediction App

Disaster Prediction App
Universal App – Optimized for iPhone and iPad.>
App Details
Version

1.7

Release date

Dec 19, 2016

Size

24.89 MB

Age

12+

Genre

Lifestyle

User Ratings

5.00 (5 votes)
App Store Description
The Disaster Prediction App will show you the current state of the sun, it's effects on earth, earthquake events, and areas of the earth likely to have large earthquakes. There is a space weather portion of the App and an Earthquake portion of the App. The space weather portion includes the most vital information for alerts for when to pay attention - but most importantly this is your in-hand warning system if the sun ever decides to really rock-and-roll. If we are about to take the big storm that changes the world forever, you'll know about it beforehand.

The earthquake portion of this App is based on daily observations of a correlation that exists between certain solar phenomena and seismic activity. Our earthquake forecasting model has been able to forecast the location of large earthquake events on five different continents. The app always watching, so you'll never
have to!
Rank in top paid apps
App Activity
Disaster Prediction App is a universal iOS app available in the App Store for $2.99 (Ads free) with no in-app purchases. The app is compatible with all devices running iOS 8.0 or later, including the new iPhone 6 and iPad Mini. To download the Disaster Prediction App app click the button below to go to the app's download page.
Developer site: Disaster Prediction App support
---
If you've enjoyed using the app, please rate and review it on the App store and in the comments section below.
iPhone Screenshots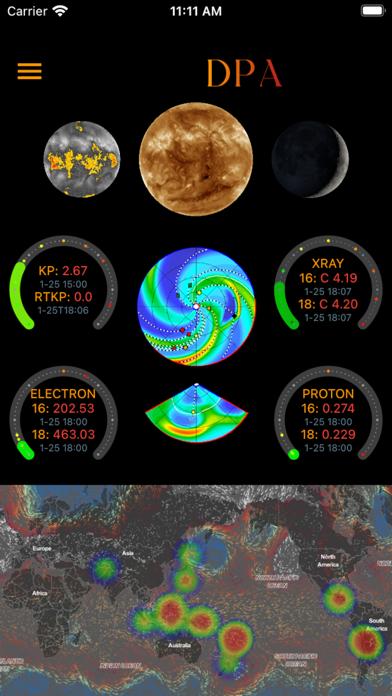 Screenshot #1
Screenshot #2
Screenshot #3
Screenshot #4
Screenshot #5
Everything I Expected and More!. I have been an S0 for several years and had high hopes for what the Disaster Prediction App would hold. It's very easy to
navigate, has all the information I want, and makes it very easy to see updates from Ben. I'm happy to say I check the app every
day. It's fun checking in on our planet and the s
Amazing app. Best possible info for predicting and preparing for space weather worth every.... well priceless in our time!
You're doing the lord's work, S0's. So glad the app finally came out.
Complex info made easy. The app is constantly updated and extremely easy to use. I've been waiting for this app to come out for quite a while I'm so
excited that it succeeded so well on kick starter.
Scientific breakthrough. If you are not familiar with the work of Ben Davidson then you've got to explore his website suspicious0bservers.org.

The man deserves a Nobel Prize.
---
Download Disaster Prediction App App Latest Version on Android and iOS. You can get it directly on your device or download the app to your PC or Mac computer then install the app on your tablet or smart phone.