Bloons Supermonkey 2
Bloons Supermonkey 2
Universal App – Optimized for iPhone and iPad.
Published by: Kaiparasoft Ltd
App Description
Super Monkey we need your help - the Bloons are attacking! Equip dozens of powerful weapons, unlock never-before-seen Super Monkeys, and use dozens of screen-clearing powerups to pop every bloon and achieve a perfect diamond ranking.

* Fast-action, pop everything fun-fest
* 50 vibrant levels, each with unique bloon waves
* Colorful, easy to control family fun for new gamers
* Intense skill-based diamond challenges for hardcore players
* 90+ weapons including epic powers like Doom Gauntlets, Sidewinder Ace, and Yeti
* 40+ bloon shredding powerups like Explosive Shots, Parallel Universe Monkey, and the Sun God
* Compare level ranks with your friends
* Endless mode levels with competitive leaderboard rewards
* Awesome free iMessage stickers included

Take to the skies and get popping!

-----------

Ninja Kiwi Notes:
Bloons Super Monkey 2 contains in-game items can be purchased with real money. You can disable in-app purchases in your device's settings, or reach us at support@ninjakiwi.com for help. Your purchases fund our development updates and new games, and we sincerely appreciate every vote of confidence you give us with your purchases.

Ninja Kiwi Community:
We love hearing from our players, so please get in touch with any feedback, positive or negative, at support@ninjakiwi.com. If it's stuff you want the whole community to talk about, then join us on Facebook or Twitter:
https://www.facebook.com/ninjakiwigames/
https://twitter.com/ninjakiwigames

Youtubers and Streamers:
Ninja Kiwi is actively developing, supporting, and promoting channel creators on YouTube, Twitch, Kamcord, and Mobcrush. If you are not already working with us, keep making videos and tell us about your channel at youtube@ninjakiwi.com.
What's new in version 1.1
Good news Supermonkey, this update is packed with awesome new content! While experimenting with bomb weapons, Dr Monkey accidentally discovered a secret cavern bursting with Bloons. Now Supermonkey can explore the endless mine! Compete in weekly challenges and rise up the ranks on the leaderboards to compete for awesome prizes. That's not all though, the Powerups have become supercharged and are now even more powerful. Each Powerup can now be ranked up to level 4 for even more popping power. Happy Holidays to all of our players all over the world! Thanks for being awesome and supporting Ninja Kiwi, we couldn't do it without you!
Need help? Use our Bloons Supermonkey 2 Walkthrough or sign up and make your contribution today.
App rank history
Latest App Activity
$0.99 -> $2.99

4 days ago

$2.99 -> $0.99

6 days ago

$0.99 -> $2.99

6 days ago

$2.99 -> $0.99

1 weeks ago

$0.99 -> $2.99

3 weeks ago

Version 1.1

4 weeks ago

Version 1.0.3

Nov 11, 2016

Version 1.0

Nov 5, 2016

Version 1.0.2

Nov 4, 2016
View All Activity »
Bloons Supermonkey 2 is a universal iOS app available in the App Store for $2.99 (Ads free) with no in-app purchases. The game is compatible with all devices running iOS 8.0 or later, including the new iPhone 6 and iPad Mini. To download the Bloons Supermonkey 2 app click the button below to go to the app's download page.
---
Bloons Supermonkey 2 is a good rated app with 4 stars.
Bloons Supermonkey 2 is currently ranked #124 in the U.S. App Store.
If you've enjoyed the game, please rate and review it on the App store and in the comments section below.
iPhone/iPad Screenshots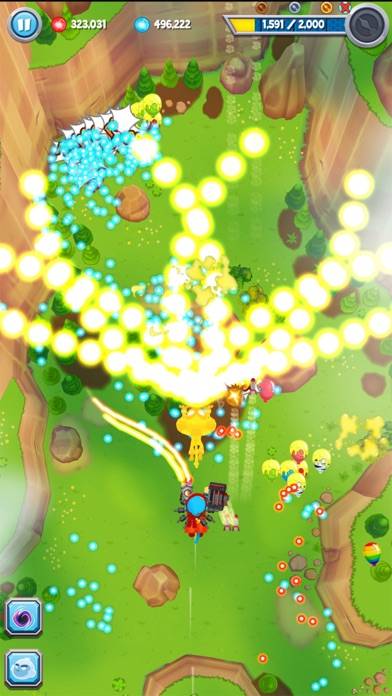 Screenshot #1
Screenshot #2
Screenshot #3
Screenshot #4
Screenshot #5
Levels and Freezing. As a first time BSM player, I give this 5 stars! As a long time Bloons PC player, I have played the BSM online. I know more levels
can come out at this point. Also, when I play as ice monkey, the game freezes when I utilize the Super Shot/Bouncey Shot combo.
Please fix that.
Booster rank glitch. Every time I achieved rank 4 on a booster/power up, the game doesn't recognize it and glitches it back to rank 3. A good game
overall, would just love to have this problem fixed.
A few issues but good. Really fun but the powerups don't stay fully leveled up and there should be a better progression of increased bloops throughout
the levels.
Needs fixed. So, overall, this is a great game and a great sequel to the first game. But, I am unable to complete the game. I got to level 26
and I tried to play, but as soon as I start, the game freezes and I have to exit the app and reopen it. I then try again, but the
same thing happens. I gave this review 3
Fun game until it freezes and becomes unplayable. The game was fun and enjoyable until the frozen levels where it freezes and stutters on my iPad Pro and is now unplayable.
Update and fix please!
---
Share this Review
This review of Bloons Supermonkey 2 was written by Carol Swift
Download Bloons Supermonkey 2 App Latest Version on Android and iOS. You can get it directly on your device or download the app to your PC or Mac computer then install the app on your tablet or smart phone.