PulpMX 20
PulpMX 20
Universal App – Optimized for iPhone and iPad.
Published by: Kevin Husted
Current Version

2.3.5

Size

35.28 MB

Released

Sep 29, 2016

Age

12+

Category

Sports

User Ratings

4.00 (5 votes)
App Description
The Official app of PulpMX.com. Archives, PulpMX Show drops, editorials, technical info and *bonus* content only available in the App.

Features
- Global Search!
- Vastly improved media player
- Download archives to listen offline
- Save favorites for easy finding
- Live show schedule and countdown
- PulpMX.com website content optimized for in app viewing
- All your favorite sound drops
What's new in version 2.3.5
This update fixes a bug that caused the app to crash when trying to play app exclusive podcasts.
App rank history
Latest App Activity
PulpMX 20 is a universal iOS app available in the App Store for $1.99 (Ads free) with no in-app purchases. The app is compatible with all devices running iOS 8.0 or later, including the new iPhone 6 and iPad Mini. To download the PulpMX 20 app click the button below to go to the app's download page.
---
If you've enjoyed using the app, please rate and review it on the App store and in the comments section below.
iPhone/iPad Screenshots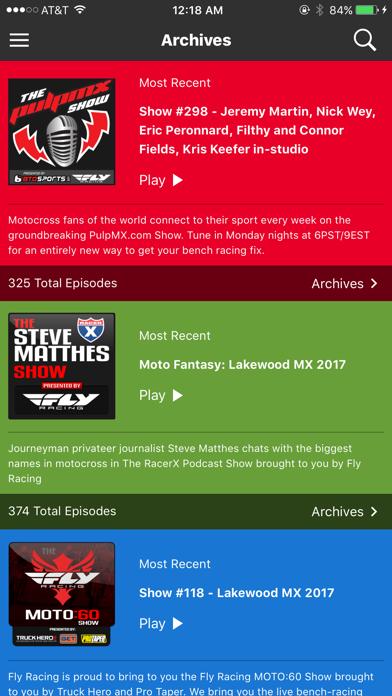 Screenshot #1
Screenshot #2
Screenshot #3
Screenshot #4
Screenshot #5
Love the app. The new app is awesome a must have for motocross fans!
Can't live without out.. Simply the best podcast period. A must for any true moto fan.
Putting in work. I'm diggin this app. Steve and Marxdog have put in the work. They are out here pretty much every week putting a quality show
together. The app is getting better with every update. Support the sport. If we don't listen we won't have it! Way to go Matthes,
keep up the good work!
Fix your app!!. Still can't do anything other than look at this app. I've redone loaded it and it still is having problems.
Love the show!. I had to delete the app then re-install (like many apps when an update is out) and it works great. Keep up the good work.
---
Share this Review
This review of PulpMX 20 was written by Carol Swift
Download PulpMX 20 App Latest Version on Android and iOS. You can get it directly on your device or download the app to your PC or Mac computer then install the app on your tablet or smart phone.